Free Job Search Advice for Teachers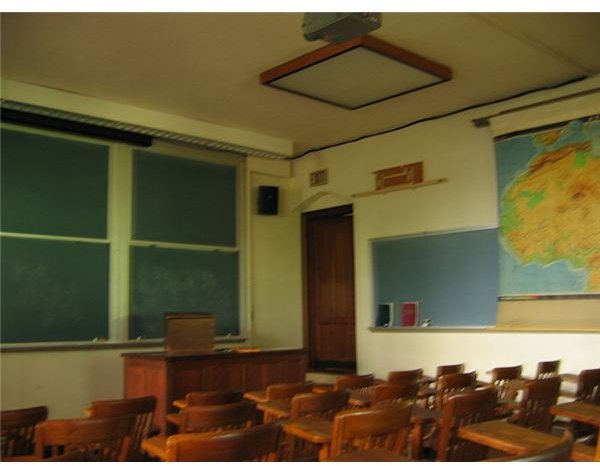 Teaching is a recession-free job that grows steadily about 11 percent annually, which is more than the average for all jobs. Demand for teachers varies based on the city, type of school, and subjects. Many schools in cities face difficulty in recruiting teachers for math, science, and foreign languages, whereas teaching jobs in social sciences may be hard to come by in the same schools.
Image Credit: Wikimedia Commons
Niche
Teaching is a vast area. Elementary school teachers teach children to read, write, and learn math. High school teachers teach various subjects and languages. Post secondary teachers instruct students in academic and vocational subjects. Self-enrichment teachers provide instruction on subjects aimed at developing the student's self-improvement skills. Special education teachers teach children with a disability basic life skills and literacy. In addition, teachers in all such areas specialize on the subject.
The primary job search advice for teachers is to identify and cultivate their niche. Applying for any teaching job that comes by may not be your best (or desired) choice.
Qualifications and Skills
Having targeted a niche, the next task of the job seeker is to ensure that he or she has the required skills and qualifications for the desired position. Even for experienced teachers looking for a job change to a different area or subject, experience alone is rarely sufficient.
The basic qualification for teaching in public schools is a college degree, but some states require a master's degree and computer proficiency. All teachers in public schools also require a teaching certificate and a license from the state board of education to teach. Teaching preschool, middle school and high school all require separate licensing. Teaching special subjects also requires special licensing.
Most schools also require teachers to pass tests in reading, writing, and the relevant subjects before appointment. Teaching post secondary students requires higher skills and qualifications, with a master's degree or doctorate as an entry-level standard, and relevant work experience may be the deciding factor. Private schools set their own teaching job qualifications and standards depend on the positioning of the school.
Teachers with a reputation of dependability, creativity, and patience, besides having good communication skills, remain at an advantage when searching for jobs.
Professional Portfolio
An important job search advice for teachers is to develop a professional teaching portfolio. A teaching portfolio is a collection of information about a teacher's practices that illustrates the teacher's talent and expertise. Common inclusion in the portfolio are details on qualifications, experience, and achievements, highlighting publications, grants, honors, awards, and demonstrating what the teacher has developed and how the students under the teacher have developed..
Very often, the portfolio plays a critical role in landing a teaching job.
Colleges
"Preparing Future Faculty," a program administered by the Association of American Colleges and Universities and the Council of Graduate Schools allows graduate students at research universities to work as teaching assistants in liberal arts or community colleges. Such teaching assistants teach class, attend faculty and committee meetings, and learn to develop curriculum, thereby gaining valuable exposure in teaching, research, and administrative roles of faculty. These programs provide valuable learning opportunities for graduate students interested in teaching at the post secondary level, and participation in such programs place the candidate in good stead to land teaching jobs.
Traditional Recruitment Channels
Traditional recruitment channels such as newspaper and Internet sources constitute a good source of job leads for many teaching jobs. Consultants also offer some good teaching job opportunities.
An important job search tip for teachers that works is networking.
Teaching is a responsible job. Not only does the fate of the student's future depend on the effectiveness of the teacher, the teacher has to set a role model for the student. As such, schools tend to prefer teachers who relate with someone else in the organization and can vouch for their integrity. Referrals from existing teachers, possible through networking, therefore, plays a very important role in landing teaching jobs.
Teaching requires continuity, and most new jobs start at the beginning of the academic year. The best time to apply would be a few months ahead of the start of the new academic year.
References
Bureau of Labor Statistics. Occupational Outlook Handbook 2010-11. "Teacher." https://www.bls.gov/k12/help01.htm. Retrieved 01 December 2010
TeacherVision. Professional Portfolio for Teachers. https://www.teachervision.fen.com/pro-dev/teaching-methods/20155.html?detoured=1. Retrieved 01 December 2010.