How to Make a Career Change to Math Teacher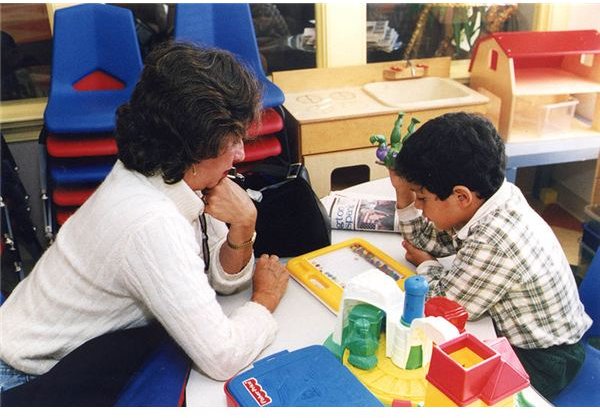 Are you thinking about a career change? If you like learning and have a passion for sharing knowledge with others, then consider a career in teaching. If you have a technical background or one in numbers, make a career change to math teacher. Career changers to the education field can take necessary subject courses and obtain teaching credentials within a few years to become teachers at various levels.
Career Options for Math Teachers
Math teachers can teach at different levels of private and public education including elementary, middle or high school. These levels of education primarily require teacher training and licenser in the state that you work in. Each state has specific requirements for obtaining a teacher's license. Check your state's department of education for licenser information specific to a career change to math teacher.
Math teachers with Bachelor's degrees in mathematics or related fields can also teach college level math courses either part-time as an adjunct instructor or full-time as an instructor or lecturer. Colleges require a relevant degree and experience teaching in classes. If you don't have the teaching experience, you can either start off tutoring in the subject or teaching one course as an adjunct.
What's Needed to Become a Math Teacher
Teachers need organization, communication and presentation skills. For a career change to math teacher, you should have a technical aptitude for the subject matter and be comfortable with using technology such as computers and calculators in the classroom. Nowadays, math teachers even use iPods and math-related applications in their classrooms.
In terms of education, math teachers need to have at least a Bachelors degree in mathematics or a related area such as statistics or computer science. If you don't have a technical background, you will need to complete a background degree in math or a related area. In addition to getting a subject degree, you will also need to complete teacher training and licenser. State licenser is required to teach at the lower levels in public or private schools.
Where to Find Work as a Math Teacher
According to the a 2010 salary survey from Payscale.com, teachers in their first year average about $34,000 and can increase to salaries of $58,000 with 20 or more years on the job. The same survey estimates that instructors at the college level can earn about $40,000. Of course, this varies accordingly with the school district and state.
Once completing your mathematics degree and teacher training, take care in writing your teaching resume. As a career changer, take the time to research the job market and get feedback on writing your resume. Most schools will offer teacher training and assist in placing you in a teaching position upon completing your teaching credentials. You can attend teacher job fairs for the public school system in addition to searching newspapers or applying to schools in the private school system.
References
The National Council for Accreditation of Teacher Education (NCATE) - https://www.ncate.org
Listing of Department of Education by State - https://wdcrobcolp01.ed.gov/Programs/EROD/org_slist.cfm?category_cd=SEA
Payscale.com – https://www.payscale.com
(Photo by U.S. Census Bureau; Courtesy for WikiMedia Commons - https://commons.wikimedia.org)