What Are the Career Options for Architects?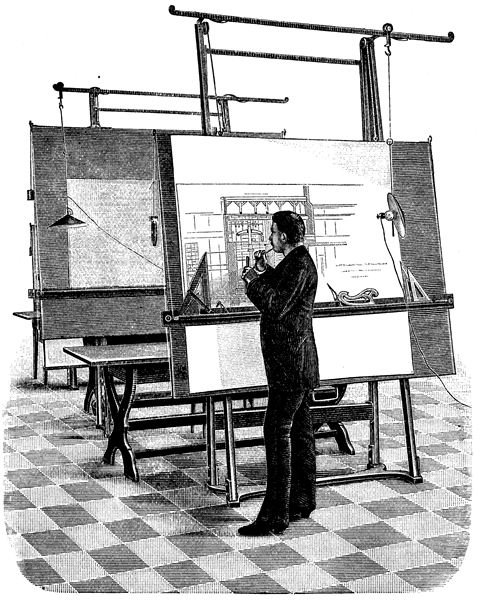 Construction Architects
Construction architects apply their creativity and knowledge of engineering to plan and design houses, apartments, schools, utility buildings, commercial complexes and other buildings based on their client's requirements.
About 68 percent of all architects work at various positions and levels in the architectural, engineering, and related services industry. Such mainstream architects plan and design the construction's appearance, aesthetic appeal, layout, placement of air-conditioners and ventilation systems, structural integrity, and strength. The role of the architect starts at the conception of the project and ends when the project is complete, and entails providing technical and other drawings for the construction.
Major employers of architects include residential and nonresidential building construction firms, government agencies responsible for housing, and other large government departments such as the U.S. Departments of Defense and Interior and the General Services Administration.
Image Credit: Wikimedia Commons
Green Architects
The increased concern about the environment and the need to conserve resources has increased the demand for "green" architects, or architects with knowledge of eco-friendly and sustainable design and methods. Green architect jobs emphasize the use of environment friendly products, efficient use of energy, water and other resources, elimination of waste and pollution, conservation of natural resources and habitats, and environmentally friendly design, specifications, and materials.
Architects with knowledge of green principles find demand not just for new projects, but also to convert existing structures into eco-friendly and sustainable nodes.
Landscape Architects
Landscaping architecture is a niche career opportunity for architects. The work entails designing gardens, parks, playgrounds, open spaces in residential or office complexes campuses, and other outdoor spaces to make such spaces both functional and appealing to the natural environment. Landscaping architects plan the layout of buildings, roads, and walkways, arrangement of plants, and the like.
Another area of work for landscaping architects is restoration of natural places such as wetlands, streams, forested lands and others, disturbed by humans.
Major employers of landscape architects include large-scale developers, and town and city councils who maintain parks and gardens.
Interior Designers
Like landscaping architects, interior designing is another niche career opportunity for architects. Interior designers enhance the aesthetics, functionality, and safety of a building's interiors. They make the space visually appealing through interplay of colors, textures, furniture, lighting, and space, plan spaces and layouts to optimize the functionality of the space, and make sure to incorporate essential safety and ergonomic designs. Like green architecture, green interior designing is also much in demand.
Many interior designers work independently, while others work for builders or interior design firms.
Urban and Regional Planners
Urban and regional planners assist the government in developing plans for land usage and development or rejuvenation of urban, suburban, and rural communities. They plan and design the layouts of roads, schools, hospitals, commercial and residential areas, and other utilities, suggest zoning regulations, and perform other activities aimed at the physical development of the community's infrastructure.
Other Career Options for Architects
The American Institute of Architects lists over 600 career options for architects. The most common choices include building inspector, construction manager, campus planner, developer, graphic designer, set designer, professor, and photographer, and others. Specific niches such as naval architect, marine architect and others constitute other career opportunities.
Architecture career opportunities extent to starting one's own business or remaining self-employed, and about 21 percent of all architects take this route. They find it easy to start their own construction firm, developing projects on their own or in conjunction with financial advisors, real-estate developers or others. Others serve as consultants, providing architectural and other services to people building their homes, or to developers.
Job Prospects
The demand for architects usually remains directly proportional to the state of the economy. Economic boom that manifests in the construction of office buildings, shopping centers, schools, and healthcare facilities boost demand for architects in the area.
The Bureau of Labor Standards (BLS) estimates that architects earn a median hourly wage of $37.93, an average annual salary of $78,880. Entry-level architects earn about $12 to $15 an hour. The job remains dependent on specific projects; many firms hire architects temporarily, and architects changing jobs frequently in the early stages of the career is commonplace. Career advancement depends on exposure to a wide range of tasks, besides enhanced skill-sets and a motivation to perform.
Architects held about 141,200 jobs in 2008, with most of them working either in small architecture firms or self-employed. Eighty percent of all architectural firms in the U.S. employ less than six architects. BLS expects the demand for architects to increase by 16 percent between 2008 and 2018, more than the average for all occupations.
References
Boston Society of Architects. "Your Career in Architecture." Retrieved from https://www.architects.org/programs_&_education/index.cfm?doc_id=25 on 16 November 2010.
Bureau of Labor Standards. Occupational Outlook Handbook 2010-11. Retrieved from https://www.bls.gov/k12/build04.htm on 16 November 2010.