Practicing Good Work Ethics: Examples and Advice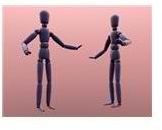 Divide and Conquer
Always worried that you'll turn in things late? Everyone knows how irritating late submissions are, especially your boss. The domino effect your late work initiates causes hassle on everyone else. Avoid annoying your colleagues by carefully examining a task the moment it is given to you. Is it something that would take you two weeks to prepare? Start by working three weeks back from the actual deadline–that allows you a one-week allowance for final touches and, well, possible unavoidable delay in some things along the way. Make sure to do a mini-task each day as the deadline approaches. Quit the overnight cramming routine–in the long run, it will do more damage to your rep. Don't make submitting a late, mediocre work a habit.
Delegate on Time
What if you are the man on the other end of the line–the one who actually delegates these tasks and gives the deadlines? Bear in mind that the responsibility does not rest fully on the people you set deadlines for. It is imperative that before delegating tasks, you have a full comprehension of the nature of the tasks you are giving out. Know exactly how to go about each and how long it would take for your people to accomplish their assignments. Mindlessly throwing tasks here and there shows a lack of good work ethics and will cause frustration on the part of your people and eventually, loss of respect for you by your team.
Take Full Responsibility
Are you stuck in one of the items in your task list due to someone else's delay? Don't get caught up in the victim syndrome–instead of blaming someone else, walk up to that person and offer help. Aside from this being a great strategy to get along with a coworker, examining his/her cause of delay will be a significant learning experience for you, too. In the end, you help not just the colleague but yourself as well. You forge stronger work relations with your office mate and you get to move on to the next item in your task list–it's a win-win situation. It always pays to be proactive by demonstrating good work ethics to others.
Submit Quality Work
Don't just brainlessly go through a task just because you have to beat a deadline. Invest your time and skills in everything that you do at work. It is not hard work–think of it as an investment that will have you reap tons of benefits down the road. Nobody remembers the one who always submits mediocre work. How to always come up with quality presentations? Head to the storeroom and log out project reports of people who always do stellar jobs in their tasks. Learn what they do right and examine their list of recommendations and points to improve. Then, talk to them in person and ask not just about what went right but what went wrong along the way of finishing their assignments. Make their bank of experiences teach you.
Image Credit:
FreeDigitalPhotos.net, Omini Rossi
This post is part of the series: Office Survival Tips
Here is a list of articles to help you find your way around office relations, good work ethics, work stress, and coworker habits you need to imbibe–and get rid of.