Nursing Graduates' Job Prospects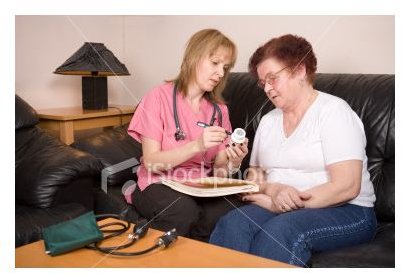 No Shortage of Demand for Nursing Graduates: Job Prospects Abound
There is no shortage of job prospects for nursing graduates. The nursing field has exploded into many different and exciting kinds of opportunities for nursing graduates. Nursing shortages today are at an all-time high. Nursing shortages have proven to have a direct impact on patient care. Due to the predominantly female field, the aging nursing work force, and expanding career options for women the job prospects are very high for a nursing school graduate.
Typically when people think of a nurse they think of a nurse in a hospital setting administering patient care. The hospital setting is the predominant place someone with a nursing degree can find a job, but the nursing field has expanded to offer so many more job prospects in areas you may never think of!
Nursing Graduates' Job Prospects: Administering Patient Care
When most people think of a nurse they think of a hospital setting. The majority of nurses administering patient care do work in a hospital setting. Nurses in today's market can pick their area of specialty be it in ER medicine, OB/GYN, intensive care or acute care. Nurses can also administer patient care in a physician's office. Although a physician's office typically pays less than a hospital setting the hours are more predictable and shift work is eliminated. There are also job prospects administering patient care in a home health capacity. Insurance companies are desiring people to receive as much in-home care as possible as a cost-cutting measure. Nurses who provide patient care in a home health setting do just what the title implies–go to the patient's home to administer that care. Care such as wound dressings, diabetes monitoring, and even IV drug administration can be done at home with a qualified nurse.
Job Prospects in Administration
Nursing graduates' job prospects are not just limited to patient care. More and more job prospects are opening up for nurses in administrative capacities. One of the most obvious is a director of nursing. This position oversees the nursing departments at a hospital, sets schedules, decides job descriptions, and performs employee evaluations.
Health information management departments are providing administrative opportunies for nursing graduates. When it comes to utilization review and coding positions, who better to have scrutinizing those records than a nurse who is familiar with the medical terminology, prescription drugs, and nursing notes?
Insurance companies are more and more motivated to be sure that their money is being spent appropriately. Hospitals are having to precertify stays and continue stays via telephone to the insurance company at an increasing rate. The person they are most likely to call for precertification is a nurse. The nurse determines if the patient qualifies for an extended stay in the hospital, needs to go home with appropriate services, or can be discharged and followed in a physician's office.
Pick Your Specialty
A nursing graduate only needs to pick his or her specialty to start exploring job prospects. It is a good idea to see if the program that the student is graduating from offers job shadowing to give a graduate an idea of what she thinks she would like. There are many specialities to choose from inside or outside a hospital or in an administrative capacity. There is a big world of job prospects for the nursing program graduate!
SOURCES: