Ethical Whistleblowing Guidelines for the Workplace

What is Whistleblowing?
You may have heard the term before - on the news, when a major company is shown to have done some sort of misconduct that was only discovered when someone, well, blew the whistle on them. But what exactly is whistleblowing? Whistleblowing is the act of an employee who raises concerns about an act that their co-workers, superiors, or even the company itself is doing that is essentially illegal. This usually is attributed to fraud, corruption, or a health/safety concern that would threaten the public as a whole.
There are two types of whistleblowers - those that are internal members of a company and those are external.There are different views on that of a whistleblower; some feel that they are courageous in stepping out and telling people about the misconduct of their co-workers or others; some feel they are seeking the fifteen minutes of fame by stirring up trouble that should have been left alone.
For someone who does report misconduct, the decision is not to be taken lightly. In many cases, whistleblowers lose their jobs or even worse, may be persecuted and prosecuted for exposing the wrongdoing. They may also have retaliatory measures taken against them, which may sometimes lead to violence.
But what if someone knows the risks and still feels they are worth it in order to expose wrongdoings within their company? What are the ethical whistleblowing guidelines that they should follow?
Ethical Whistleblowing Guidelines
If you have reason to believe that a co-worker, superior, or the company you work for is doing something illegal, the first thing you should do is review your company's policy on how to report a violation. Every company is different and therefore, there will be different methods with which you need to report your suspicions.
If you have followed the policies set forth by your company and yet action has not been taken, you may need to go to get outside help. The National Whistleblowers Center is a good place to start. The center was started in 1988, providing help for whistleblowers who want to expose wrongdoing in their company. The NWC has done much to protect whistleblowers, including working with Congress to get many whistleblowing protection laws passed - the No-Fear Act, the Sarbanes-Oxley Corporate Whistleblower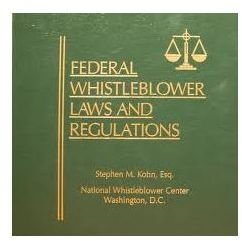 Protection Act, and the Civil Rights Tax Relief Act.
The group provides a confidential report that someone can submit, as well as offering confidential attorneys to speak with in regards to exposing misconduct on their website. There is also a listing of some of the rights that whistleblowers have in terms of reporting misconduct. Again, each state is different with their laws, so it is important that a person understand how his or her state and city handles acts of whistleblowing.
Ethical whistleblowing guidelines have come a long way since the first person who stood up and stated that their company was doing something wrong. While there are now laws that will protect a whistleblower, the system is still changing and becoming better at protecting those who are trying to protect others.