Top Paid Medical Jobs: Which Careers in the Medical Field Pay the Most?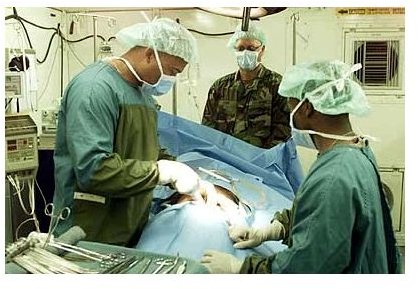 Surgeons
Surgeons and physicians come in at the top of the list of top paying medical jobs.
Surgeons treat injury, disease, and deformation through operations, and also examine and counsel patients and diagnose test results.
Many surgeons specialize in a specific areas and the most common specializations include:
Orthopedic surgery or the treatment of the musculoskeletal system
Neurological surgery or the treatment of the brain and nervous system
Cardiovascular surgery or the treatment of heart
Otolaryngology or the treatment of the ear, nose, and throat
Oral and maxillofacial surgery or the treatment of mouth, jaws, teeth, and face
Plastic or reconstructive surgery
A surgeon's job ranks not just as one of the top paying medical jobs, but also among the highest paying jobs across all sectors giving it a high rank within the best careers for the future. The mean hourly wage is $105.66 and the average annual salary was $219,770 as of May 2009
Surgeons require a medical degree and licensing besides hospital residency to practice. The salary and career progression depends on the skills and reputation of the surgeon.
Image Credit: Wikimedia Commons
Physicians
Physicians rank among the best health care jobs in terms of pay and growth prospects. They treat patients to diagnose illnesses, prescribe medications, administer treatment, and work in one or more of several specialties.
Anesthesiologists evaluate and treat surgical patients for pain relief, and monitor the patient's vital life functions such as heart rate, body temperature, blood pressure, and breathing during surgery. They enjoy a mean hourly wage of $101.80 and an average annual wage of $211,750 in 2009.
Obstetricians and gynecologists specialize in providing medical care for women, focusing on ailments related to the female anatomy and pregnancy. They enjoy a mean hourly wage of $98.31 and average annual wage of $204,470 as of 2009.
General internists diagnose and provide non-surgical treatment for a wide range of problems that affect internal organ systems such as the stomach, kidneys, liver, and digestive tract. They enjoy a mean hourly wage of $88.46 and an average annual wage of $183,990 in 2009.
Family and general physicians assess and treat a wide range of conditions. They are usually the first point of contact for an individual and they refer cases of advanced illness or injuries that they cannot treat to specialists or other health care facilities. They have a mean hourly age of $81.03 and average annual wage of $168,550 in 2009.
Psychiatrists use their knowledge of psychotherapy and psychoanalysis to assess and treat mental illnesses. They have a median hourly wage of $78.68 and annual wages of $163,660 as of 2009.
General pediatricians specialize in providing heath care for infants, children, teenagers, and young adults, focusing on the various ailments specific to young people as they grow. They enjoy a median hourly wage of $77.60 and an annual wage of $161,410 in 2009
Other specialists include allergists, cardiologists, dermatologists, emergency physicians, gastroenterologists, ophthalmologists, pathologists, radiologists, and others. All of them enjoy a mean hourly wage of $83.59 and mean annual wages of $173,860 as of May 2009.
Entry-level qualifications for physicians include medical degrees from a recognized university, licensing, and experience. The salary levels and career advancement depends on the years of practice, skills, reputation, and nature of work.
Nursing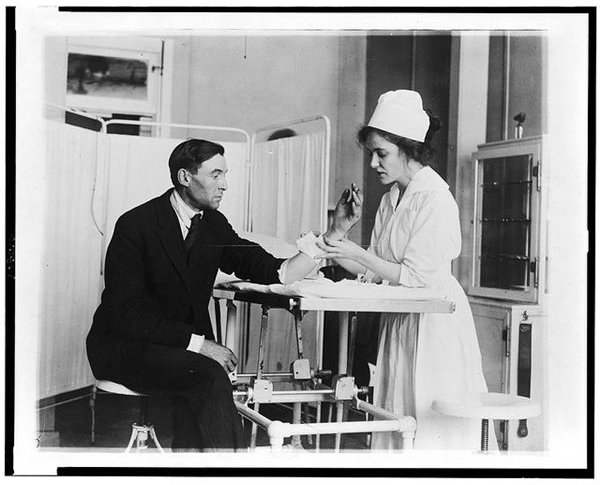 Registered nurses (RNs) support physicians and surgeons in treating patients by recording the patient's medical history and symptoms, performing diagnostic tests, and analyzing results. They also operate hospital machinery, administer treatment and medications, and follow up with patients for rehabilitation.
With over 2.5 million nurses nationwide, nursing constitutes about 15 percent of the medical workforce, the single largest component and the top health care job in terms of demand. They enjoy a median hourly wage of $31.99 and average annual wages of $66,530 as of 2009.
Entry-level qualifications for nurses include licensing from the state and a bachelor's of science degree in nursing, an associate degree in nursing, or a diploma, depending upon the specialty. Nurses with bachelor's degree receive more training and clinical experience and as such, stand better chances of career advancements and placement in complex and senior positions that offer the maximum pay.
Image Credit: flickr.com/pingnews.com
Medical and Health Service Managers
Medical and health service managers, also known as health care executives, or health care administrators, undertake management and administrative tasks of hospitals and health care. They plan, direct, coordinate, and supervise all activities related to delivery of quality health care.
Among the various niches, general managers oversee the general and administrative functions of the hospital. Clinical managers have training or experience in specific clinical areas and have more specific responsibilities. Health information managers manage patient records and ensure compliance with statutory requirements.
Most medical and health service managers have a Master's Degree, although on-the-job experience may substitute for formal education. With a mean hourly wage of $43.74 and average annual wage of $90,970 in 2009, medical managers also rank among the top paid medical jobs.
Clinical Psychologists
Psychologists observe, record, and interpret mental processes and human behavior to determine how people behave. Clinical psychologists, the largest specialty among psychologists, assess, diagnose and treat a wide ranging mental disorders extending from schizophrenia and depression to overcoming trauma and loss.
The various branches of clinic psychologists include:
Health psychologists that study the impact of biological, psychological, and social factors on health and illness.
Neuropsychologists study the relation between the brain and certain behaviors.
Geropsychologists concern themselves with the special problems faced by the elderly.
Clinical Psychologists have a mean hourly wage of $34.77 and average annual wages of $72,310 as of 2009. Psychologists usually require a doctorate degree, besides certification to practice.
Looking for more options? Check out the rest of Bright Hub's collection of career guides and profiles.
References
Baiderrama, Anthony. The Highest-Paid Medical Jobs. Retrieved from https://jobs.aol.com/articles/2010/04/16/highest-paid-medical-jobs/ on October 01, 2010.
Bureau of Labor Statistics. Occupational Outlook Handbook 2010-11. Retrieved from https://www.bls.gov/ on October 01, 2010.