Top 10 Job Relocation Tips - How to Relocate Effortlessly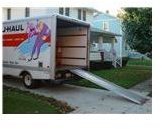 You've done your homework and decided that a job relocation is in your best interest. Now the hard part starts. Whether you're relocating to another city, to the opposite coast or another country for a job, it's important to make the right choice or be lost in your city. For example, if you have children it may be best to relocate—if you can—during one of their holiday breaks such as Spring break. Or, if you relocate during the school year, you'll give your children the opportunity to make friends before the school year is over.
Job Relocation Tips: Start With The Basics
Here are some items to consider on relocating:
1. Make a list of things you need to do in your hometown and the city where you're relocating. Although it sounds like a no brainier, it can be extremely easy to forget when you're in the mist of completing relocation tasks.
2. Some other things on the checklist should include talking to a Realtor to sell your home, obtaining written estimates from moving companies and canceling your memberships at area clubs.
3. Figure out all the costs to relocate.
4. There may be professional people you need to hire such as a Realtor that is essential to you before and after you and your family move. For instance, you may also need to find a new car insurance representative or agent and a new doctor or vet if you own a pet.
5. Start packing your belongings–but before you do, be sure to take a video or pictures of your belongings.
Complete Tasks By Timeline
6. Meet with at least three movers for in-home estimates four to eight weeks before your move. Ask questions to get an accurate assessment of the move and cost.
7. Make all travel arrangements to move approximately eight weeks before you need to move. Make sure both you and the movers are on the same time table with regard to your move so you're belongings make it to your new location.
8. Contact companies you do business with approximately four weeks before you move. Give them a date when you want to cancel memberships or end services.
9. Make sure to finalize all your relocation plans approximately two to three weeks before the actual move.
Job Relocation Tips: Rent Before You Buy
10. It's best to look for apartment before you make a major purchase such as a home or condominium. There are a couple reasons behind choosing an apartment over buying a house immediately. For instance, the job offer or notice may give you very little time to find a home you like. Moreover, you need time to settle into the new city. The neighborhood that appears vibrant, interesting and a great place to live, may not be that way once you move there. Thus, it's important to take time to find the right neighborhood instead of making a major purchase.
Photo Credit: Morgue File by Click