Top 10 Best Paying Blue Collar Jobs: Part 1 of 2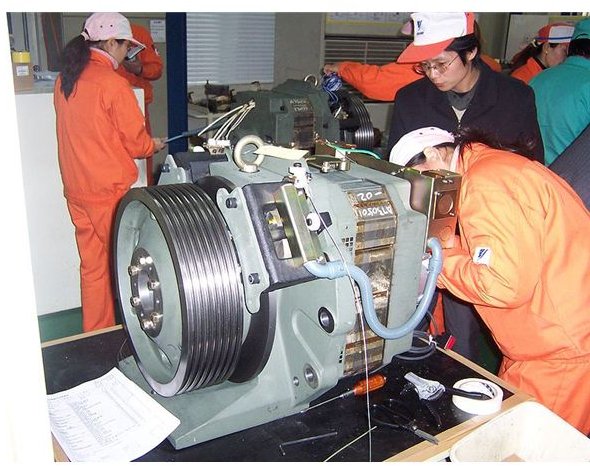 1. Elevator Installers and Repairers
The job profile of elevator installers and repairers entails assembling, installing, maintaining, repairing, and replacing elevators, escalators, chairlifts, dumbwaiters, moving walkways, and other equipment in new and old buildings
With an average hourly salary of $33.35, elevator installers and repairers rank amongst the best paying blue collar jobs. While formal entry level qualification remains a higher secondary schooling, a thorough knowledge of electronics, hydraulics, and electricity is also essential.
Image Credit: Wikimedia Commons
2. Locomotive Engineers
Railroad jobs such as locomotive engineers, railroad conductors, and yardmasters rank as top blue collar jobs.
The job of a locomotive engineer is to drive electric, diesel-electric, steam, or gas-turbine-electric locomotives to transport passengers or freight. They check the mechanical condition of the loco before the run, move instruments, and monitor instruments. They also interpret train orders, signals, and railroad rules and regulations. They are employed by three types of railroads: freight, passenger, and urban transit (subway and light rail).
They earn a mean hourly wage of $29.74.
3. Railroad Conductors and Yardmasters
Railroad conductors coordinate the activities of train crew on passenger or freight trains, and yardmasters coordinate activities of workers engaged in railroad traffic operations such as makeup or breakup of trains, yard switching, reviewing train schedules, and switching orders. They are responsible for the safety of the passengers and crew who ride on their trains. Such jobs attract a median hourly wage of $26.39.
Entry level qualification for railway jobs are high school, but the candidate needs to pass extensive in-house training and acquire considerable experience as an assistant before making the cut as a railroad engineer, conductor, or yardmaster.
4. Electrical and Electronics Repairers
Electrical and electronic repair jobs rank among the best blue collar jobs. The work profile includes installation, inspection, maintenance, and repair of the various electronic installations deployed by businesses and government. Examples of such installations include industrial controls that monitor and direct production processes in factories, transmitters and antennae that provide communication links, electronic equipment that controls electricity-generating plants and substations, radar and missile control systems that direct air traffic, and the like.
Such jobs earn a median hourly wage of $23.29. The basic requirement is knowledge of electrical equipment and electronics. An associate degree in electronics and professional certification, though not essential, is preferred by most employers.
5. Power Plant Operators
The job of the power plant operator is to control and monitor boilers, turbines, generators, and auxiliary equipment in power-generating plants and to distribute and regulate power among generators. Power distributors and dispatchers, also known as load dispatchers or systems operators, specialize in controlling electricity flow through transmission lines to industrial plants and substations.
The minimum qualification for employment as power plant operator and load dispatcher is high school diploma, but candidates require college or vocational school degrees for realistic chances of employment and advancement. Many nuclear power reactor plants require bachelor's degrees in engineering or the physical sciences for such jobs. Such workers also undergo extensive in-house training and take refresher courses on a continual basis.
Median annual wages of power plant operators are $58,470, of nuclear power reactor operators $73,320, and of power distributors and dispatchers $65,890.
6. Ship Engineers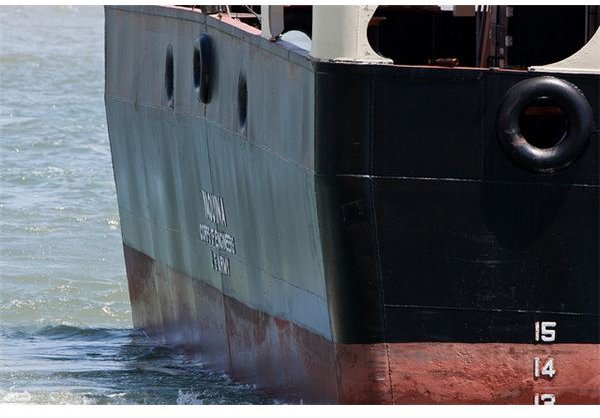 Careers in ships as ship engineers or assistant engineers rank amongst the best paying blue collar jobs.
Ship engineers operate, maintain, and repair the propulsion engines, boilers, generators, pumps, and other machinery inside ships. They also supervise and coordinate activities of crew engaged in operating and maintaining the various other equipment and machinery in ships. Merchant marine vessels usually have four ship engineers: a chief engineer and three assistant engineers who stand periodic watches to oversee the safe operation of engines and machinery.
Ship engineers enjoy a mean hourly wage of $33.38, but their average weekly work hour is 51.8 hours instead of the standard 40 hours for most other blue collar jobs. Some merchant mariners also need to spend extended periods at sea.
Entry, training, and educational requirements are established, regulated, and periodically revised by the U.S. Coast Guard. Ship engineers and deck officers on boats plying in inland waterways usually qualify by accumulating thousands of work hours' experience as deckhands, and those manning ships in high seas generally require graduation from any of the merchant marine academies. A written examination is the deciding factor in both cases.
Image Credit: flickr.com/MIke Baird
7. Construction Trades and Extraction Work Supervisor
While construction trades that include masons and plumbers as well as extraction workers such as drillers, blasters, and explosive workers do not pay much beyond average wages, direct first-line supervision of such jobs ranks as high paying blue collar job options. Supevisors in turn advance to becoming builders and contractors.
Construction and extraction supervisors enjoy median hourly wages of $25.89. The position requires no formal level qualification, with most supervisors having considerable experience as workers and rising by dint of their abilities.
8. Gas Plant Operators
Gas plant operators find place in the list of top ten best paying blue collar jobs. They control compressors to maintain the pressure required to process and distribute gas through pipelines. They work for the gas utility companies. They enjoy an average hourly median wage of $25.80.
The basic entry level qualification is a high school diploma, with certificate or associate degree programs desirable.
9. Farm, Ranch and Other Agricultural Jobs
Agricultural jobs entail managing farms, ranches, aqua-cultural operations, greenhouses, nurseries, timber tracts, cotton gins, packing houses, and other agricultural establishments for employers. The duties and responsibilities vary widely, ranging from daily planting jobs to marketing and making business decisions, depending on the type and size of the farm or agricultural concern.
Farm and agricultural workers enjoy a median hourly wages of $25.03. There are no entry level qualifications, and success depends more on skills and experience than formal qualifications. An associate or bachelors degree from an agricultural college that teaches technical knowledge of crops, growing conditions, and plant diseases helps gain entry into supervisory-level jobs for people not having grown up on farms.
10. Transportation Inspectors
Transport inspectors such as rail transport inspectors, car inspectors, freight inspectors and others inspect equipment and goods to ensure safe transport of cargo and people. Their main job is to inspect and ensure compliance with the set standards and guidelines.
They earn a median hourly wage of $24.22.
Minimum entry level qualifications include post secondary education, though years of experience in the field is the deciding factor in landing such jobs.
Looking for more options? Check out the rest of Bright Hub's collection of career guides and profiles.
References
Bureau of Labor Standards. Occupational Outlook Handbook, 2010-11 Edition. Retrieved from www.bls.gov
Riper, Tom Van. The Ten Best-Paying Blue-Collar Jobs. https://www.forbes.com/2006/07/11/leadership-jobs-wages-cx_tvr_0711bestbluecollarjobs.html