Top 10 Jobs in Demand in the US: A Career Planning Guide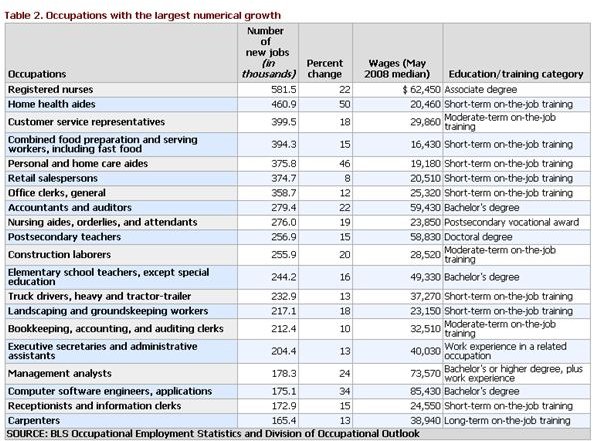 Our list of top ten jobs in demand in the U.S. was based on the Bureau of Labor Statistics' (BLS) overview of current job occupations with the largest numerical growth. (See screenshot image of BLS list – click for a larger view). Unfortunately however, the turnover rates for some of these jobs are also high; workers often leave to look for less strenuous jobs or where there are better salary offers. Hence, employers are frequently seeking suitable replacements.
Find out the details as well as the benefits and drawbacks about each of them to serve as your career planning guide.
(1) Registered Nurses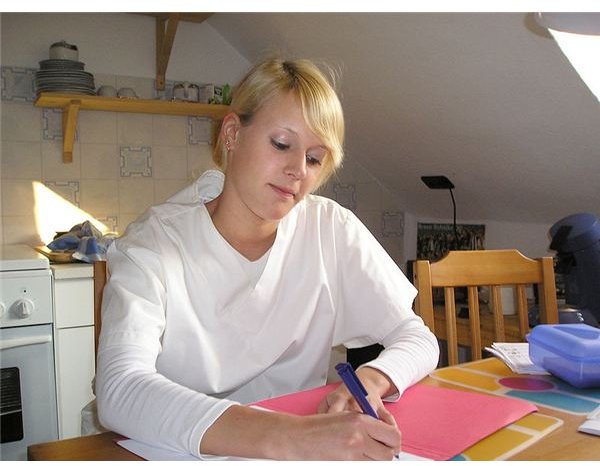 Registered Nurses (RN) continue to top the list, inasmuch as the shortage for this profession is still unmet. According to labor market indicators, although the number of US NCLEX-RN Board passers doubled to 134,000, this was not enough to meet the 581,500 new RN jobs that was estimated in 2008.
Pay Rates
The National Pay DATA disclose that average hourly rates range from $22.08 - $30.80, while the annualized figures range from $46,477 to $67,195. Compensation packages include bonuses and profit sharing as well as health care benefits. Jobs are usually found in companies engaged in providing health care services, hospitals and providers of long-term or home-care rehabilitation and nursing.
Career Outlook
RNs with impeccable performances are being offered better career options in private offices operated by independent physicians and as private nurses for outpatient treatments. Offers include family-friendly work hours, a better working environment and in some cases, travel opportunities in accordance with the patient's lifestyle.
Competition is stiff, hence, it would be best for those who take up nursing degrees to acquire as much skills and knowledge as possible, including that of advanced practice nursing. Those who manifest excellence in early internship engagements are being retained, and signed-in as soon as they graduate and pass the board.
Others are being offered teaching jobs to supplement the post-secondary institute's faculty resources, as more and more students are becoming interested in finding high-paying jobs as Registered Nurses.
Places/US Cities with Most Demand and Highest Salary Offers
The top US cities with the highest demand for registered nurses are (1) Rochester, MN; (2) Gainesville, FL; (3) Ann Arbor MI; (4) Morgantown, WY and (5) Durham, NC; where pay rates range from $27.49 to $ 32.00.
The US states with the highest paying RN job opportunities are led by California, offering the highest rate at $40.90 per hour, followed by Massachusetts, Hawaii, Maryland and New Jersey at $36.05 per hour.
(2) Home Health Aides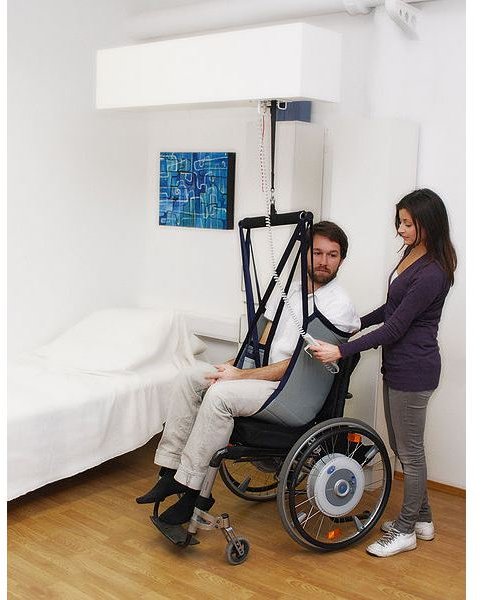 Home health aides find work in licensed home care hospices that usually receive government or charitable funding as financial support. Their main responsibility is to assist the hospices' clients who may be chronically ill, disabled, a senior citizen or cognitively impaired. Clients are usually outpatients requiring medical and other forms of health care assistance on a short-term basis.
Tasks include performing housekeeping work as well as assisting the patient in personal grooming and hygiene. Depending on their personal capacities, home health aides can work part-time or in full and take care of more than one patient. Hence, flexibility of time is possible.
Pay Rate
The National Pay Data for home health aides discloses average hourly pay rates that range from $8.35 - $11.14, and annualized at $17,556 - $24,530, which includes overtime pay, bonuses and profit sharing. About 79% of those hiring home health aides do not include health care benefits as part of compensation package.
Career Outlook
A home health aide is required to undergo on the job training under a registered nurse or other experienced health care workers. An aide may be a high school graduate, but it is important for him or her to be emotionally stable and with a generally cheerful disposition. He or she should also pass certain medical tests as well as possess a clean slate in driving records.
In 2008, about 1.7 million found work as home health aide; hence, making it one of the top jobs in demand. However, job vacancies are high due to faster turnover rates. Most individuals who left their jobs found the tasks involved too taxing both physically and emotionally, while compensation is too low.
Home health aide workers could advance as Certified Nurse Assistants and earn at a range of $19,950- $27,076. Others take up additional BS Nursing courses; pass the NCLEX exams to become Registered Nurses, in order to find better paying job opportunities.
Please proceed to the next page for the continuation of the top ten jobs in demand in the US.
Continuation of Home Health Aides
Places/US Cities with Most Demand and Highest Salary Offers
US cities with the highest demand for home health aides are (1) Goldsboro, NC; (2) Brownsville-Harlingen-TX; (3) Fayetteville, BC; (4) Duluth, MN-WI and Rocky Mount, NC.
US states where you can find the highest salary offers for this line of work are Connecticut, at $13.95 per hour, followed by Alaska, Rhode Island, Massachusetts and Vermont whose offer is at $12.25 per hour.
(3) Customer Service Representative
Customer Service Representatives (CSR) represented the 2.3 million workers included in the employment data in 2008, most of whom found work at call centers. This job requires only a high school diploma in order to qualify but it is important that candidates have the aptitude to learn the service skills of a CSR.
For companies who consider this job as critical to their image, CSR applicants are required to be associate or bachelor's degree holders. The job entails quick-thinking and resourcefulness as well as having enough patience when dealing with short-tempered customers. Working hours require shifts, since operations are round the clock.
Pay Rates
National Pay Data reveals average hourly pay rates that range from $10.21 - $14.79 with annual average pays ranging from $23,403 - $35,168, including overtime, bonuses and profit-sharing schemes plus health care benefits.
Career Outlook
Employee turnover is high due to the repetitious nature of the job. Others experience stress from handling calls of demanding and unreasonable callers. Hence, those whose thresholds for irate customers simply thinned out, sought for other line of work.
Excellent communication skills especially for those with bilingual ability, can expect above-average job offers. More companies are now using call center agencies to take care of their front-line businesses since manpower, utility and other related costs are relatively cheaper. Thus, the expected growth and demand for CSR providers are expected to intensify.
Places/US Cities with Most Demand and Highest Salary Offers
US cities that have the highest demand for CSRs are (1) Sioux Falls, SD (2) Valdosta, GA; (3) Clarksville, TN-KY; (4) Danville, VA and ( 5) Hagerstown-Martinsburg, MD-WY.
US states with the highest salary offers for CSR workers are Connecticut at $ 18.40 an hour, followed by California, Delaware, Massachusetts, and District of Columbia at $17.39 .
(4) Food Preparation and Serving Workers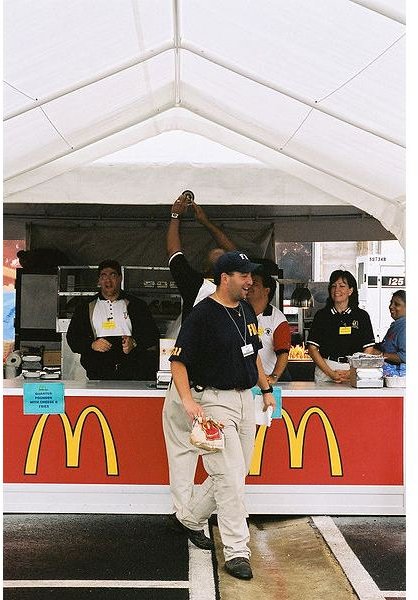 Workers involved in food preparation and serving, enjoy flexible working hours in this kind of work. Most of those employed are from ages 16 to 19; hence, some of them take up college courses during their spare time. However, work requires being up and about most of the time and tends to be more strenuous during weekends and peak hours.
Agility and memory retention are some of the strong points to possess since they have to deal with customers who demand faster services. However, there are those who are able to get good impressions from customers, thus, earning additional income by way of generous tips. Fast food chains that have the most demand for food preparation and serving workers are McDonald's, Burger King, Arby's, Subway and KFC.
Pay Rate
The National Pay Data discloses average pay rates ranging from $7.18 - $8.32, which could sum up to annual average pays that range from $15,065 - $17,410. This includes tips, overtime pay and bonuses, however, 85% of businesses hiring food preparation and serving workers do not provide health care benefits.
Career Outlook
Room for advancement is limited; hence, many tend to look for work in other establishments with better pay rates or in areas more accessible to their schools or home bases..Nonetheless, the growth of budget-meal cafeterias and eateries are also on an upward trend, and it follows that there will be more demand for the job.
Landing jobs in large-scale food retailers gives better opportunities for career advancements as supervisors or outlet managers, especially if the employees are holders of degree courses.
Places/US Cities with Most Demand and Highest Salary Offers
US cities with the highest demand for this job include (1) Atlantic City-Hammonton, NJ; (2) Las Vegas-Paradise NV; (3) Medford, OR; (4) San Angelo, TX and (5) Davenport-Moline-Rock Island, IL.
US states that offer the highest pay rates are Hawaii at $ 16.55 per hour, District of Columbia, New York, Alaska and Florida.
Continue reading on to the next page for more of the top jobs currently in demand in the US.
(5) Personal and Home Care Aides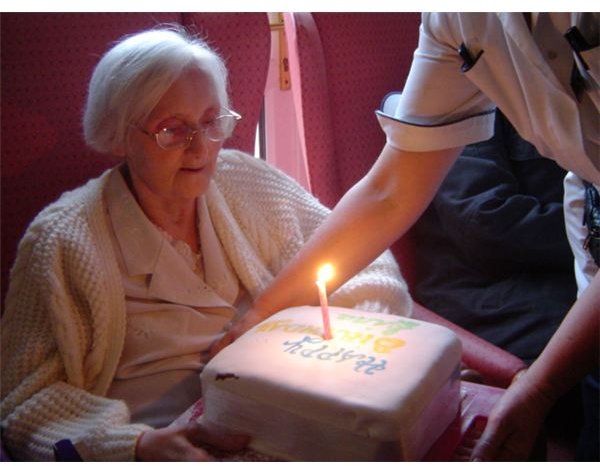 This type of work is similar to that of Home Health Aides, and are more commonly known as Caregivers. They are hired by families of disabled or ailing individuals, to provide special care and attention on a long-term basis.
Pay Rate
National Pay Data reveals a slightly higher hourly rate ranging from $8.72 - $12.56 and average annual salaries of $18,317 - $28,971, which include overtime pays and bonuses. An estimated 83% of employers hiring personal and home care aides do not provide health care benefits.
Career Outlook
The work settings for personal and home care aides are in the homes of employers. Hence, employee turnover could also be frequent as others tend to seek for work places where there is career growth.
Places/US Cities with Most Demand and Highest Salary Offers
You can find this job in demand in the same places and US cities where home health aide workers are also popular; in addition, the cities of Seattle, WA and Los Angeles, California are also known for high paying rates.
(6) Retail Salesperson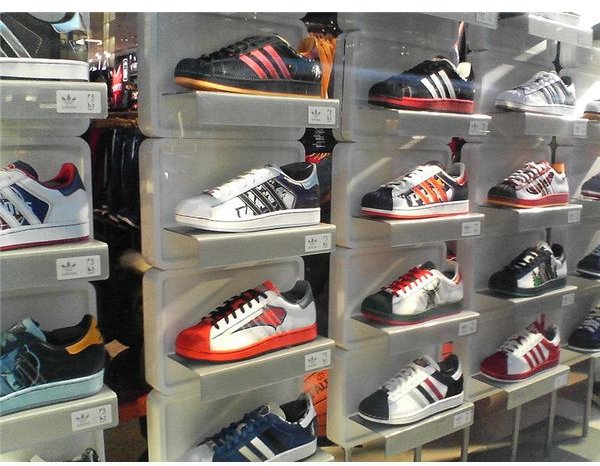 The demand for the sales workforce is best described in a separate article Top Paying Sales Careers. Nonetheless, the rate of turnover for retail salespersons in conventional products like shoes, clothes, food, etc. is high, due to low compensation and sales performance pressures from management. Some find themselves working outdoors by making house calls, or by making direct sales approaches to potential establishments who could be interested in their new products.
Pay Rate
National Pay Data for retail salespersons ranges from $7.88 - $9.88 for hourly pay rates while annualized pay averages from $16,463 - $20, 640, with no specific data as to commissions or bonuses. An estimated 67% of employers hiring retail salespersons have no provisions for health care benefits.
Career Outlook
Since businesses are expected to recover from the recent slump, an 8% increase in the average sales force is likewise projected. In order to advance in one's sales career, educational backgrounds in health care, computer technology, advertising and Internet marketing, provide the stepping stones for higher paying sales jobs.
Places/US Cities with Most Demand and Highest Salary Offers
US states with current demand for the average sales force are (1) Hawaii; (2) Montana; (3) Delaware; (4) South Dakota and (5) Oregon.
US cities with high pay rates for retail selling of common items are Florida at $ 12.93 per hour, Vermont, New York, Connecticut and Washington, at $ 12.82 per hour.
(7) Office Clerks, General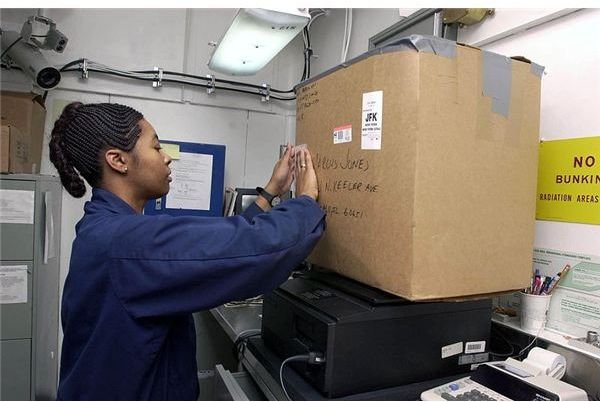 The requirements of office clerks have taken on a new dimension due to the age of computerization. Although high school graduates could qualify for the job, the employee's working knowledge of computer applications is expected to make up for his lack of higher educational attainment.
Hence, the work has become harder to fill, inasmuch as computer savvy individuals tend to engage in higher paying jobs, which include sales. In addition, clerks working in large-scale companies have to coordinate with other workers through computers, thus giving added emphasis for computer skills and knowledge.
Pay Rate
The average hourly pay rates for this job, based on National Pay Data, range from $14.70 - $20.86 with average annual salaries totaling $20,887 - $30,797, in terms of basic pay, bonuses and profit sharing. About 36% of employers hiring general office clerks do not include health care benefits in their compensation packages.
Career Outlook
Finishers of any secondary degree courses often land these jobs, but turnover rates are also frequent since the tasks tend to be mechanical and monotonous, aside from the low pay. Nonetheless, most of those who stayed on and persevered, eventually advanced in their careers as supervisors or other administrative jobs.
Places/US Cities with Most Demand and Highest Salary Offers
US states with high demand for this job include (1) West Virginia; (2) Virginia; (3) Idaho; (4) Alaska and (5) North Dakota.
US cities that offer the highest hourly pay rates include Iowa City, IA at $ 16.02, followed by Charlottesville, WV, State College, PA, Charleston, WV and Morgantown, WV at $11.22.
Please proceed to the next page for the final portion of this list for top jobs in demand in the US.
(8) Accountants and Auditors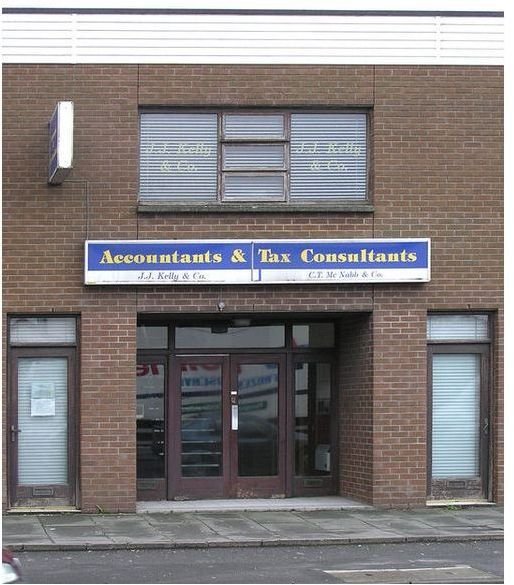 There are renewed interests in this profession due to the realization by some business owners that proper financial accounting and money management skills are important, to recession-proof their financial positions. In addition, complexities of IRS tax measures as well SEC reporting standards, require the services of professional financial analysts.
Pay Rates
The National Salary Data for this profession shows annual salaries ranging from $35,609 - $51,562, including bonuses and profit sharing schemes. Most employers hiring accountant/auditors provide health care benefits as part of compensation packages.
Career Outlook
Entry levels for these positions are bookkeeping jobs or as accounting assistants. AICPA Board Passers or those with Master's Degrees, progress in this career as Accountants, with future advancements to the position of Senior Accountant or to a higher paying position as Financial Controller with annual salaries ranging from $ 60,410 to $ 100,742. Those planning to pursue higher goals in this profession should hone their skills in financial analysis as well enrich their knowledge of regulatory laws.
Places/US Cities with Most Demand and Highest Salary Offers
You can find the most number of accountants / auditors in demand in the (1) US District of Columbia and states of (2) Colorado, (3) Delaware (4) New York and (5) Massachusetts.
The highest paying accountancy and auditing jobs are said to be in the US cities of New York with an annual mean wage of $84,280, followed by the District of Columbia, New Jersey, Massachusetts and Maryland at $ 76,220 per annum.
(9) Nursing and Psychiatric Aides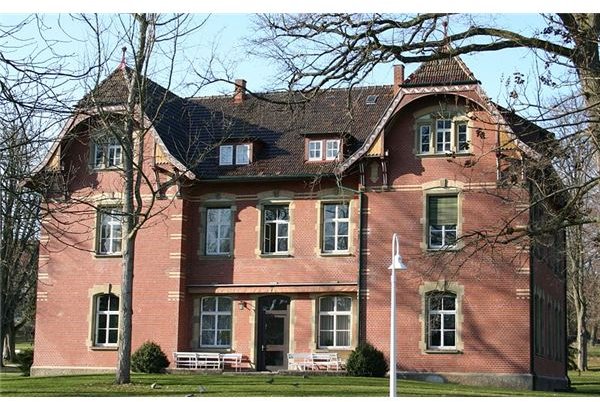 This occupation basically performs the same tasks as the home health aides and personal health care aide but they usually find work in nursing care facilities, specializing in patients who need long-term care as mentally afflicted patients. Similar to the two other health care providers, the job involves back-breaking tasks of physically moving patients, wherein the observance of proper handling procedures is necessary.
Pay Rate
The National Pay Data shows higher average hourly rates ranging from $9.77 to $13.28 totaling annual salaries from $20,800 to $ 29,093, comprised mostly of basic and overtime pay. An estimated 38% of those employing nursing and psychiatric aides do not provide for health care benefits.
Career Outlook
The long hours of work, the unpleasant aspects of the tasks and the exposure to infectious diseases are some of the reasons why long term nursing and psychiatric aides tend to look for other jobs. Not too many are willing to fill in this position or for that matter qualify, since experience, work attitude and skills are greatly required.
In order to find better career opportunities and higher pay rates, workers follow the same career paths taken by home health aides and personal care aides, which are geared towards licensed nursing professions.
Places/US Cities with Most Demand and Highest Salary Offers
BLS info for this occupation is the same as those contained under the Home Health Aide Section.
(10) Postsecondary Teachers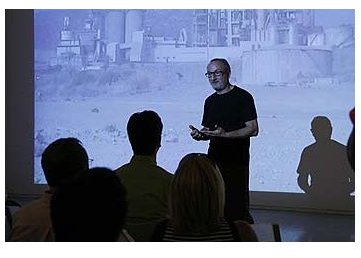 The wide availability of financial assistance provided to low income families coming from both federal and private sectors have spurred the increase in enrollment. Universities and colleges are now filling up their faculty resources by at least 15%, in order to get their share of the incoming students.
Pay Rate
The National Salary Data shows varying average annual salaries and are based according to curriculum; it would be best if the reader visited BLS's page for Teacher-Post Secondary Latest Wage Information.
Career Outlook
Those who pursue post secondary teaching professions usually start with their teaching experience by assuming graduate teaching assistant roles as part of their internship programs. The current thrust is in developing the interests of more students to gain college education as a way to better one's self. Hence, communications skills coupled with excellent ability to relate to the students, as means to tap students' analytical minds, have become important traits for postsecondary teaching roles.
Currently recommended is for the aspiring college teachers to work closely with their schools by participating in additional programs for developing teaching techniques.
Places/US Cities with Most Demand and Highest Salary Offers
The places or US cities where post secondary teaching courses are in demand likewise depend on the curriculum or specialization of the university or school. The info for this final portion of top jobs in demand is included in the course's Latest Wage Information..
Reference Materials & Image Credits Section
Reference Materials:
Images Credit: