Tips on the Best Colors to Wear for a Job Interview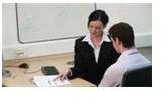 Why Is Color So Important?
The color that you wear to an interview is very important and you must choose your colors carefully. There are many colors to choose from and all colors are not appropriate for a job interview. Some of the colors to stay away from include: orange, purple, yellow, pink and light spring looking colors. However, there are a few colors that employers prefer to see a potential employee wear to an interview and you will discover those hues as you read this article on the best colors to wear to a job interview.
An Employer's Perspective
As an employer, I am very impressed with a prospective employee when they are well dressed for an interview. In some cases, I greet the applicant, shake their hand upon entering the building, and I check them out from head to toe, including their hair, shirt, pants or skirt, all the way down to their shoes. This tells me if the applicant will be professional. The darker the colors, the more professional the applicant appears to me. Navy blue, grays or black colored pants are more professional looking colors along with wearing black shoes. Believe or not, your appearance is the icing on the cake to an employer or interviewer.
Nail Color Tip: Nail polish colors also should be a modest color. Consider French tip, clear coat, dark browns or a dark plum color.
Tips From a Job Readiness Coach
According to Dona Davis, author of the book, Tips from Your Job Coach, "Depending on the season," Davis suggests that "men wear a dark suit black, brown or navy blue, a matching tie but not too flashy or loud. Shoes should be shined, shaved face, and hair well groomed. Women should wear a navy or black suit or a solid colored dress and modest amount of jewelry. Shoes shined, not too high of a heel, closed heel and do not show toes."
Here on Bright Hub, you can find the following resources:
Professional Appearance Is Essential
Harvard University provides an Undergraduate Resource Series handbook for its students. The handbook includes interview tips and one of the tips is as follows: "A well groomed, professional appearance is essential. Anything else will detract from the best possible presentation you can make. Decide what to wear well before the day of the interview. A good way to determine suitable attire is to look at what people typically wear in the organization or industry for which you are interviewing. Both men and women should generally plan to wear a fairly conservative outfit in a dark color."
You will find that their handbook is a great resource for helping you to prepare for your next interview.
Practicing & Preparing for the Interview
Several days before your interview, browse through your clothes in your closet and look for dark colored pants and skirts. Try them on to make sure that they fit properly. It's also a good idea to get someone else's opinion of how you look in the clothes. Be sure to pick the right shoes and lay out your neatly ironed clothes the night before the interview. Walk around in the clothes and shoes. How do you feel in the clothes? If the clothes are too tight, it will not be appropriate to wear them to an interview. In fact, you may appear uncomfortable and less confident. It's important to keep your confidence level high as this always make a great impression to a prospective employer. For more tips on the best colors to wear for job interviews, Watch this video!
I wish you much success on your next Interview!
References
Harvard University - https://www.ocs.fas.harvard.edu/students/materials/interviewing.pdf
Dona Davis - https://www.donamdavis.com/
Image credit: https://www.fotosearch.com