Internships in Music Production: Information You Need to Get Started!

What is an Internship?
An internship is a temporary position within a career or field in which someone works and learns more about the ins and outs of the field. Many young adults, usually at high school or college age, look to interning in order to learn more about their field of choice and all that goes into that career.
Internships in music production focus on the business of music rather than the performance aspects. This type of business deals with creation, promotion, and preservation of music with everything from how a recording is made to how to promote it to the masses. People with an interest in the business side of music will want to look into interning for an artist or a band, to understand what is considered part of the background to music.
Getting into an internship program may be difficult, depending on the volume of applicants that are applying for the same position. Below are some companies that offer listings for internships within the music production business, as well as how one would go about getting an internship.
How Do I Become an Intern?
An important aspect of wanting to become an intern starts with discovering what it is you would like to do.
This for some people means doing some career planning either in the junior and senior years of high school or within the realm of college. Usually, this is tied in with what someone's major is. For instance, if you are a music major at a local university, you may want to explore the other avenues within music that isn't necessarily music education or musical performance. Speaking with an advisor or career counselor (if available) may be helpful to gain a deeper and more focused idea of what you would like to pursue.
Once you know what you would like - in this case, a career within music production - start looking into the possibilities of classes that you can take, as well as any type of internships in music production. There are several listings online for a variety of companies that offer summer or yearly internships. One such company is Dream Careers, which offers several listings for their music internships.
The music department may also offer information about internships or jobs that may be offering to enlist interns. Speak to the advisors, your teachers, and even some of the upperclassman in regards to this, as they may know exactly where to go and who exactly you need to speak to in order to get more information.
Consider an internship as you would any job you would want to go for. That means you will need to conduct an internship resume, along with being able to 'sell' yourself to a prospective employer that you would make a good intern for their music production company/department. As with any job interview, go into it with a cool head, a dash of confidence, and a sharp appearance.
Internship Aftermaths
Becoming an intern certainly isn't for everyone and it's important that those who are looking to do internships in music production (or any other field) understand the highs and pitfalls.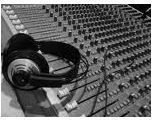 Not all internships are paid - important in the case you need a 'job job' in order to pay bills
Volunteering isn't an internship - though depending on the company, this could be negotiated. If you currently volunteer in music production, ask your supervisor or manager if there are any available internships or ask if it's possible that your work can evolve to an internship.
Sometimes you get the job, sometimes not - In most cases, an internship can turn into a permanent position within the company that you are interning for, but be prepared in the event that you don't get the job. On the good side, employers are impressed with a prospective employee who has relevant interning under their belt.
The important thing about internships in music production is to not give up. Look into a variety of different interning programs, as well as students, staff, friends, and family in order to get advice and to find other leads. Remember, there are people who want to help you achieve your dream, so make sure they know you need the help!
Image content - music notes @ Voices.com production @ Stellenbosch University