Use This Writing a Letter of Resignation Template When You're Ready to Move On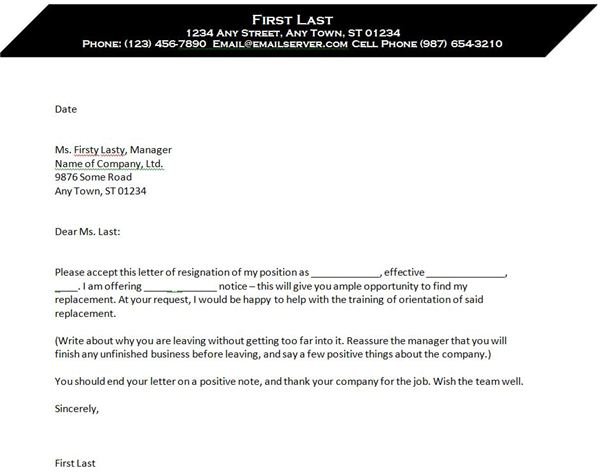 Writing a Letter of Resignation?
If you're writing a letter of resignation, a template can be an enormous help. Letters of resignation can be tricky to write, but they don't have to be. No matter what your reason is for leaving your company, you should keep your letter polite and upbeat. You never know when you might need to call on your soon-to-be former employer for a recommendation letter. Learn all about writing a resignation letter by reading on.
Also, you can download a free letter of resignation template from our Media Gallery.
1. The Letterhead and Address Area
Even if you will be hand-delivering your letter of resignation to your boss, you will want to use a letterhead. Include your full name, current address (or new address if you are resigning due to a move) and all contact information.
Skip down a few lines and date your letter with today's date. Then, you will skip down a few more lines, like on the sample writing a letter of resignation template, and include your supervisor's name, the company name, and the company address. Make sure you use the formal means of address for your recipient (eg. if your boss happens to be a judge, you would address it to the Honorable First Last).
2. The Opening
Whatever you do, do not refer to your boss by his or her first name here. It should be "Dear Mr. Midlake" or "Dear Dr. Lawrence." Do not neglect the "Dear" of your letter, even if you send it by email. Finally, do not resort to the all-too-familiar and informal "hi," "hello," or even worse "what's up" or "yo."
3. Get to The Point and Quick!
Your very first sentence should establish your intent. Generally letters of resignation are worded "Please accept the resignation of my position of_______, effective _______." Make sure to give the date your resignation will be effective from and list your position. Sometimes those in charge of human resources are not the same people who work with you every day, and they might not know what position you had.
Next, make sure that the notice you are giving is commiserate with company requirements. The standard notice is at least two weeks. Some companies require a month's notice or more depending on how difficult your position is to fill. Remember that by following proper ettiquete when putting in your resignation, you can maintain the opportunity for a recommendation letter in the future.
Finally, especially if you have a niche position, you should offer to aid in the training and orientation of the person who will be replacing you.
4. Don't Forget to Justify Your Reasons for Leaving
Make sure you justify your reasons for leaving - you do not have to get into the gritty details of this, but you should have some reasons. If you have grievances with the company, do not air all these. Also, try to be positive. If you hated your job and you're moving on to greener pastures, simply say "I have received a better offer." That's it, there is no need to get into the gory details about why you have left.
5. Thank Your Supervisor for Your Job and Close Your Letter
Finally, make sure you express your gratitude (even if it was the worst experience ever) for the experience of working at the job. Thank your company for giving you the opportunity to work for them, then sign off on the letter and get it to the person who needs it. Remember, by keeping your resignation letter professional, you can increase your opportunities of receiving a positive recommendation in the future.