Writing Effective Self Appraisals: How Are Your Ratings?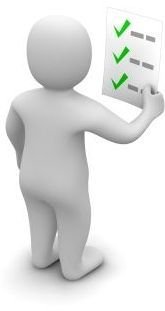 Self Evaluations as a Component of Performance Appraisals
If you have spent any time in a corporate environment, chances are that you have been asked to fill out a self appraisal. These are typically forms that are handed out by managers or supervisors on an annual or semi-annual basis. The premise of writing a self appraisal is to gauge how you feel your skills are in comparison to your superior's impressions of your skills. A self appraisal should always be filled out honestly and should list not only skills and strengths, but also address weaknesses. Self appraisals are becoming a significant part of corporate performance evaluations.
While writing self appraisals can be intimidating at first glance, there are many reasons why they are critical to further career development. Here are just a few reasons why self-appraisals can be important to career development:
Identifies skills that need work
Determines if time is being spent effectively
Helps with future professional development
Allows for assessment of developed skills
Useful for seeking promotion or wage increases
In a traditional job setting, these factors can play an important role in overall job satisfaction as well as promotion prospects.
Critical Self Appraisal Components
For those who are creating their own self appraisal, one option is to break it into three distinct sections. These sections are:
Skills
Strengths
Weaknesses
Each of these should then be further broken out to allow a fair picture that will allows room to determine what areas need work. Here are some general ideas for breaking each category out.
1. Skills
The skills section of a self appraisal should include items like software competency, communciation skills and time management skills. List the in the order of importantce to overall career goals. Whether someone has a traditional job or they are self employed, understanding these skills will be critical to ongoing career success. Grading these skills as the appraisal is being developed will also help provide an understanding of which skills need further development.
2. Strengths
There are some traits that all people that are stronger than others and may require very little improvement. For example, some people may feel that they are excellent researchers and that this particular skill needs no further development. While this portion of a self appraisal provides an opportunity to "blow your own horn", honesty is the best policy. Remember, misrepresentation of your strengths will hurt overall career goals.
3. Weaknesses
This is perhaps the most difficult part of a self assessment but one that is critical to ongoing success. Regardless of how minor the weaknesses may seem, preparing a list of them allows for opportunity to address them. Grading each weak area can help provide a roadmap for long-term plans.
Summary
Self appraisals allow everyone to review their skills, strenghts and weaknesses objectively. They also allow each person to determine how to best overcome the barriers we may be facing as a result of our weaknesses. For those creating a self appraisal, one final thing should be considered. While developing a list of weaknesses and other areas that need work, create a plan to address them. Self appraisals can be a powerful tool if they are used correctly, but filling it out and then filing it in the nearest file cabinet and not thinking about it about could mean a wasted an opportunity to make positive changes that can impact career goals.
Resources
Sources:
Northern Arizona University Six tips for writing your self-appraisal https://www4.nau.edu/insidenau/bumps/9_21_05/appraisal.htm
Image Credits:
purchased from istockphoto.com/skvoor