The Best Paying Jobs for English Majors: Broad Range of Opportunities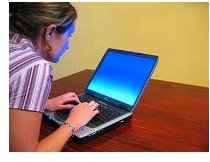 Graduating with an English degree can be a major asset, if you land one of the best paying jobs for English majors. Too many college graduates end up working as waitresses or pursuing other jobs that are not related to the degree they worked so hard to earn, not to mention the amount of debt they accumulated in the process. English majors are creative, and if you're having trouble finding jobs where you can utilize your education, strike out on your own. You may end up making even more money by working as a freelancer than an employee.
Editing
Working as an editor tops the list of best paying jobs for English majors. Writers do the research, thinking and writing, and your job is to make the writing understandable and engaging to the target audience. Proofreading, rewriting, layout and indexing are some of the duties that editors do on a daily basis.
Some editors are also required to "fact check" documents, and you may enjoy that aspect of editing if you also like to do research. The three most common ways to work as an editor are in-house as an employee, as a telecommuter or as a freelancer. All of these work arrangements are competitive and it can be tough to get your foot in the door, but it's worth the effort.
Working as a freelancer has the most flexible options, and has the highest income earning potential. It's also the scariest way to work, because there are no guarantees that the work you have today will continue tomorrow, and pay is often less frequent and irregular. Some English majors don't believe that there's such a thing as job security anyway, and have taken the plunge into freelance editing work and have done quite well.
Here are some of the editing jobs that you can apply for:
Technical writing editor
Managing editor
Web editor
Copy editor
Speech editor
The range of pay for editor jobs in the United States is between $ 34,624 and $53,488 according to PayScale. A freelance editor can expect to earn anywhere from $2,000 to $3,000 monthly to start, but there are no limits to what you can earn.
Writing
Writing has always been one of the best paying jobs for English majors, despite the myth that writers are like starving artists. Even if you hope to be a best-selling fiction writer, you can still earn a nice income while you work on writing and pitching your book to publishers. The great thing about writing is that every industry has a need for writers. You can align your passion for a particular field, cause, group or style of writing with a writing job.
Like an editing job, you can decide whether to work as an employee or as a freelancer. Some examples of writing jobs that you can apply for are:
Blogger
Academic writer
Resume writer
Business writer
Article writer
Copy writer
Technical writer
Salaries for writers in the United States range between $ 34,624 and $53,488, according to PayScale. As a freelance writer, you can earn anywhere from $1,000 to $2,000 monthly. You can expand your income by assembling a small team of writers.
Teaching
The conventional teaching opportunity for graduates with an English major is becoming a public school teacher, but there are many unconventional teaching gigs that are high paying and are not in the education sector. Here are some of the best paying jobs for English majors who want to teach in the non-education sector:
Corporate trainer
Web course developer and teacher
Talk show host in a specialty, such as a garden show
Lecturer
Administration and management consultant
Marketing coach or consultant
Each of these positions requires you to teach either one-on-one or to groups. You may also have to deliver written reports and proposals, which is why English majors are preferred over candidates with other degrees.
The best paying jobs for English majors are ones that give you the best growth opportunities and offer a flexible work arrangement. If you can, try working on your own as an independent contractor. You can work part-time or full-time as a freelance writer, and you can apply to become a writer, right here on BrightHub.
Image Credit: Matthew Bowden