Top Careers With a Communications Degree: Arts, Business and Other Possibilities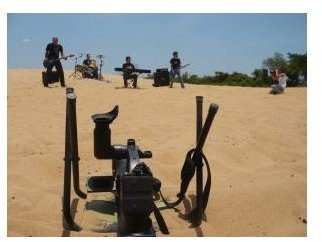 Communications degree programs provide an excellent background for many different types of career paths. Most schools provide students with an opportunity to specialize in a particular aspect of the communications field, ranging from the business of advertising and PR to radio, television, and film production. It's certainly a good idea to think about what parts of the profession interests you the most when choosing your elective courses.
Advertising: There are many career options with a communications degree in the advertising profession. Depending on the types of courses you take and the skills you have, you may be able to work as an account executive for an advertising agency or as a marketing manager, copywriter, media buyer, traffic manger, art director, or production professional for a large corporation, small business, or advertising agency.
Public Relations: A communications degree can be excellent preparation for entering the public relations field. PR professionals need to have knowledge of many aspects of the communications field .They must be able to write for the news media, generate publicity for their companies or clients, prepare speeches, and more. In some cases, they may be involved in producing or hiring experts to create print or broadcast communications pieces.
Nonprofit Sector: Many people who have degrees in communication choose to pursue careers in the nonprofit sector, working as fundraising professionals, volunteer coordinators, communications managers, or public affairs directors. In some cases, individuals with significant professional experience and communications degrees are able to move up to executive director level positions with nonprofit agencies.
Journalism: Earning a degree in communications can be a great way to prepare for a career in print or broadcast journalism. Depending on the specialization you choose or the types of elective classes that you complete, positions you may be qualified to pursue include working as a newspaper reporter, on-air reporter, editor, production assistant, assignment editor, producer, videographer, sound specialist, and others.
Television and Film Production: Communications majors who concentrate in video production may find employment opportunities working in television and film production. With the right educational background and skill set, you may be qualified to work as a camera operator, lighting or sound specialist, script writer, set designer, production assistant, film editor, as well as many other opportunities. You may even want to consider starting your own film production company.
Media Sales: Many people who work in media sales have academic backgrounds in communications. As a media sales professional, you may have an opportunity to sell advertising space in magazines, impressions on websites, or newspapers or air time on television or radio stations. There are also media sales jobs available in out-of-home media, which include things like billboards, mall and airport kiosks, public transportation advertising, and more.
Image Credit: sxc.hu/patita rds
Preparing for Your Communications Career
In addition to successfully completing your academic program in the field of communication, it's also advisable to take steps to make yourself stand out from other people in the field's labor pool. Once you have an idea of what type of communications job may be the best fit for you, focus on building a portfolio that demonstrates your abilities. Additionally, seek internship opportunities as a way to gain real-world experience and make professional contacts that can serve you well throughout your career.