Is International TESOL Training Really Needed? Yes! Here's the Why, How & Where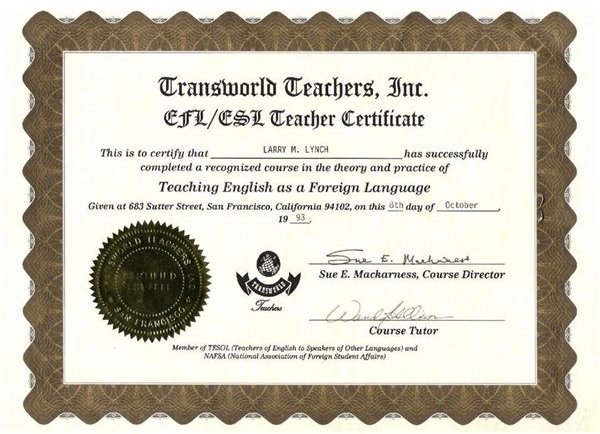 Teaching English Abroad… It's Simple, Right?
"This place is great! I could really get into being here for awhile."
Your eyes dance across a vista of swaying palm trees, rolling surf, pristine powder on snow-capped mountains, lush green valleys or an enchanting river delta of near crystal-clear water, or whatever your dream location might be. With a few days on location in some exotic spot of the world from Europe to Asia and Latin America, you might well have thought, "This is the place for me alright."
The problem then however was how to financially support yourself in your dream location. Idyllic though it might be, you still need a place to crash, food and beer money for evenings and weekends. Solution? Simple. Teach English at a local language institute. After all, you are a native English speaker, right? You know English. So you truck your bunnies down to an English institute or two, dazzle them with your "perfect" English and Voila! You're a star. Classes start, the money flows in and all is beautiful in the world.
That was then, this is now. And as they say in the south, "That dog don't hunt no more." Nowadays, in order to teach English as a foreign language abroad, international TESOL training is absolutely essential.
Globalization = Training Required
So what happened? Reality, that's what happened.
Globalization, good, bad or indifferent, is here today. The world is now virtually so small that when you sneeze, a Chinese or an African says, "Bless you" and a Latino offers you a tissue. People from all walks of life now need to be bilingual or even multi-lingual. They need to communicate in English. Governments and education ministries have gotten tough on "backpacker" English teachers. Schools and teachers must be certified. There are standards to be met. It's not a game anymore.
If you're going to survive and thrive in this business, you must have international TESOL training.
TESOL Training & Certification Options
Here are some of the basic options for TESOL training and certification:
CELTA – a Certificate in English Language Teaching to Adults is an approximately 1000 to 1200 hour training program with a component of observed and supervised English teaching to real students. The program is available as an intensive, eight hours per day, six days per week, five or six week program. You must pass all sections of the course in order to graduate. This program is typically backed by a British government standard or organization such as the Royal Society of Arts, Cambridge University, Oxford University, the British Council or Trinity College, among other possibilities.
TEFL – This is roughly the "American" equivalent of the CELTA. They usually carry similar program components but are not as strictly structured and organized in some areas of the world. These programs can also vary in cost and quality so some care must be taken to ensure a good-quality, well-recognized school as your choice. There are concentrations of TEFL schools in San Francisco which allows a prudent shopper to evaluate costs, terms, content and quality among them with a minimum of hassle. In addition, there are literally scores of schools in locations worldwide.
INSET – the In-Service English Teaching qualification is normally a company or institute-sponsored certification credential available to employees and conducted at a school, company or institute for its teachers and prospective teachers.
Cert. TYL – There is yet another specialization available which is highly lucrative. That is the Certificate in Teaching Young Learners English which obviously focuses on English language learners who are under the age of about sixteen or so. As mentioned in another article on language acquisition vs. language learning, there is a distinct difference between the way young learners and adults learn or acquire language.
Cert. TBE – a business English teaching credential, the Certificate in Teaching Business English focuses on English for businesses and companies such as hotels, restaurant chains and other tourism-related industries. Also covered are English needs for international business and global commerce.
LTCL Dip. TESOL – One of the two highest English language teaching certifications available, the Licentiate Trinity College London Diploma in Teaching English to Speakers of Other Languages has stiff entry requirements of a university degree (in any major), a CELTA or equivalent TEFL certificate, two years minimum work experience as an English teacher and the need to pass oral, written and grammar evaluations before acceptance into the program. This qualifies candidates up to performing as a Director of Studies (DOS) for language institutes, schools and business organizations.
DELTA – The Diploma in English Language Teaching to Adults is an equally high English language teaching post-graduate level diploma which is highly respected worldwide. It is backed by university and government standards for both American and British English. This also qualifies candidates up to performing in Director of Studies (DOS) positions.
Where to Get International TESOL Training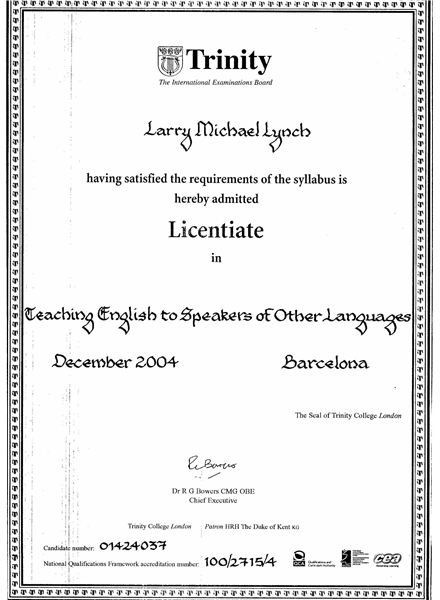 While the quantity of schools, institutions and sites available globally for acquiring an international TESOL training are far too numerous to even attempt to mention here, there are some locations which can be mentioned as starting points in your search for a location to suit your particular needs.
Here is a sampling of websites:
CELTA course international locations
TESOL Training International
It's important to get a good quality international TESOL training program so you'll have the knowledge, skills, background and support for years to come worldwide. Too many aspiring EFL teachers skimp on their initial "certification" courses only to find out later they are not accepted in many foreign countries and or offer no placement assistance abroad. So by all means pick out your dream location, then get international TESOL training and you'll be good to go.