Teacher Interview Tips for Elementary Education Careers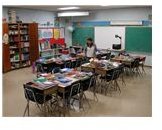 Do Your Research and Be Prepared
A career in education requires you to be prepared. The interview is no different. Although you may see several teaching jobs open, there are usually several candidates pursuing one job opening, especially in the field of elementary education. Following these tips and knowing required elementary teacher duties can help you be prepared.
When you are looking for a teaching position, you will most likely apply at several school districts. If you are called for an interview, you will want to gather as much information about the school district and the specific school as possible. You can find a great deal of information on the Internet, especially if the school has a website. You can also do a Google search for the school district or individual school.
Gather information on their elementary education philosophy, student population, faculty and staff, and community. If you educate yourself about the district, you will be able to answer interview questions more easily. Your interest in their district will show during your interview and improve your chances of securing the job.
Be Specific
Be specific about your knowledge of elementary teaching duties.
Many school districts use a script when they ask teaching candidates interview questions, especially in the first round of interviews. This is your chance to stand out from the crowd and show what you know about elementary education.
You will be asked questions about your classroom management style, reading and mathematics instruction, and how you will handle difficult students. Make sure to tell the interviewers specific details about your beliefs. Use examples from your student teaching experience to back your answers up.
For example, when asked about your behavior management system, share exactly what you'll do. Are you going to use the Nurtured Child approach and ask students to reset? When you give your answer, include as many details about your plan as possible and why you believe it is a good system.
Bring Your Portfolio
Bring your teaching portfolio to the interview to show what you have done to prepare for a future career in education.
Bring a sample of your work that you can leave with the interviewers. You will not want to leave your entire portfolio with the school district. You will also not want to just ask them to look at a link if you have a digital portfolio.
Bring a small version that you can leave with them. This sample portfoilo could have copies of some lesson plans you have prepared, letters of recommendation, your resume, and photos of you working with students. You want to leave something for them to remember you by when you are gone, and they are already on to interviewing the next candidate.
Follow Up
If you thought the district was a good fit for you after your interview, then you will definitely want to follow up with a thank you letter to the principal or interview committee. Elementary education positions are extremely competitive, and there will be numerous candidates interviewed for the same position. You want to show that you are the best candidate to fulfill the school's required elementary teaching duties.
Write a thank you note or email, and briefly include one or two things that you learned at the interview or from your research that impresses you about the school. You can also include a line about why you are a good match for their school.
There are often several candidates invited to the first interview, so giving your interviewer a reason to remember you in a positive manner may be the key to moving on in the interview process.