Reading Specialist, Literacy Coach, Reading Tutor: Careers in Education for Master's Degree in Reading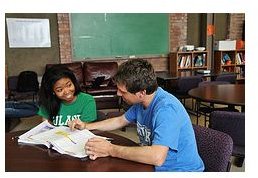 Remedial Reading Teachers
Teachers are often wondering what are the careers for people with a masters in education. Once you get your elementary education degree and then you get a master's degree in reading specialist, you may want to help struggling readers improve their skills and their self-esteem. If this is your goal, then become a remedial reading teacher. This is a career in education where you usually teach between 30 to 40 students a year, depending on your school size. Some schools have a push-in program where the remedial teacher team-teaches with the classroom teacher to improve reading levels of targeted students. Other schools have pull-out programs, where a small group of students are pulled out of the classroom to work with the remedial reading teacher. The material you learn in your masters program will help you determine what strategies to use with your struggling readers.
Literacy Coach
A literacy coach, sometimes called a reading coach, is a reading specialist who provides professional development on literacy issues for the teachers in her school building or school district. You would most likely need a master's degree in reading for this career in education. This professional development would include new techniques to try with students, information on current literacy research, help with struggling readers, lesson plans, and anything else the literacy coach, school administration, and classroom teachers feel would help develop a long-lasting and successful literacy program in the school or district.
The term "coach" is used because a literacy coach is training her team of teachers to become better reading and writing teachers. It is the coach's responsibility to provide professional development in areas where teachers are struggling, just like it is important for a football coach to provide his players drills in their weak areas.
Reading Tutors
Many schools and parents use reading tutors. This is another one of the possible careers for people with a masters in education in the area of reading. Some students benefit from one-on-one attention from a trained teacher with a graduate degree in reading. Many reading tutors are self-employed, but they may still work in a school where they have developed a relationship with a principal or teachers. Reading tutors can make between $20-$40 an hour, depending on the area.
A reading tutor needs to know how to assess reading problems and introduce reading strategies that target his students' reading problems. Reading tutoring sessions usually last about an hour, and they can cover writing and speaking, also. With this career in education, you are sometimes working as an independent contractor.
Part-Time College Instructor
Some colleges and universities will hire part-time college instructors with a master's degrees in reading specialist if the applicant has experience working in schools. (Many higher education facilities will only accept doctorate degrees. It varies.) A reading specialist degree also may qualify you to work as a part-time instructor. You would most likely teach undergraduate classes to education students. These careers in education can be rewarding as you prepare new teachers for future generations.