Quitting a Job: How and When Should I Give My Notice of Resignation?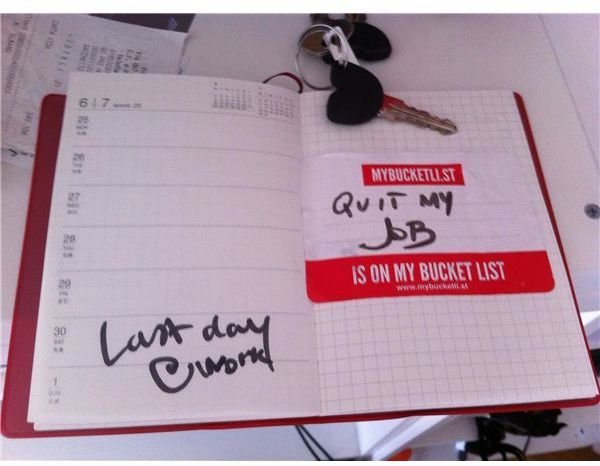 Planning and Preparation
Prior to turning in that resignation notice, do your homework to determine the timing that works best for you. For instance, if you need benefits to continue until the end of the month, check with your HR department and plan accordingly. If you need additional income prior to the start of your next job, you may opt to keep working until you have savings. If you have unused vacation time that will be paid out, you may want to take your last week or two as vacation or decide to be compensated for unused time instead. If your employer will not pay out for unused vacation time, you may have to use it or lose it. You should consider all these factors to giving notice, as once you do, you will no longer assume control of the situation.
Is Two Weeks Best?
When possible, you should always follow the standard two-week rule, but there are exceptions. Most employees are "at will," meaning they can quit at any time for any reason. Adversely, they can also be let go at any time for any reason (or no reason at all).
Depending on the work environment and management, there are instances when an employee announces his resignation and, in turn, the employer instructs him to clean out his desk and leave that very day. Be prepared for this scenario and have your personal possessions and files packed and ready to go.
Giving Notice
After you have thought through the repercussions of giving notice, you also need to be strategic as to when to do so. The best time to give notice is on a Friday afternoon, when your supervisor has less time to react. You both have the weekend to process the information and put plans into action. You should also tell your supervisor prior to informing your co-workers or those you manage.
Make sure to offer your notice in writing and state your end date clearly. If you are willing to stay on longer, state the maximum length of time you can offer in your letter as well. Depending on your position and level of responsibilities, your boss may be grateful if you offer to stay in your position long enough to make the transition more smooth and beneficial for the company. This will keep you in good standing for a reference.
Reasons Not to Give Notice
There are always exceptions and circumstances not to offer two weeks. You may choose to leave immediately in the following scenarios:
You have been physically harmed by another employee
You have been sexually harassed by a supervisor
You are in an unsafe work environment or are expected to perform unsafe responsibilities
Job stress is gravely endangering your mental health
Your employer is not paying you the wage you were promised or has withheld wages for an unreasonable period
Your employer expects you to carry out unethical or illegal actions
In these instances, it is advisable to reach out to your Human Resources department or other impartial authority figure immediately, but you should never stay in a situation that jeopardizes your physical health, safety or morals.
Depart on a High Note
Once you resign, a mental shift occurs. You begin looking to your future and may ignore the present. Two weeks can seem like a very long time if you are already burnt out, bored or uninterested in your job.
Focus on making a concentrated effort to complete remaining projects and tasks and finish well so that your boss will have nothing but positive recollections and recommendations for future positions. Avoid burning bridges whenever possible.
References