The Trade School vs. College Debate: Reloaded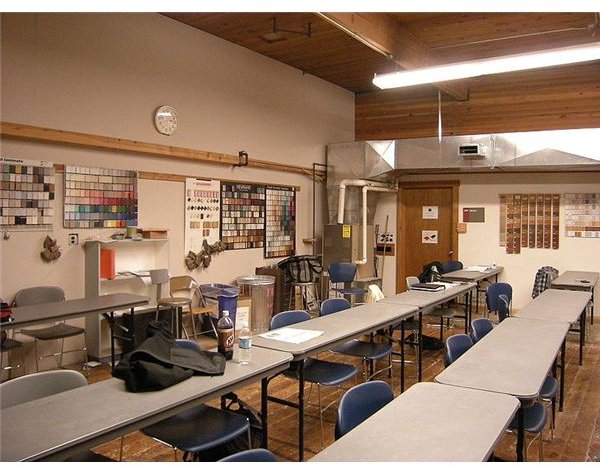 What Is a Trade School?
Trade school programs offer vocational training. Curriculum components highlight job skills germane to well-defined careers. Of course, a narrow training focus is not new. As early as 2006, an International Electronic Journal likened trade (or vocational) school job preparation courses to the traditional pre-19th century apprenticeship. Although entirely functional and useful for the student in search of the type of training required to start on the ground floor of a profession, a collectively more educated population has weighed trade school vs. college, and the trade school lost out.
"As the education level of their parents increases, subbaccalaureate students are less likely to major in vocational fields and more likely to major in academic fields," author Xing et al. assert. Truth be told, an education stereotype was formed. Choosing to perpetuate it in 2011 (and beyond) might just land you in the poor house. A closer look at the college enrollment statistics of 2010 high school graduates – provided by the Bureau of Labor Statistics – reveals that 68.1 percent are headed off to college. Of this group, 52.4 percent opted for a two-year college. This figure fails to break down the number of students heading for community college or trade school.
Connecting College, Trade School and the Poor House
What does a four-year degree teach an eager student? There is no argument that a BA or BS program aims to present an academically well-rounded candidate for graduation. Then again, there are some classes that simply do not market well in today's cut-throat job market.
For example, Montclair State University's "How to Watch Television" (for broadcasting majors) does not play well in the unemployment line. Berkeley's 2008 "Arguing with Judge Judy" rhetoric department course offering, or Georgetown University's 2007 "Philosophy and Star Trek," also do precious little to prepare a would-be graduate for the job market. While paying for steep tuition bills is sure to lead to philosophical enlightenment – calculating the cost per credit hour can be an eye-opening experience – a student who relies largely on student loans will find very little return on investment here.
On the flip side of the equation are traditional vocational/trade school classes that offer hands-on skill training in marketable fields. Cases in point are courses in medical billing, phlebotomy, accounting, legal terminology and business English. With the technical school entering the vocational learning environment, students not only prepare for trades, but also for positions in the tech industry, where hands-on experience on the latest model machines – and latest programs – makes a big difference.
Whom will the employer hire? The recent four-year college graduate with a lot of esoteric knowledge but little hands-on experience, or the trade school graduate who can hit the ground running and needs next to no training?
The answer is clear, as is the answer to the question of who will be able to pay back student loans and not go into default or enter the never-ending cycle of hardship deferments and forbearances. Adding insult to injury, while the four-year student is still watching Star Trek episodes for college credit, the trade school graduate is already in the work force, building a professional reputation.
All Is Not Gold …
Prospective students eyeing trade school career preparation should know that there are indeed some downsides. While four-year colleges offer plenty of extracurricular activities and sports programs, these same amenities are virtually nonexistent for many a vocational school. It is also true that the technical school graduate with a certificate or two-year degree hits the job market sooner. That said, there is a very good chance that at some point in the future, some of these workers need to return to school for a four-year or even master's level degree to become eligible for executive level promotions and raises.
To make matters worse, there is some room for deception in the largely private trade school industry. Speaking to the New York Times, Amanda Wallace – formerly employed by ITT Technical Institute – scathingly alleged "deceptive recruiting" and a "likelihood that graduates would earn too little to repay their loans."
In the final analysis, it is clear that we can all agree on the need for an education beyond high school. Four-year college, trade school and even the online learning place now vie for prospective enrollees' financial aid dollars. More than ever, the buyer must beware, shop around for the best education bargains and research career trends before signing on the dotted line of the enrollment package.
And for goodness sake, watch TV on your own time and take classes that lead to marketable skills, will you?
References