Tips for Building Confidence in the Interview Process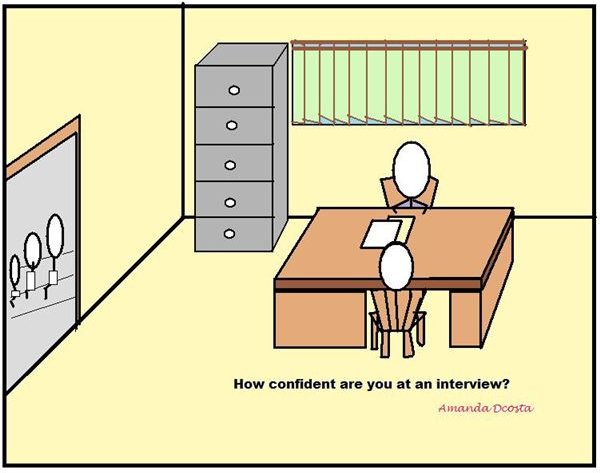 The Perfect Job: How Confident Are You To Be Interviewed?
You've been on the lookout for a job, and finally, you've been called in to interview. For many, this is where they stumble and fail to deliver, or let's say, fail to meet up to expectations promised in a resume during the job hunt. Lack of preparation, tiredness, anxiety, and unwanted stress can play havoc to one's sense of balance and appearance at an interview. How then, is one to build confidence for a job interview? Let's take a look at a few crucial points.
1. Preparation
It is very important that when attending an interview, you are well-prepared. Being prepared means striking a sensible balance between respect for your interviewer and knowing the necessary details of your job. In order to be prepared, you might have to ask the HR department or a prospective colleague for job details in advance or look up the website of the company you are interviewing at. When you head in, you should have a good idea of why you've been called and what is expected of you.
2. Presentation
The first impression is the best impression while the last impression can also be the lasting impression. This is to say that, your presentation during the entire interview needs to be your best - from start to finish. Do what it takes to present yourself confidently. Shower and comb your hair. Dress neatly. Polish your shoes. Choose clothing that is business like, and do not choose comfort-wear or casual clothing. You should never wear a party outfit to an interview! Your hair should be arranged neatly. Make-up, if worn, shouldn't be overdone to the point that will look like you're heading out to a night club. Fingernails have to be trimmed neatly and / or polished. Teeth have to be clean. An unshaven, untidy look can be a taken as a mark of disrespect towards an interviewer. Either sport a neat beard or be clean-shaven. Many places that rent out suits for interviews. Make it a point to wear one.
3. Resume with Cover Letter
Although you may have submitted a resume prior to the interview, you may be expected to provide one or more copies of your resume depending on the number of people interviewing you. Be careful to check and double check your resume the day prior to the interview so that you are familiar with exactly what you've mentioned and are ready to turn attention towards, or answer questions pertaining to details you've recorded. A good resume is one of the main steps towards building confidence in the interview process, as it will present you in the best light possible for the job position you seek. Attach copies of supporting documents should you be asked to submit them. Your promptness to comply with their requests will be an indication of your alertness and professionalism.
4. Body language
Your body language is an indication of how confident a person you are, or how suitable and trustworthy you are too. Different postures indicate different temperaments. For example, it is not advisable to sit with your arms crossed. This shows that you are closed to suggestions and have already made up your mind about something. It also indicates that you are not one to consider another's opinion easily and have no respect for another's viewpoint. On the contrary, sit upright with your arms open and hands gracefully on your lap. Keep your legs together, and avoid slouching.
5. Ask questions
While at an interview, an interviewer expects you to ask questions. Hence, prior to the interview, you may wish to prepare a few basic questions. Such question might be, "Why do you think I would be suitable for the job?" or "What is expected of me if I am to be given this post?" Another question might be "What is the nature of the job?" Asking questions indicates that you are vigilant, following what is being explained and also ready to answer promptly and with adequate information that the interviewer seeks to obtain from you.
6. Rest
Part of building up your confidence in the interviewing process is being well-rested prior to attending the interview. Rest well. Prepare necessary things ready the day before the interview - clothes, shoes, resume, certificates, references, etc. Be fresh, active, attentive and alert during the interview while demonstrating comfort. If you are feeling nervous, it is okay if you convey this to your interviewer. The interviewer might even attempt to say something to put your anxiousness at ease.
7. Sample Questions
While you may be ready with questions you might want to ask the interviewer, you will also want to come upw ith answers to questions you may be asked. For this, you will have to be prepared well in advance. You do not want to find yourself stammering and stuttering over why you need this job, or what made you apply for that particular position. Prepare to answer some basic sample questions before you attend an interview.
Some basic questions may be:
What was / is your job profile or description of work for the position last held?
Why should we hire you?
What are your expectations from the company?
How would you describe yourself as an apt candidate for the post?
What are your main strengths and weaknesses?
Why do you want to leave your current job?
Tell us about yourself.
8. A Confident Handshake
One of the major aspects of building confidence for a job interview that is generally overlooked by candidates is a firm, confident handshake. The handshake is the first connection between interviewer and candidate and it speaks volumes about the confidence of the one seeking a job. A handshake that is limp and sweaty can be an instant no-no for the interviewer as he might see you as non-confident, insecure and lacking professionalism. On the other hand, a good, confident, and firm handshake with direct eye contact to the interviewer can set the tone for a more convincing interview that you are right for the job. A good handshake should also convey your friendliness and openness. A double shake is all that is required to get your interviewer in the right mood.
9. Be Yourself
Last but not the least, be yourself. If you dislike Math and are not comfortable with accounting work, convey that to your interviewer. On the other hand, should you have a great interest in public speaking and possess the skills necessary for working as a public relations manager, make this known! Also, do not pretend to be somebody you are not. Providing incorrect details can only get you into trouble and lead to your disqualification. Convey your weaknesses about a particular skill if you have to, especially if it is one that may drag you into a post that you may not be suitable for. Let the interviewer know who the person is that he or she is interviewing. If you can take the trouble to fabricate a whole different picture of yourself, surely you also have the capacity to highlight the talents and skills that you are already bestowed with. Let the interviewer know the 'real you'.
Reference & Image Credit
Reference: https://theconfidenceguyonline.com/2008/04/how-to-give-a-confident-interview/
Image Credit: Author, Amanda Dcosta