Are You Tracking Your Tasks at Work in the Most Efficient Way Possible?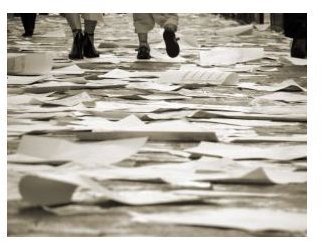 Ahh…Chronic Disorganization
Your boss's face is red. He is sitting across from you, arms folded on his desk. He is not amused. He's asking you why it was you didn't get that thing he asked you to do done. You didn't even know there was a thing to get done. Your job is now on the line. You could have avoided this precarious situation by developing a system to enter and then track your tasks to completion. It's so important to keep your eye on the ball when it comes to your work tasks.
Collecting What Needs to Be Done
There are a variety of ways to keep track of work tasks. Before you employ any of those methods, the best thing to do is determine what everything that needs to be done.
The best method for doing this, I've found, involves turning to David Allen's Getting Things Done. In this book, David Allen describes a method for collecting all of the loose ends that need to be done.
To do this, you'll need an "inbox" of some sort. You'll also want scrap paper. What I do is collect paper I no longer need and cut it into eight pieces. I then use the back for my collecting process.
On each sheet of paper, you'll write what needs to be done. You will want to keep only one item to each sheet. This way, it makes it easy to manipulate the different sheets of paper. Gather every floating item in your office. Write down everything that comes to your mind. Put it all in your inbox. You're not going to deal with it yet. You're just getting it all together.
For e-mail, don't print your e-mails. Just ensure they are all going to one gathering place. Allen suggests only having as many inboxes as you need and no more than that. So, you might have an inbox on your desk to collect all the physical stuff, one electronic inbox, and a phone inbox. That's it. Otherwise, things get entirely too complicated.
Processing What Needs to Be Done
So, now you have a stack of papers on your desk and you have your e-mails and voicemails ready to go. While Allen suggests the next step is to process your stack, I'm going to suggest you hang on just a moment and look at another productivity guru's advice, Stephen R. Covey.
Covey advises that we should always "Begin with the end in mind." What goals do have at your company? What goals do you have at your career? What are the roles in your job description?
With these bigger things in mind, you can start processing your tasks. Don't keep anything that isn't central to your goals or job description. When you're processing your collection box, ask yourself:
What is it?
Is it actionable?
If so, what needs to be done?
Do I need to do it?
When does it need to be done?
You can then begin to sort your stuff. Start at the top of the inbox. Handle only one item at a time. (This is Alllen's advice.) Once you've decided an item is actionable, how is it actionable? Do you need to call someone? Put all the "call" items together. Do you need to e-mail someone? Group all the "E-mail" items together. Can it be given to someone else? Then delegate it. If you can do it in two minutes or less, then get it done now.
Once you've done this, you'll need to determine when you'll get things done. Julia Morgenstern suggests that you do not check your e-mail or make calls first thing in the day. Instead, it is better to wait until after you've completed at least one task. E-mail has a habit of taking you away from what really needs to get done.
Tracking What Needs to Be Done on Paper
Now, you'll need to track what needs to be done. If you're following Allen's plan, you'll divide things up by context. Items that require a series of steps will be treated as projects. If you're following Covey's plan, you'll divide things up by role. If you're following Morgenstein's plan, you'll schedule time slots for various activities and stick to those time slots. No matter what you do, though, you'll need a way of making sure nothing gets lost. Here are some paper-based techniques.
Next-Action Index Cards: For Allen's plan, instead of a "to-do" list, you create a next-action list. This means that all items on your list need to contain action verbs. For example "laundry" would not be a next action. Instead, you might have "Gather laundry," "Load laundry in car," "Drive to laundromat to wash and dry laundry," and "Fold and put laundry at home." You might just have "Throw on a load of lights." The important thing is that you have written something down that is truly actionable. You can then organize your next action by contexts. Where do you need to be when that action is performed? What tools do you need? You might have contexts such as @calls, @email, @desk, @computer, @office, @home.

The Agenda Book: Alternatively, you can track your tasks on paper in a traditional agenda book. This is a fine option if you don't have a lot of work tasks, but if you are constantly working with tasks, then this may not be the best method for you. You'll find that you become quickly overwhelmed.

The Notebook: This is the paper method I use. I give one page for each project, and I keep another page for tasks as they come to me that are not yet associated with a project. As I work, when something occurs to me that needs to be done, I jot it down in the appropriate place, on its own line. I also use Microsoft Outlook to track my tasks. At the end of the day, anything on the paper list that I did not get to (indicated by crossing off) I record in Outlook with the appropriate tags. It may sound complicated, but it keeps me from saying "Oh I really need to call x" and jumping into that when I'm supposed to be writing an article. By entering the information into my computer at the end of the day, I can be sure that the older tasks are completed before the newer ones and that my task information is tracked.

41 Folders: Perhaps you followed directions to a "T." Now you have a bunch of paper and sticky notes and sorted items. This system, as I've used it in the past, is tweaked by adding context folders. What you do is as you sort, anything that needs to be done on a particular day is filed under that day. If you are in June, and have not yet started things that need to be done in August, place the item in the August file. Today's activities will be sorted by context into your context folders. When you're done with a task, throw the piece of paper away. I found there to be one major problem with this method, however: If you lose a slip of paper, you lose that task. Be very careful to secure your paper in your folder with paperclips or another method to prevent this problem.
Using Software for Task Tracking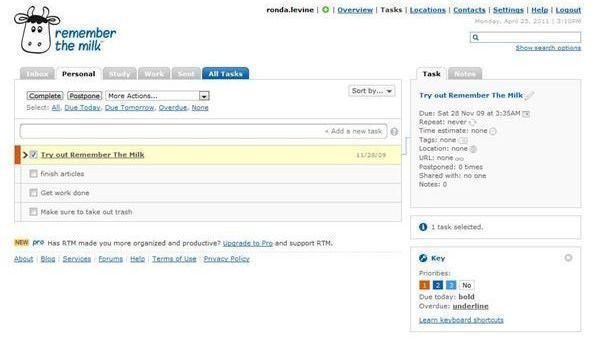 Now, I use a combination of paper and electronic task tracking techniques. Some people like to have it all on paper, but some like to have their tasks all electronic.
I use both because it allows me the flexibility of not having to have access to Outlook while I'm working on something else, and it's less tempting to jump into a distracting task if I write it down and enter it into my system later. This means I'm constantly collecting. Sometimes, at the end of the day, I'll decide something I thought needed to be done right then and there doesn't need to be done at all (or that I can give it to another person to do).
By recording as I go along, I can get rid of that nagging feeling that something else has to be done, and focus on what's right in front of me. While I use Outlook, there are many great tools available for those wanting to track their tasks.
Remember the Milk - This program is very helpful when it comes to tracking your tasks. You can even have it open in iGoogle when you open your browser, and you can have e-mail reminders sent to you when things need to be completed. The best part, in my opinion, of this program is that it is pretty robust for a free application. You can access your list from any computer, and you can organize your list into different contexts or projects. For a small subscription fee, you can also sync your tasks with Outlook, so you'll always know what needs to be done, no matter where you are.

TeuxDeux - This is a very basic task tracker, but if you're a minimalist, it might be just what you have been looking for. You simply enter tasks in on the days you intend to complete them. There are no contexts, no projects, just simple task entry. If you only have a few to track each day, this may be the perfect solution for your needs.

GTD Plug-In for Microsoft Outlook - This can be downloaded from Netcentrics. This program is great, but unlike TeuxDeux and Remember the Milk, you will need to purchase the application for just under $75. Even though this is proprietary software, and as a disclaimer, it is the tool I use for tracking my work tasks - no, I have not received compensation to do that, I will say it's become a valuable part of my work process. It streamlines tracking projects, organizing contexts, keeping reference material with the project information, and sorting through e-mail. If you like using Outlook (or are used to Outlook), then it might be the perfect solution for you.
The Weekly Review
The final component of any task-tracking endeavor is to ensure that your system is always fully functioning. To do this, you will need to conduct a weekly review every week. The purpose of the weekly review is to look over what you completed that week, note what you did not complete, and keep up on your system. Let's face it, things get hectic from time to time. It's important that you notice this and take the appropriate measures necessary to get your system back on track. Otherwise, you may find yourself in the same position you would be in if you had no system of task management.
References:
Allen, D. (2002) Getting Things Done. New York: Penguin.
Covey, S. (2004) 7 Habits of Highly Effective People. New York: Free Press.
Morgenstern, J. (2004) Time Management from the Inside Out. New York: Henry Holt and Company
Netcentrics: https://gtdsupport.netcentrics.com/buy/
Remember the Milk: https://www.rememberthemilk.com
TeuxDeux https://teuxdeux.com/
Franklin Covey https://getorganized.franklinplanner.com/
Levenger https://www.levenger.com/PAGETEMPLATES/NAVIGATION/Products.asp?Params=category=16|level=2|pageid=2391
Image courtesy of https://www.sxc.hu/photo/1127845