Can You Rescind a Letter of Resignation?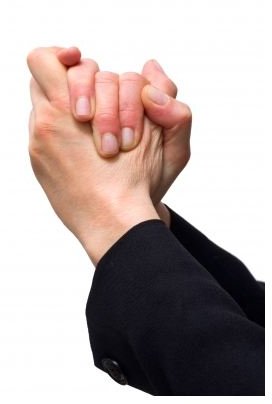 When Can You Withdraw Your Resignation?
Whether rescinding your letter of resignation is an option or not depends on several factors. If your current employer has asked you to reconsider leaving and you have decided in fact to stay put, you might need to write a letter rescinding your resignation as a formality. Typically, your company's HR department will place this letter in your employee file along with your original letter of resignation for historical purposes.
On the other hand, if you were given the option to resign rather than be terminated, withdrawing your resignation is more than likely a fruitless undertaking. Perhaps you have reconsidered, choosing termination over resignation in order to receive benefits such as unemployment or a severance package. While you can certainly attempt to do so, bear in mind that your employer may dispute any claims you make using your original letter of resignation as evidence.
Then again, maybe you have had time to rethink your reasons for quitting and have come to the conclusion that the grass on the other side is not so green after all. You are wondering whether a letter that basically states, "Whoopsie! I changed my mind. I'm going to stay here after all, okey doke?" is enough to keep your position. The answer to this question is one that only your employer can provide and is dependent on the circumstances surrounding your formerly planned departure.
For instance, if your employer has already hired a replacement or was offended by your original reasons for resigning, the odds of keeping your position are slim. Conversely, if your boss made it clear that you always had a place to come back to, it is certainly worth trying. Either way, you may be forced to beg a bit and eat some humble pie if you really want to retain employment.
How to Go About It
You might wish to speak with your employer prior to writing a formal letter rescinding your resignation to determine whether it is worth doing. Once you decide to go forward, your letter need not be verbose or complicated. Here is sample wording for such a letter, which should be written in standard business format.
Dear Mr. Carmichael:
I humbly wish to rescind my letter of resignation written on March 14, 2011. It is my sincerest hope that you will allow me to maintain my current position.
I sincerely apologize for any difficulties caused by my original letter, and am willing to take any steps necessary to regain your trust and confidence. Thank you for your consideration.
Yours truly,
Brittany Bell
In some cases, your employer may prefer that you complete a form stating your intentions as opposed to writing a letter. This is another reason why communicating with your supervisor is important, as it may prevent you from penning a letter needlessly.
Sample Form to Rescind Resignation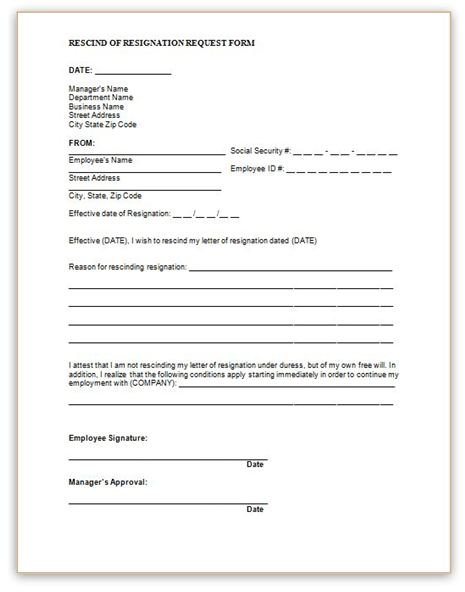 If you are an employer seeking information or ideas about allowing an employee to rescind his resignation, you might prefer to use a form rather than requesting a letter from the employee. You can download the Rescind Resignation Form template and personalize it or otherwise modify it to suit the needs of your business.
This Microsoft Word template includes the title, "Rescind Of Resignation Request Form" in the header. Next is a date line, followed by sample text that you can replace with the manager's name, department name, your business name, street address, city, state and ZIP code.
Next are lines on which the employee can fill in her name, street address, city, state and ZIP code, Social Security number, employee identification number and date the original resignation would have been effective. These are followed by the sample text, "Effective (DATE), I wish to rescind my letter of resignation dated (DATE)."
The form contains a section for the employee's reason for rescinding the resignation. This section has lines so that you can print the form and the employee can complete it by hand. Alternatively, you can provide an electronic version for the employee and he can type over the lines on the template.
Finally, there is a section with the following wording: "I attest that I am not rescinding my letter of resignation under duress, but of my own free will. In addition, I realize that the following conditions apply starting immediately in order to continue my employment with (COMPANY):" Again, this section contains lines on which you or the employee can include details. There are signature lines for the employee and approving manager, as well.
To download this template, click the Download Page link in the Resources and References section below.
Resources and References
Rescind Resignation Form: Download Page
References
New York Public Personnel Law; Rescinding a letter of resignation; https://publicpersonnellaw.blogspot.com/2010/10/rescinding-letter-of-resignation.html
Personnel Policy Service, Inc.; Rescinding A Resignation; https://www.ppspublishers.com/articles/resignation.htm
Images
Begging Hand Gesture: freedigitalphotos.net/Ambro