Must-Have Tips on How to Become a News Intern: Focus on TV Networks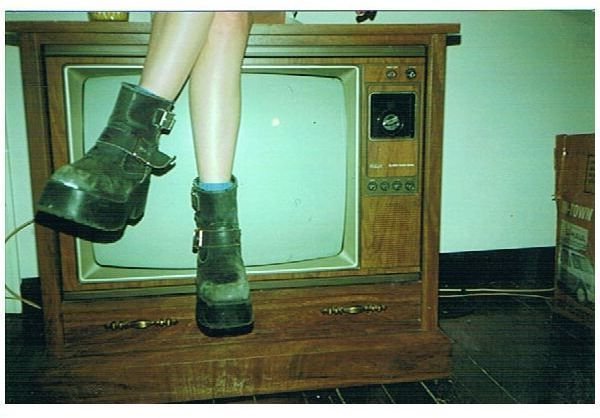 Network News
TV networks including NBC, CBS, ABC, TNT and FOX offer a variety of internships for undergraduates. If you're wondering how to become a news intern, you must meet certain criteria based on the type of internship and whether you're looking for summer or full-time intern jobs.
Some of these jobs are paid where others are deemed unpaid internships—usually held in the summer months during breaks as a way for those interested in the field to learn more about TV news broadcasting.
Finding Internships

If the world of working behind the scenes in television or in front of the camera as a broadcaster is your career goal, there are many ways to find available internships.
First, use the power of the Internet. Perform a Google search using the network name plus the words news careers; for example, "FOX News Careers." After your search, click on the link (all networks have websites that are similar such as "FoxCareers," etc.) and you'll land on their homepage.
The main careers homepage for networks may not list Internships, but if you scroll down, you'll find an area dedicated to internships; see screenshot to the left (click to enlarge). Click to visit the internship page. Some network websites such as ABC offer web pages dedicated to college internship programs.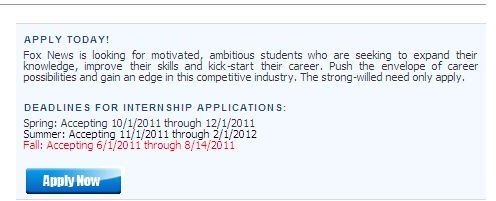 The screenshot to the right shows available internships at FOX along with an "Apply Now" button.
Most network internships applications are the same and require you include your full name, address, telephone number and email. They also ask for areas of interest, desired location, and do require you upload a resume and cover letter so you'll want to ensure both of these documents are well prepared and stand out.
All internships will vary on requirements; however, most will require you be enrolled in an undergraduate program. You can find other stipulations or requirements within the actual internship job postings, which include duties and responsibilities.
Tips On Getting Noticed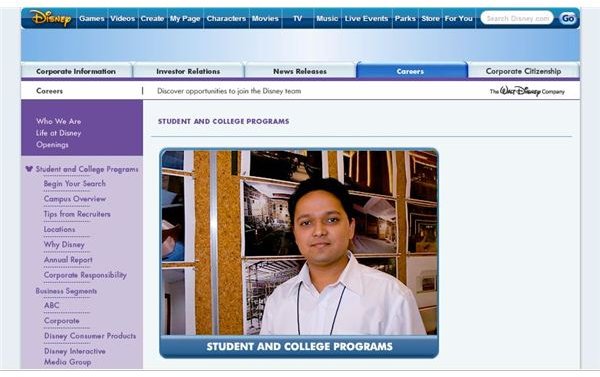 Completing the online internship application doesn't mean you'll get the job. Before you even apply, here are sure fire tips to land the job:
Campus Career Centers: Visit your campus career center and ask for help in locating companies where others before you have landed news internships. Your career center can be invaluable in aiding you with finding the right internship, and most will have job and internship postings in the journalism or broadcasting field.
Get More Information: Fox News Careers suggests calling each network's human resources department and asking to speak to someone knowledgeable about the available internships including education requirements and skills needed. Ask about paid vs. unpaid, full-time vs. summer or part-time jobs, and if housing is available. Find out as much as you can. Make a list of the questions you have before you make the call. The more you know, the better the chance you'll have in getting the job if your application is considered and you are interviewed.
Cover Letter and Resume: These documents need to be up-to-date, error-free and grammatically correct. You can find free examples of resumes right here on Bright Hub for those in college or fresh out of college. Look for additional Bright Hub resources in the reference section below. If you don't convey yourself well on paper, you may not be selected as a candidate for an internship.
Applying and Timeliness: You don't have to limit your intern search to one network. Apply for as many as you can and when visiting each network's intern website, pay attention to the application dates. If you're looking for a summer internship, you may need to submit an application in the fall; however, most networks offer dates to apply so pay close attention to those dates. Never apply after the cutoff as this could harm your future chances.
Interview Time
Now that you know how to search networks for internships, if you're selected, you need to prepare for the interview. Disney, the parent company of ABC, suggests you find out as much information as you can about the network and its history, prepare a list of questions, and maximize eye contact during the interview.
Disney also suggests bringing along any materials in your portfolio of what you've done during college (even if its' on a regional scale). Finally, answer all the questions asked with enthusiasm, dress in business attire and be on time for the interview even if it's a VoIP interview such as one done via Skype, for example.
Consider Local Affiliates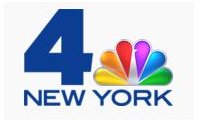 If you find it a financial hardship to travel to another state and can only find unpaid internships, try local news stations or network affiliates. Many of these do offer summer internship programs, which are perhaps not as broad but will still give you the experience you need and perhaps a chance to land a paid internship when you're fresh out of college or the following summer.
If you're studying journalism or broadcasting, your time in college will aid you on how to become a news intern, but if you follow the suggestions and tips here, your chances of landing the internship you want will be enhanced.
Getting your foot in the door is your first step, working hard, taking guidance and learning on the job is key in gaining entrance to a permanent job in the network news world.
Looking for more options? Check out the rest of Bright Hub's collection of career guides and profiles.
References
FNC iMag, "5 Tips on How to Snag and Internship," Fox News (FNCIMAG.com), https://www.foxnews.com/imag/Career/5+Tips+on+How+To+Snag+an+Internship
Disney (ABC) Tips from recruiters retrieved at https://corporate.disney.go.com/careers/tipsfromrecruiters.html#interview
Bright Hub Helful Resources:
10 Free Resume Templates for Microsoft Word
Cover Letters: Writing Guidelines
Image Credits:
Alex Jacobi Boots on TV by Pacian under CC BY SA 3.0
Nbcnewyourknewlogo2011 by WNBC under Public Domain
Screenshots provided by the writer:
Screenshot FOX Careers Homepage - https://careers.foxnews.com/
Screenshot FOX Apply Now Internships - https://fncu.foxnews.com/
Screenshot Disney (ABC) Student and College Internships - https://corporate.disney.go.com/careers/studentandcollegeprograms.html