Mix and Match Clothing for a Trip: Make Traveling Fun and Hassle Free by Learning How to Travel with Just One Tote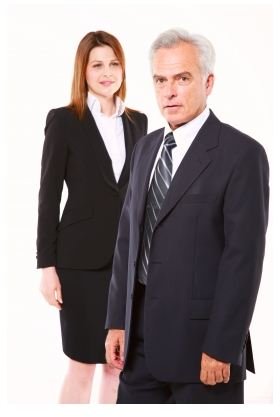 Planning a Business Trip?
If you love traveling but hate the hassle of packing, using mix and match clothing for a trip is the most convenient option. Plan a travel wardrobe around a few well-chosen core pieces so you can travel light by taking only the clothing that you absolutely can't do without. Here's what to pack to create multiple outfits, and how to pack it to keep it wrinkle free.
Mix and Match Magic Multiplies Wardrobe Options
An inexpensive mix and match wardrobe is the perfect travel companion:
Two skirted suits in black, gray, navy or taupe
One pair of dress pants: best choice is a color that matches jackets but if not, match pants to the accent top
Three tops: two in neutral colors and one print, pattern or accent color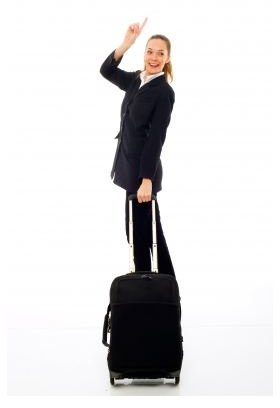 The easiest, quickest combinations are made by wearing the matching skirts and jackets and switching out the tops. This provides three days worth of clothing with little effort on your part.
If wearing pants is appropriate, match the pants to a jacket or top to create another outfit. Switching jackets and skirts or jackets and the pants with the various tops creates other combinations in a flash.
If you don't own travel knits, work the same magic by choosing fabrics that are similar in weight, texture and color lots. Shades of black and navy are the hardest to match so examine items in bright light to make sure shades are acceptable color matches.
Quick tips: Petites look taller and slimmer if the jacket and skirt or slack colors are the same. If you are tall but want to look shorter, wear a dark color on the bottom half of the body and lighter colors for tops and jackets.
Making Your Packing List
Work from a packing list so you don't forget any essential items, and customize it to your trip and needs:
Two business suits (skirted for women)
One pair of pants (business casual style for men, dressy for women)
Three tops for women
Two white shirts and two colored or print shirts for men
One golf or casual shirt
Underwear
Belts, ties and accessories
One pair each dress and casual shoes
Sleepwear
This list works for a five day business trip in an industry which requires a business suit as appropriate attire. If the corporate atmosphere is business casual, swap out the suits for khaki pants and golf shirts or pantsuits.
It's nice to have casual clothes for lounging around, but most individuals work from early morning until late at night. Consequently, the neatly folded casual clothing stays in the suitcase. Think twice before loading up bags with these. In addition, unless they sweat profusely, most men can hang a shirt to air out and get one additional wearing.
Remember to list items like travel documents, reading material, medications and spare essentials like glasses, extra batteries for hearing aids or blood level testing supplies.
Pack a Wrinkle-Free Travel Tote
Grab your packing list and gather up your items. Remember: Travel knits are a frequent traveler's best friend because they are literally wrinkle resistance, fold into incredibly small packages or rolls, and allow the use of the maximum available space.
Lay out the items on a flat surface:
Pants
These are typically the heaviest items, so fold or roll them and place at the bottom of the bag. There will be fewer creases in non-knit fabrics if they are folded in half horizontally. Lay a piece of tissue paper across the legs; fold them in half vertically.
If you must fold them in half again for a better fit, put another piece of tissue between the layers to resist wrinkles. For travel knits, simply fold them in half and roll from the bottom of the hem to the waistband, smoothing out wrinkles as you roll.
Skirts
Fold skirts in half horizontally (layer with tissue) and then in half vertically for packing a non-knit fabric. For knit fabrics, lay out one skirt with the waistband at the top and smooth it out. Lay the other skirt so that the waistband is positioned at the hemline of the other skirt and smooth out the fabric. Fold the two layers in half and roll from the bottom.
Jackets
Non-knit jackets look best when unpacked if they are turned inside out before packing. This serves a dual purpose because if a toiletry item bursts or spills from its container, the jacket lining absorbs most of the stain or damage. While this is not an idea situation, you can still wear the garment for the duration of the trip and attend to repairs when you return home.
Lay the jacket face down on the bed, and cover with tissue. Fold the sleeves inward and smooth the fabric. Use another tissue layer to cover the sleeves, fold the jacket into thirds and place into the bag.
Shirts and Tops
Because collars are easily crushed and do not look as fresh as you might want, shirts should be the last items packed. When you buy new shirts, consider saving the cardboard collar forms for reuse to give collars more stability whenever they must be packed for travel.
Lay shirts or blouses face down on the bed and put tissue over them. Fold the sleeves in toward the garment, while smoothing out wrinkles. Place another sheet of tissue over the sleeves and fold the bottom third of the garment up. Smooth the fabric, fold the remaining third over the bottom portion and place into bag.
After each one is folded, position it atop the previous one so the collars are at opposite ends to prevent crushing them. Continue to alternate them in this manner to protect the collars as much as possible.
Shoes and Other Accessories
Position shoes around the outside edges of the slacks. Roll up small items and stuff them into the shoes and corners of the bag. Coil belts and fit into small spaces. Add any other accessory and sleepwear items and you are ready to depart.
Best Bag Options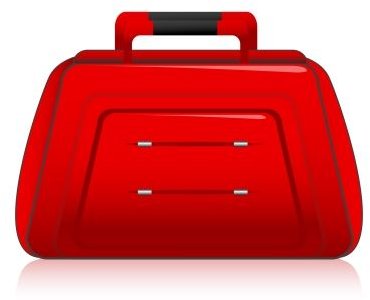 Choose an adequately sized, durable bag. While specific sizes and guidelines vary depending upon the mode of transportation, according to Skyroll ® if a bag is 22 x 14 x 9 inches and weighs about 40 pounds, it complies with the regulations for most airlines. If you travel by train, check their guidelines to determine an appropriate size.
When you purchase a new bag to make your travel in a tote plan workable, consider buying an unusual color or pattern to make your bag distinctive from all the other black bags seen circling on conveyor belts.
Invest in the best quality bag you can afford because it will give you years and years of service. You will know exactly how much you can pack into it and how heavy it will be to carry.
If you shop smart, you might even find an appropriately sized wheeled bag to save you the agony of toting a heavy bag and making zipping through terminals a breeze. Check all the zippers, snaps and other closures for durability.
Best Clothing and Accessory Choices
Clothing made from slinky knit fabrics or wool blends resists wrinkles the best. These items roll up and take much less space than other garments, and when you arrive at your destination, simply shake them out and hang them up. No need to waste time calling the front desk at a hotel and trying to locate an iron or ironing board.
If you are really limited for space in your bag, make a tiny investment in disposable underwear. A package of five for either sex costs under $4, and these handy little items are made from cool, comfortable polypropylene that wicks the moisture away from the body to keep you dry. They just might free up enough space for one unforgettable trip souvenir.
To keep ensembles from looking drab, pack an assortment of ties or scarves for accessories. These small items can be rolled and tucked into shoes or odd corners of the bag and do wonders to transform an outfit in an instant.
Belts are other easy-to-pack accessories that can really make an outfit pop and so does statement jewelry. One stunning necklace and earring ensemble can attract so much attention that no one even remembers if your suit was black or navy.
Navigating Security Checkpoints Quickly
Check-in is fast when you are toting one bag, and it's easier to move around the terminals. It is also a lot safe with no worries about misplacing a bag or having it stolen. There are no costly luggage fees or no need to carry small amounts of cash to tip porters and skycaps.
It's smart to familiarize yourself with the Transportation Security Administration's "3-1-1 for Carry-Ons" guidelines to decide what personal items and medications to pack and how to pack them.
Traveling - especially business travel, which is essentially free because your employer picks up the tab - is one of the most pleasurable, enjoyable experiences available. You can work wardrobe magic by investing in mix and match clothing for the trip, and many times it is the cheapest, most affordable alternative. There's no reason to burden yourself with heavy bags or carry non-essential items when it's so easy to learn how to lighten up and travel light.
References
Transportatioan Security Adminstration, https://www.tsa.dhs.gov/311/index.shtm
DNA Products, https://www.dnaproductsonline.com/web/Product?product=2001
Author unknown, "Carry on Luggage Rules," Skyroll®, https://www.skyroll.com/carry-on-luggage-rules/
Author's experience of writing and teaching the "Travel in a Tote" seminar for business professionals
Image Credits
Business Images: Free Digital Photos by image creater Ambro and used under the terms of use, https://www.freedigitalphotos.net/images/view_photog.php?photogid=1499
Bag image: Free Digital Photos by image creator digitalart and used under the terms of use, https://www.freedigitalphotos.net/images/view_photog.php?photogid=2280