Tips for Building a Nursing Portfolio Sample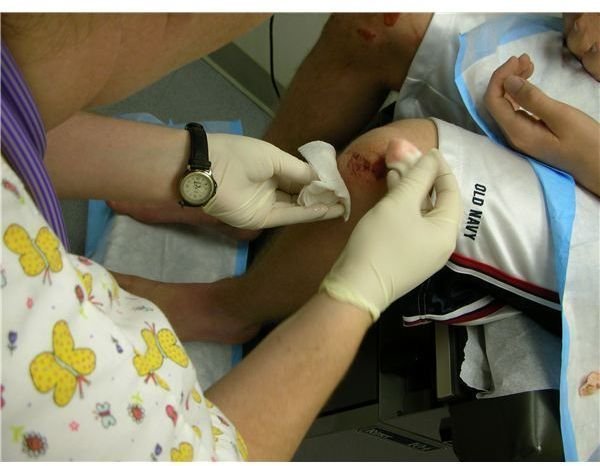 A nursing portfolio is a great tool both to help you consider what your next career step should be and to help you actually take that step.
A good portfolio helps your career to progress as you will have relevant information at hand to back up job applications. You will, by reflecting on where you are, and how you got there, be able to see more clearly the way ahead. Most importantly, knowing that you have a good portfolio to present to prospective employers raises your self-esteem and confidence. You will see your professional career well presented in an attractive form, and you may amaze yourself when you see all that you have achieved.
The main part of the portfolio will present a clear and full picture of where you are in your professional development cycle right now, and it should be updated at least annually.
Physical Presentation
While 'E-portfolios' are possible, most people prefer to present theirs in a traditional ring-binder.
A title page is a good idea, followed by the contents page, which itemizes the different sections of the portfolio. It should list the portfolio contents and page numbers (if the pages in any section total more than about 10). Use dividers between the sections, and it is a good idea to protect the pages with clear plastic covers. If the portfolio is large, the pages should be numbered for ease of reference, and the numbers could be listed on the cover rather than the page itself, in case the numbering needs to be changed.
What to Include
Start with:
Title page
Contents page (remember to update as needed)
Resume, including brief details of general pre-nursing education and career.
Personal statement of nursing philosophy ( this is optional)
The following sections should include evidence: certificates and any other relevant records:
Professional training: Here, as well as including evidence of your qualifications, you will want to go into some detail about your training, the competencies that were covered, and what you personally gained from the academic side of your nurse training.
Clinical experience: This is the other major section, and it must go into detail about the content of your clinical placements. Information about continuing education courses you have taken during a placement can go in here as well as 'on the job' training and learning experiences.
Under this heading, you should include at least a sample of actual clinical incidents which have been significant in your professional development and include some reflection on what you have learned from these events:
How did you react in a particular stressful situation?
What did you learn from the experience?
How are you taking that forward?
The section will include as evidence:
Appraisals
Relevant committee and publication work to which you have contributed
Job descriptions and person specifications for the jobs you have done
Reflection on what you have personally gained in competences and confidence in each role
Career development aims: should include an assessment of any weaker points you find in your nursing resume as well as the steps you are planning to develop competence in those areas.
Tips for Additional Inclusions
To start with, include everything that you think may be relevant. You can prune things at a later date if your portfolio becomes unwieldy, but don't lose the evidence. For material which you consider including but then reject, keep a supplementary file as this data may be needed in the future.
A portfolio is something akin to an information leaflet. Obviously, all the positive aspects of your experience should be in there, but there is no point in including non-relevant hobbies nor in over-selling your personal characteristics.
The portfolio demonstrates by its production values that you are literate and that you have an analytical capability, which allows you to organize material.
Other qualities, like enthusiasm, dedication and compassion, which are essential to a good nurse, should be demonstrated by the experience you have gained, and your reflection on that experience, rather than simply asserted.
Market Your Weaknesses in a Positive Manner
Compiling this section can make you feel vulnerable, but it is a useful exercise as it means you must face up to thinking about and dealing with your weaknesses rather than your strengths. However, remember that nobody is perfect. You may want to ask a friend or colleague to review this section as you do not want to come across as either complacent or overly negative about yourself. This section calls for extra care.
Almost without exception, job interviewers will ask about your weaknesses, and this will help you to be prepared. Evaluating your weak points and deciding how to express them in a positive way while making your portfolio definitely helps in the interviewing process.
Proofread
Finally, you cannot be too careful to eliminate mistakes and typos. Carefulness and accuracy are essential qualities in nursing and should be demonstrated in the production quality of your portfolio.
Future Outlook for Nursing Careers
As a career, nursing, with its numerous specialties, has job growth far exceeding that in the US economy generally. An aging population means that this will not change in the foreseeable future.
You can have a great career in nursing, and it can take you far. A good portfolio will be key in turning your ambitions into reality, and it is worth taking the time to make a really effective one.
References
US Bureau of Labor Statistics
Helping Nurses Climb the Clinical Ladder, Strategies for Nurse Managers.com, https://www.strategiesfornursemanagers.com/search_results.cfm
Making Your Development Portfolio Work for You, Nursing Times.net, https://www.nursingtimes.net/
Image Credits
Image: DSCN2677 by taliesin used under morgueFile free photo licensing agreement