Cubicle Decorating 101: Avoid Boring Desk Syndrome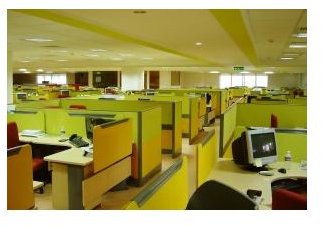 ZZZZZZZ…ZZZZZZZZ…ZZZZZZZZ
Is that the sound you make when you think about your workspace? It needn't be. There are some things you can do to your cubicle that will liven it up. While you might not have your own office, you can still personalize the space you spend eight or more hours in every day. One thing to remember when you are decorating your space: try to remember to keep it neutral. Do not place anything controversial or potentially offensive in the space where you work. If it's not something you would want your children, parents, or grandparents to see, it's not something that should appear in your workspace. No matter how informal your workspace is, try to keep that in mind whenever you add anything to it.
1. Determine a Theme
Every decorated space needs a theme. Unless, of course, your theme is "themeless". This should be something that reflects you – but the professional you. For instance, you might want an Office Space theme (where is my red stapler?), or a geek culture theme (Nintendo controller mousepad anyone?). Those are great, especially if you're working in a software development company. You could also go with a retro theme (lava lamp?), a trendy theme (what are the coolest colors for working), or even design your cubicle around your favorite television show (Buffy?). Whatever you decide to do, don't stray from it. It's easy to get carried away and have too many different items from different themes going on at one time. Keeping to one over-arching idea will help you to have a unified look in your cubicle.
2. Consider Color as an Option
While the walls of your cubicle are plain and boring, they don't have to be. If you're not allowed to paint or wallpaper your "walls", consider creating bulletin boards with pops of color. You can cover a cork bulletin board with fabric (use a staple gun to affix it to the back of the board) and then hang the board on the cubicle wall. The great thing about incorporating color into your space this way is that you also create a place where you can hang those memos so you don't forget to include a cover sheet on that TPR report.
Different colors can have different effects on your mood. If you're prone to stress, you might want to avoid using red in your workspace as it can speed up your heart rate. On the other hand, yellow is a color that can make a space cheerful – this might be a great idea if you're working away from windows. Better yet, if you're creative, what if you painted a scene you'd love to see if you had a window on your bulletin board. You can use acrylic paint to do so. If you're so inclined, you can use moulding purchased from a craft store to create a mock-window over your painting.
3. Let There be Life!
Many people consider having at least one potted plant in their workspaces. This can be a great way to bring the outdoors in, and it can help you to feel more at home in your space. You want to be careful to avoid putting too many plants in your space as this can be distracting and a productivity killer (who wants to spend their entire morning watering plants when there are other things to do?). Choose easy to care for plants that do well indoors.
While plants are a popular way to bring something living into your workspace, if you have enough room to have it away from the computer, you might want to consider having a fish. Not only can a betta or a goldfish (or two) be a colorful addition to your cubicle, but you also may find that your fish friend makes you look forward to coming to your workspace in the morning.
4. The Calendar
Every workspace needs a calendar. Why opt for something boring? Yes, you can use the standard-issue desk calendar, but you don't have to. Even if you don't use a custom calendar that reflects the theme of your office space (be sure if you do that you have enough space to mark down important work deadlines), you can still have fun with the desk calendar. Not only can you color-code your appointments, but you can either find or create your own deskpad to hold your calendar.
5. The Computer
Granted, you can't paint your computer (at least, you really shouldn't), but you can dress it up a bit. If you use a laptop computer, you might want to consider a laptop skin that matches your theme. If you want to, sometimes you can find stickers for your keyboard with the letters on them that will allow you to dress up your desktop computer. Some companies make "jewelry" for your computer monitor. Whatever you decide to do, make sure you either own the computer or have permission to alter it before you do. Nothing would stink more than feeling pride over your cubicle space and being written up for destroying company property.
6. The Desk Space
Your desk is an important part of who you are. Why not dress it up a bit? You can use blotter pads, cup holders, and other little touches to tie your desk into the rest of the office. You get bonus points if you can bring in elements that are both decorative and practical. For instance, by using a desk organizer that keeps all your belongings in place, but also ties into your theme, you can have fun while keeping your supplies manageable.
7. Art and Photographs
While your bulletin board may be a work of art, you might want to bring other personal touches into your space. Consider adding framed artwork to your cubicle walls. Smaller prints or canvases work best in this environment. Make sure anything you choose is office-appropriate. While you may love a particular artist's nude series, you don't want to run the risk of offending those who are sensitive to such things. You can also bring in family photos - but here's a twist - what if you printed photos in black and white and used colorful frames? It's something to think about!
8. Motivational Things
No, I'm not necessarily speaking about motivational posters (or the demotivational posters for that matter). What sorts of things inspire you? Do you enjoy rock-climbing on the weekends? Do you have a favorite quote? Make sure that you incorporate at least one inspirational item into your workspace. You can do this by framing a favorite quote, finding an image of a motivating activity, or even finding a sculpture that inspires you to do your best.
9. In and Out
In addition to desk organizers, you'll need to establish a system for tracking the paperwork that comes into your office and that needs to go out of your office. While you can use standard in and out boxes, why would you? You can create a custom look either by using contact paper or by covering your boxes using fabric. This is a great way to make an otherwise inexpensive item fit with your theme and personal style.
10. Toys
While some people might advocate not having toys on your desk, I find it a great way to have fun at work. You can use travel sizes of games, work games, or other desk toys or stuffed animals. I have Scorch, the Beanie Baby dragon hanging out on my desk while I work. While you don't want to go overboard, one or two fun elements can help to make your workspace a place you look forward to returning to each day.
It's important to be professional at work, but professional doesn't have to mean "boring." You should feel free to make your workspace your own - within reason of course. Remember that before you modify any of the hardware provided by the office you work in to check with your boss to ensure it's okay. Once you have the green light, cubicle decorating can be a lot of fun!
References:
Skinit.com https://www.skinit.com/devices/laptop
ThinkGeek.com https://www.thinkgeek.com/
Cubicle image courtesy of https://www.sxc.hu/photo/455596
Goldfish image courtesy of https://www.sxc.hu/photo/882707