Sample Cover Letter for Modeling Opportunities: Get Your Dream Job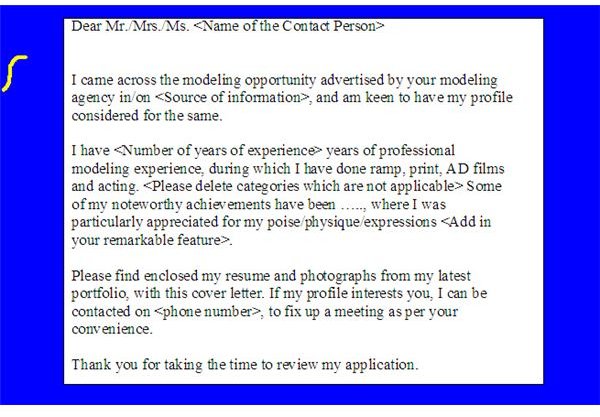 With lots of people choosing modeling as a career, modeling agencies are always flooded with applications. The fate of your application depends a great deal on how good your cover letter is, because with hundreds of applications to scan, the agencies don't have all the time to read through detailed resumes. In most cases, the agencies will just take a quick look at your photographs and the cover letter. That's the reason why you need a compelling cover letter or else your application may end up in the bin. Let's take a look at what a proper cover letter for modeling opportunities should be like. And, in case you're looking for some ready solution you can download a free cover letter template from BrightHub's media gallery and customize it using the information presented here.
Guidelines to Drafting the Cover Letter
1. Begin your cover letter with how you came to know about the modeling opportunity in question. This is mainly to assist the agency in segregating applications received for different opportunities, advertised by them. Some agencies like to read this line just to get some idea about how you connect to and stay updated with the modeling world.
2. Next, it's time to talk a little bit about yourself and your accomplishments in the modeling field. Talk about the number of years of experience you have and the kind of modeling assignments you've taken up. Write one or two crisp and interesting lines about your key achievements – assignments that have been a turning point in your career or assignments that have got you in the limelight. Remember, this is not your resume and you shouldn't describe your accomplishments too much in detail. Ideally, you should just talk about your top two or three achievements.
3. If the modeling assignment has some specific requirements, then you can add in a short paragraph to highlight how and why you're the ideal candidate for this particular assignment. However, avoid going overboard and hard-selling yourself.
4. Add-in some good closing lines to show how interested you are in hearing back from the agency and at the same time thank them for considering your application.
5. Finally, don't forget to put in your contact details so that the agency doesn't have a problem reverting back to you, in case your profile interests them. And the last thing that should go into the cover letter is a list of enclosures being sent along with it.
No matter how tempted you feel to brag some more about yourself in the cover letter, refrain from doing so. The cover letter shouldn't look cluttered and should never exceed a single page in length. Choose a font that's not too dense and use at least 1.5
line spacing, to make it easier for the appraisers to scan through its content.
Now that you have learned how to draft a good cover letter for modeling opportunities, and you even have a free template, all your future applications stand a better chance of being considered by the modeling agencies.
References & Credits:
https://www.jobbankusa.com/resumes/cover_letters_free_samples/examples_templates_formats/fashion_model.html
Image Credit:
Screenshot by – Sidharth Thakur