Preschool Teacher's Primer: Common Questions Asked In Preschool Teacher Interviews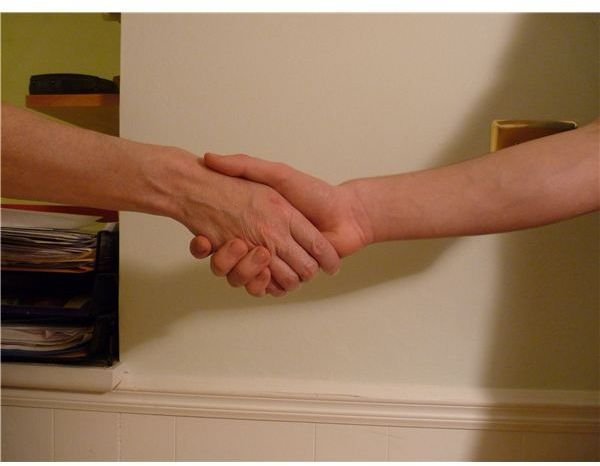 Interviews: The Nitty-Gritty
You've graduated from college and have a shiny new degree in Early Childhood Education or Child Development. Now what? It's time to get a job! Before you're ready to put your new skills to use in the classroom, you will have a job interview or two. Now, don't be nervous! By preparing for an interview ahead of time, you will be confident, poised and ready to take on any question the interviewer may throw at you. Always remember to dress professionally, take a few deep breaths and most importantly, be yourself!
The Questions
When interviewing for a position as a preschool teacher, there are often questions that you will hear at each interview. By preparing for these questions ahead of time, you will feel more confident going in to the interview. Remember, it is always best to come prepared witha professional resume, which you can present to the interviewer as you begin the interview process.
"Tell me about your work experience": This is a favorite first question in the interview process. Even though you have just handed the interviewer your resume, you will probably be asked to give a verbal summary of your work history. Highlight those areas where you have worked with children in some capacity. If this will be your first work experience with children, discuss an instance when you were asked to lead a group or were in charge of managing a workshop. For example, you can say "This will be my first position working with children, but I was the social chair of my sorority and I feel very comfortable in front of a large group."
"What is your discipline policy?": The best answer for this question is to be completely honest. If you are comfortable using time out, be prepared to state that and be able to give reasons to back up your answers. For example, "I strongly agree with using time out for preschool children. It gives the child time to cool off, as well as time to reflect on his misbehavior. After three to four minutes being removed from the group, I would approach the child and have a short discussion as to why he was removed and give him options for making a better choice the next time around."
"What are your professional strengths and weaknesses?": Aha! The dreaded question. Remember that no interviewer wants to hear that you are perfect, but reciting a laundry list of your shortcomings is probably not the best approach, either. Try something like this: "I am super organized and always know where to find things. The downside to that is that I often forget to explain my system of organization to those I work with, and that can result in some confusion. I'm working on that by asking for input from coworkers and taking their ideas into consideration when organizing the classroom."
Classroom Specific Questions
Often, interviewers like to ask questions about the specific daily schedule, lesson plans and communication styles you will be using in the classroom. Just as before, be as honest as possible and take this chance to show your creativity and professionalism.
"What would the daily schedule look like in your classroom?": The interviewer is probably not looking for the play-by-play of how you would organize your preschooler's day, but rather a brief overview of the types of activities you would provide the students. For example, "I believe that the preschool day should have a balance of indoor and outdoor, quiet and noisy, and small group, individual and large group activities. I would like to open the day with a large group activity to discuss the plan for the day and then move on to small group centers. I would plan for at least two outdoor playtimes each day, weather permitting, and close with another quiet large group activity before dismissal. I think it's most important to be flexible about schedules as a preschool teacher, though. If the children are engaged in an activity, I would have no problem continuing it and reworking the daily schedule to allow for these things."
"If the theme were farm animals, what kinds of activities would you plan for children?": Telling your interviewer the type of projects you would like to plan as well as your reason for choosing a particular project will more than likely impress her. For example, "I think it's important that preschoolers learn to work together, so I would plan a cooperative art project such as a farm mural. Each child could select a part of the farm to draw on the class mural such as a barn, a tractor or animals."
"How would you deal with a child who is biting or acting aggressively**?":** As the interview goes on, the director or principal may begin to ask more "What would you do if…" questions. The best way to prepare for these types of questions is to know not only how you would handle this situation, but to be able to give a developmentally appropriate reason for doing so. For example, "Children who bite or act aggressively are often lacking the language to tell others what they are feeling. After observing the child for a short time, I would attempt to stop the biting by shadowing the child, documenting the behaviors and the events that led up to them and trying to find the root cause of the biting or aggression."
"What would you do to promote parental involvement?": This is often a big question for preschool directors. They often have hundreds of parents to keep happy, and having teachers that are able to take the reins and plan parent luncheons, family days and other activities will help them tremendously. If you have any prior experience planning family days or parent activities, be sure to take this opportunity to toot your own horn! For example, "At my last job, I planned the school's annual Apple Fest. It was a Saturday afternoon affair for the whole family with games, prizes and food. It was a lot of work, but I enjoyed it because we were able to connect with a lot of the families in a way that isn't always possible during the school day."
"How would you deal with an irate parent?": You may be surprised to hear this question in an interview, but it is something a director or principal will be concerned about. Often, the director is unable to be involved in the day to day happenings of every classroom in the school and may be unaware of an irate parent situation. Answer honestly, and take this opportunity to show off your professionalism. For example, "I would ask the parent to speak privately, either by leaving the room or asking them to call me at the end of the day, as I wouldn't want the children to see me having a heated discussion with a parent. I would do my best to answer the parent's questions and explain any situation they may have an issue with. As a last resort, I would speak to the director or assistant director if I were having trouble communicating with the parent."
Good Luck!
Remember to be yourself when interviewing for a teaching position. You have the skills necessary to provide a nurturing and fun environment for preschoolers. That, paired with some simple answers to these common questions that may be asked in a preschool teacher interview, will probably have you hearing the words "You're hired!"
Reference: Taylor, Barbara J., Early Childhood Program Management. Macmillan Publishers (1993)
Photo Credit: ofdoom https://morguefile.com/archive/display/595906