Medical Graphic Designers – An Overview of their Job Duties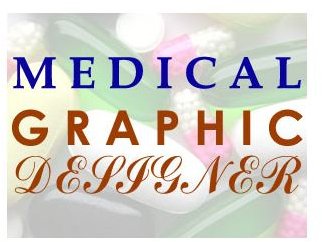 What is the Job Description of Medical Graphic Design Professionals?
Medical graphic designers blend their creative talent with traditional and digital tools and methods to produce a variety of graphics to meet the diverse goals of the medical domain. A designer, for example, may wear the hat of a medical illustrator and create 3D illustrations for the brochure for a new medical device. The sales staff can make use of the drawings to better explain the equipment to physicians. Or, a medical graphic artist may create an animation that explains, for instance, how a human liver works, for a health website.
What are the other job duties these professionals have the talent to perform? These include logo design, posters, web design and layout and artwork creation for marketing materials. Keep in mind all these are for firms in, or related to, the medical industry.
Education for Medical Graphic Artists
A bachelor's degree in graphic design, or a related field from a university or a private art school, is typically essential to work as a medical graphic designer. Anyone who wishes to pursue the graphic designer career should also have strong experience in graphic design software. In addition, expertise in animation software, like Flash, paves the way to land a job faster.
In the wide medical graphic design area, you may choose to drive your career on the medical illustrator track. In such a case, you should have a graduate degree in Medical Illustration. Its graduate program curriculum is a mix of illustration and medical science topics. Some of the courses of the program are Surgical Observation & Sketching, Electronic Media, Human Gross Anatomy and Physiology.
Who Hires Graphic Designers with a Medical Focus?
Graphic designers with training or interest in the medical domain will find pharmaceutical companies, hospitals and clinics, medical schools, law firms, research companies and medical device manufacturers, as the main employers. There are quite a few medical graphic experts who are self-employed. This trait is particularly true of those who've chosen medical illustration as their core area of work.
In recent years, e-learning companies, engaged in the development of multimedia medical courses, have created an excellent employment avenue. For graphic artists who can take static graphics to the next level through animation, companies in this business are yet another job setting.
Salaries of Graphic Designers in the Medical Industry
Because of the lack of data on the salaries of medical graphic designers, here are two sources that give the earning stats of graphic designers in general. The numbers from these organizations should provide an insight into the earning potential of designers in the medical world:
The Bureau of Labor Statistics says that, "Median annual wages for graphic designers were $42,400 in May 2008."
The AIGA | Aquent Survey of Design Salaries 2010 indicates the salary for an entry-level designer was $37, 500. How much do freelance graphic artists make? The same Survey result indicates that a solo designer made $56,000.
Medical illustrators earn more money. According to the Association of Medical Illustrators (AMI), in 2006, the annual salary for an entry-level illustrator ranged from $44,000 to $55,000 per year. AMI says that, "Approximately 43% of salaried illustrators often supplement their income with freelance work."
Let's now turn the spotlight on the money full-time freelance medical illustrators make: AMI says that, based on the 2006 survey data again, the average annual income of independent illustrators was $65,000.
Certification for Medical Graphic Design Practitioners
At present there are no certification programs that gauge the competence of graphic designers, whether they work in medical or another segment. Some software companies, like Adobe, do have certification programs specific to their products. An example that falls in this category is the Adobe Certified Expert (ACE) credential.
If you wish to be a medical illustrator, the Certified Medical Illustrator (CMI) credential can help you in your job hunt and to command higher salaries. Get more info on how you can become a CMI from the Board of Certification of Medical Illustrators (BCMI).
References
Association of Medical Illustrators (AMI), https://www.ami.org/
AIGA|Aquent Survey of Design Salaries 2010, https://www.designsalaries.org/salarysurvey.shtml
American Institute of Graphic Arts, https://www.aiga.org/
Department of Medical Illustration, Georgia Health Sciences University, https://www.georgiahealth.edu/medart/index.html
Graphic Artists Guild, https://www.graphicartistsguild.org/
Adobe Certifications, https://www.adobe.com/support/certification/ace.html
Board Certification, https://www.ami.org/medical-illustration/board-certification.html
Image Credit: Image by the author.