Understanding Receiving Clerk Job Duties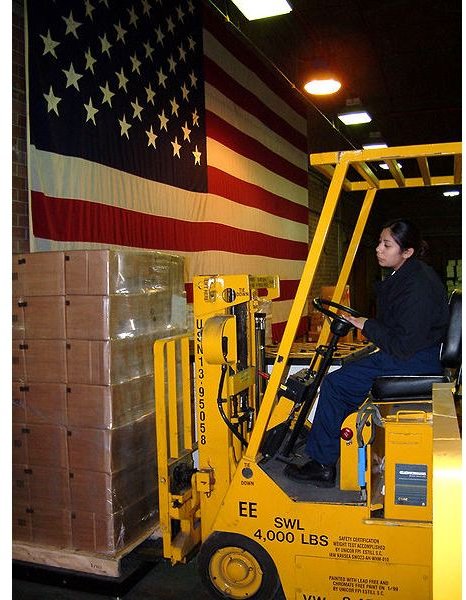 An Overview of Receiving
Companies from retail businesses to global manufacturers require shipping clerks to make sure raw materials, merchandise and other
incoming shipments are properly received, so that the incoming products can be promptly and properly put to work in support of the company's mission.
As a receiving clerk employee, you are one of the most important people in the company. You make sure that your company gets the materials that it pays for, and that those materials are adequately logged and properly routed, so that they can be put to efficient use.
As a prospective employee searching for a job, these duties may help you determine if a job as a receiving clerk is right for you.
Image Credit: Wikimedia Commons/U.S. Navy
Bureau of Labor and Statistics
The US Bureau of Labor and Statistics (BLS) defines a job category called "Shipping, receiving and traffic clerks". This category describes receiving clerk job duties as recording and verifying the accuracy of incoming orders, including the quantity, description and cost of items received, recording incoming packages, preparing them for either internal routing or for inventory.
As a receiving clerk, you may also be called upon to reconcile claims for damaged or incorrectly billed shipments with shipping agents and vendors – meaning that you form an important first line of defense for your company's assets.
In a small business, you might be called upon to actually work as a stocking clerk, by placing incoming material into the inventory system and then storing it in an appropriate warehouse location.
Keep in mind that the guidelines provided by the government for receiving clerk duties are only a generalization created from job data. Actual job responsibilities will vary depending on the employer.
Variations of Shipping Clerk Duties
Some companies handle products and materials that are very heavy. This may require heavy manual lifting as well as specialized skills such as forklift operation and truck unloading. Additionally, receiving clerks that handle hazardous materials or controlled substances will need to be properly trained.
Many companies will combine the responsibilities of the shipping and receiving clerk. In such a situation, you would have to manage inbound and outbound shipping. As a receiving clerk, you probably will notice that the responsibilities of a shipping clerk are similar.
For example, the shipping clerk must inspect orders for accuracy before they ship. This means that the description of the items being shipped must match the description of items on the order. It is the shipping clerk's responsibility to make sure outbound freight is addressed properly and logged
Receiving clerks are also frequently called upon to either manage or assist with inventory. This includes entering the inventory into the company's accounting system, tagging and labeling it where appropriate, and storing it in a designated location.
Taking the Job
The typical duties of a receiving clerk listed here are provided as general guidelines that help direct your job search. If you see a receiving clerk position advertised, be sure to pay close attention to the provided job description so that you have no surprises when you arrive for your first day on the job.
References
US Bureau of Labor and Statistics. "Shipping, Receiving, and Traffic Clerks", https://www.bls.gov/oco/ocos140.htm