3 Free CV Cover Letter Templates for Microsoft Word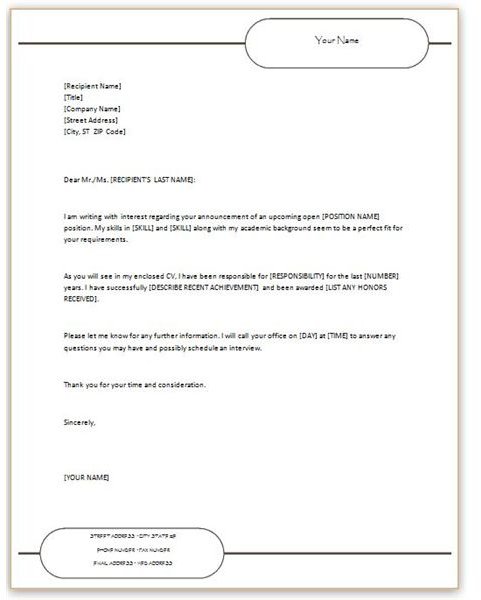 Perhaps you are wondering whether you need a cover letter at all. If you are serious about landing a new position, it is a necessity. While your curriculum vitae is a comprehensive summary of your education, background and abilities, you are likely competing with numerous others who have comparable skills and academic credentials. Therefore, introducing yourself and highlighting key points from your CV in a cover letter will increase the chance of an employer taking the time to review your CV.
Fortunately, creating a cover letter is not terribly difficult. Using one of the following CV cover letter templates will make it even easier.
All of these templates are for Microsoft Word and are in .dotx format. They are compatible with Word 2007 and 2010, as well as Word 2003 provided you have installed the Office Compatibility Pack.
CV Cover Letter on Letterhead
This CV cover letter template includes a built-in letterhead design that is simple yet professional. An oval with a line running horizontally to both sides at the top right of the page displays your name in an eye-catching font. Another oval with lines at the bottom left of the page contains your contact information.
The sample text of the cover letter contains bracketed text for you to replace with your own information, making it easy to customize, print and mail. Of course, you can also change the wording of the letter if you choose to do so.
Download Page: CV Cover Letter on Letterhead
Simple Cover Letter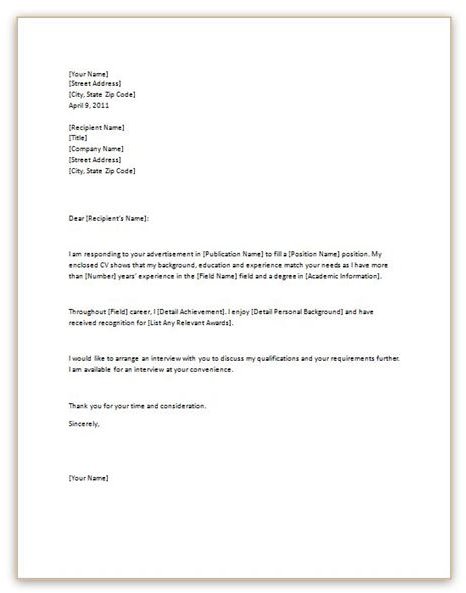 Perhaps you have your own letterhead on which to print CV cover letter templates or you simple prefer an unadorned cover letter. If so, you might appreciate this one.
The template produces a cover letter in business format with sample text for your contact information as well as your recipient's, a date field and sample text you can customize with your background and experience.
Download Page: Simple Cover Letter
Fax Cover Letter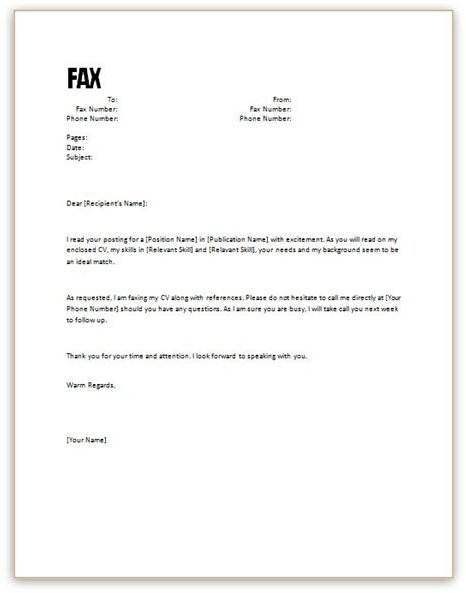 If you are asked to send your CV via fax, it is still important to include a cover letter. However, the format of a fax cover letter is different than that of one you would print and mail.
This template enables you to direct your faxed CV to the appropriate person and highlight your skills and experience at the same time. You can also remove or replace the sample text from the body of this template to use it as a fax cover sheet for any purpose.
Download Page: Fax Cover for CV
Email Cover Letter
When emailing your CV to a potential employer, you should definitely include a cover letter. Rather than attaching a separate document to the email message, though, you should type the cover letter into the body of the email message. In addition, you do not need to include your return address, the date or your recipient's address as you would in a formal business letter.
You can use the sample text from any of the above CV cover letter templates to create an email cover letter. Simply download and open the template, customize it with your information and then copy the text from the salutation to the closing. Paste the message into the body of the email message window, attach your CV and send away.
References
Manpower: The Importance of the Cover Letter
Purdue Online Writing Lab: Writing the Curriculum Vitae
Images: Screenshots provided by author.