Job Outlook for Music Production Majors: What Are the Job Prospects?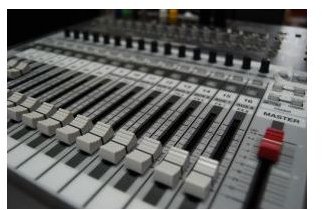 What are the Job Prospects for Music Production Majors?
It is not a surprise if the present job outlook for music production majors makes you back-track on your educational plans. The music production landscape has fewer jobs. As supply exceeds demand, stiff competition for the music production positions is a norm. Music piracy is also blocking the jobs. The International Federation of the Phonographic Industry (IFPI) says that "Piracy is hitting jobs and investment."
If you've an intense desire to work as a music producer, set the weak job outlook for music production majors aside and pursue your interests. Be sure to plan ahead on how you will fund your education and earn income, at least in the first few years, after you obtain the degree. Why? It's because you may have to work for free until you set your mark in music production.
What do Music Production Majors Learn?
The undergraduate program in music production, trains students with more emphasis on the technical and business functions for producing an album. You'll gain exposure to music theory, and aural training is a core component of the music production curriculum.
As a music production major, you'll gain hands-on training, in electronics, advanced digital recording, using state-of-the-art equipment and software, electronic music synthesis and mix-down techniques, among others.
Business communication courses train you in the effective verbal and written communication with artists, musicians and others in the music production process. To gain all-round business ability, you should also take courses like copyright law and marketing.
TIP: Weigh the pros and cons of majoring in Music Production at a college, versus training in the same field from an institute like The Recording Connection Audio Institute. Evaluate the cost, depth of training, and the connections to the pros the program will give you, before you zero-in on a school.
Brighten your Job Prospects with an Internship
A way to shield yourself from the dull job outlook for music production majors is to prepare, for example, through an internship in your junior or senior year to get a job. An internship in music production is a great way to showcase your talent, and gain valuable experience. Further, it can help you make inroads to land a permanent position. By the way, an internship is typically a part of the core curriculum of Music Production programs anyway.
Where are the Internship Opportunities for Music Production Majors?
1. The producers, studios and record labels are the main employers of interns. Independent artists also may need help with their projects. As the potential employers usually have many resumes of students already, the hirers do not advertise. Instead, they will select resumes from their database. So, you've to be proactive and send your resume to as many potential employers as possible.
2. Discuss with your professors on potential internship opportunities. Check with the Career Services Office in your college. In fact, it's a great place to begin your internship search. Tap also the alumni network of music producers.
3. Check out sites, such as creativejobscentral.com, entertainmentcareers.net, internships.com and summerinternships.com for music internship ads.
TIP: A music production internship may not pay you. Unless you've financial constraints, you should accept such work. Why? Among the reasons are that you can learn the ropes of the music production business and strengthen your resume.
How to Find a Music Production Job?
Here are some tips to fight the weak job outlook for music production majors and land music production work:
1. Create a powerful resume that brings into focus your music production skills and achievements. Be sure to always include a cover letter with your resume when you send it to potential employers. Try creative ways to draw the attention of the employer to your application. For example, add your photo of you working in a studio to your cover letter e-mail signature.
2. Work with a music producer or a studio as a volunteer, and get as much practical experience as you can. If you impress the producer with your work, he may offer you a job or recommend you to potential positions within his contact network.
TIP: Use the directory at sites like the Association of Music Producers and All Music Industry Contacts to get the contact info of pros and companies in the business of music production, and see if they can take you aboard.
3. Record concert bands in your area. Offer to do the work for free to gain experience and exposure.
4. Join professional associations like The National Association of Record Industry Professionals (NARIP). A membership in such associations is an avenue for you to network. Remember, networking is a key to success to find a music producer job.
5. Create a website with details of your music production talent, training and accomplishments. Include a portfolio of your work. Promote your site.
6. Work as a sound engineer or in a position that requires music talent. It's a strategy to earn steady income and wait for the music production projects to come your way.
7. Explore freelance music production opportunities. This route lets you work in a different area for job security, and also allows you to pursue your passion. Advertise your music production services at sites like Craiglist.com.
How much do Music Producers Make?
According to blogs.payscale.com, the salary for music producer is about $20K to more than $1M on the lower- and higher-end of the pay scale respectively.
References
All Music Industry Contacts, https://www.allmusicindustrycontacts.com/
American Music Producers, https://www.imusicproducers.com/
Association of Music Producers (AMP), https://www.ampnow.com
International Federation of the Phonographic Industry (IFPI), https://www.ifpi.org/content/section_resources/dmr2011.html
National Association of Record Industry Professionals (NARIP), https://www.narip.com/
Recording Connection Audio Institute, https://www.recordingconnection.com/
Image Credit: sxc.hu/rob_gonyea