What Are the Top 10 Health Care Jobs? Part 1 of 2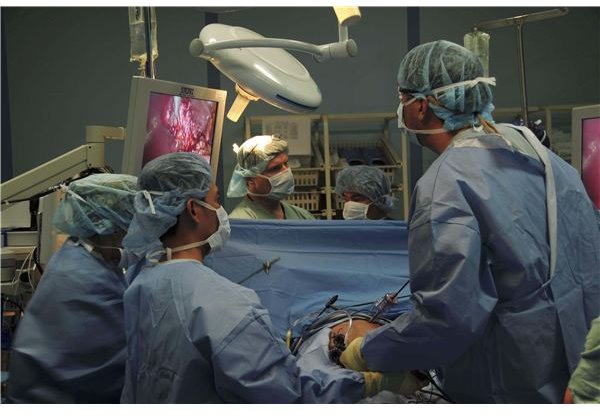 Most health care jobs rank amongst the best careers. The top health care jobs are those of physicians, the specializations such as surgeons, pediatricians, and obstetricians and gynecologists, medical scientists, dentists, pharmacists, psychiatrists, clinical psychologists, and medical and health service managers.
1. Physicians
A physician's job ranks amongst the top health care jobs owing to the status of the job and the high pay.
Physicians diagnose illness, administer treatment, and counsel patients. Physicians specialize in anesthesiology, family and general medicine, general internal medicine, and others.
The job requires graduation from medical school, completing an internship, and passing the United States Medical Licensing Examination (USMLE), the Comprehensive Osteopathic Medical Licensing Exam (COMLEX), or other relevant licensing examination.
The Bureau of Labor Statistics estimates physicians holding about 661,400 jobs in 2008, with about 12 percent of them self-employed. The occupation has an estimated growth rate of 22 percent through 2018, which is faster than the average for all occupations.
Physicians earn a mean hourly wage of $83.59 and mean annual wage of $173,860,
2. Surgeons
Most of the top health care jobs are the specialized branches of physicians.
Surgeons do everything that a physician does, plus surgery. The branch of surgery itself has many sub-specializations, with orthopedic surgeons specializing on the musculoskeletal system, neurological surgeons specializing on the brain and nervous system, cardiovascular surgeons specializing in heart surgery, otolaryngology surgeons specializing in ear, nose, and throat, and others specializing in plastic or reconstructive surgery.
Surgeons earn a mean annual wage of $105.66 an hour or $219,770 on average, making them amongst the top-paying jobs. There were 44,560 surgeons in the United States on last count.
3. Pediatricians
Pediatricians are specialized physicians. The role and nature of work of a pediatrician is similar to that of a physician, except that pediatricians specialize in providing care for infants, children, teenagers, and young adults.
Pediatricians earn $77.60 an hour and $161,410 a year, on average, in 2009. Total employment opportunities are 29,460.
4. Obstetricians and Gynecologists (OB/GYNs)
Obstetricians and gynecologists are physicians who specialize in women's health. Gynecologists focus on ailments specific to the female anatomy. Obstetricians focus on pregnancy.
Among all specializations of physicians, obstetricians and gynecologists hold the best-paying health care jobs, with mean hourly wages of $98.31 and mean annual wages of $204,470 in 2009. The numbers employed stand at 20,380.
5. Medical Scientists
In terms of pay and working conditions, the job of medical scientist ranks amongst the best health care jobs.
Medical scientists research human diseases and conditions to further the knowledge of life processes and organisms such as bacteria, virus, and other infectious agents, and thereby improve human health.
Minimum entry level qualifications to work as a medical scientist is a Ph.D. Some medical scientists also have a medical degree and spend time performing clinical work before taking up research.
The Bureau of Labor Statistics estimates 109,400 jobs for medical scientists in 2008, with scientific research and development service firms the single largest employer. The profession has a growth rate of 40 percent between 2008 and 2018, making it amongst the fastest growing of all professions.
Medical scientists earn average hourly wages of $40.75 and average annual wages $84,760. Experienced scientists earn much more.
6. Dentists
Dentists diagnose and treat problems related to the teeth and mouth tissues. Common dentist jobs include extracting teeth, removing tooth decay and filling cavities, straightening teeth, repairing fractured teeth, performing corrective surgery on gums and supporting bones, placing artificial teeth, and more. Some dentists specialize in any of these jobs, while most others are general dentists.
Apart from a degree from the dental school, all states require dentists to pass a licensing examination. As of 2008, there were 141,900 dentists in the United States, with 28 percent of them self-employed. The profession enjoys a growth rate of 16 percent through 2018, which is higher than the average for all occupations.
On average, dentists earn $48.23 an hour or $156,830 a year. The exact earnings, however, depend on the nature of specialization and years of experience.
7. Pharmacists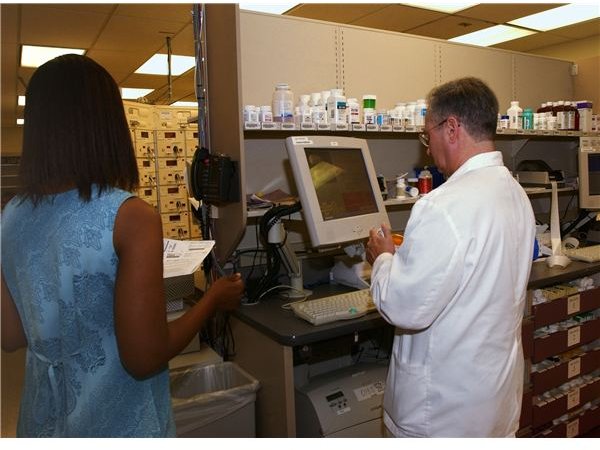 The pharmacist's job ranks prominently among top health care jobs that do not require a medical degree.
Pharmacists distribute prescription drugs and advise people on selection, dosages, interactions, and side effects of medications. They also undertake compounding or mixing ingredients to form medications when needed.
Entry-level qualifications to work as a pharamacist are a Pharm.D. (doctor of pharmacy) degree from an accredited college or school of pharmacy.
The Bureau of Labor Statistics estimates pharmacists holding about 269,900 jobs in 2008, with an estimated growth rate of 17 percent through 2018, faster than the average for all occupations.
Pharmacists earn mean hourly wages of $51.27 and mean annual wages of $106,630
8. Psychiatrists
Psychiatrists assess and treat mental illnesses through psychotherapy, psychoanalysis, hospitalization and medication. They hold discussions with patients to identify the root cause of problems and suggest behavioral changes as possible solutions.
Psychiatrists require a medical degree and state licensing to practice. They enjoy mean hourly wages of $78.68 and mean annual wages of $163,660. The total numbers of psychiatrists employed stands at 22,210.
9. Clinical Psychologists
Clinical psychologists observe and study people's behaviors to diagnose and treat mental disorders such as schizophrenia, depression, trauma and loss, and other conditions.
Many clinical psychologists also undertake specializations. Health psychologists, for instance, study the impact of biological, psychological, and social factors on health and illness. Neuropsychologists study the relation between the brain and certain behaviors, and geropsychologists specialize in the problems of the elderly.
Most physiologists required a PhD degree and licensing. The nature of licensing depends on the specific job activity.
Psychologists held about 170,200 jobs in 2008. Clinical Psychologists have a mean hourly wage of $34.77 and average annual wages of $72,310 as of 2009.
10. Medical and Health Service Managers
Medical and health service managers or health care administrators plan, direct, coordinate, and supervise all activities in hospital or health care units. Although more an administrative role than a clinical health care role, health service managers require training or experience in specific clinical areas. Some health service managers perform specialized roles such as managing patient records and ensuring statutory compliance.
A job as a health care administrator ranks among the few health care jobs that do not require a formal medical degree, though such a degree or a relevant master's degree remains a strong requirement. Most states require passing a licensing examination as well.
Medical and health service managers held about 283,500 jobs in 2008, and the profession has an estimated growth rate of 16 percent through 2018, which is faster than average of all jobs. The job provides mean hourly wages of $43.74 and a mean annual wage of $90,970 in 2009, making it among the top-paid medical jobs.
Common Amongst All Health Care Jobs
Common features that run through the list of top health care jobs are the high salary levels, a growth rate higher than average of all occupations, and steady, recession-proof demand. People in such jobs thrive with experience, and their skills rarely become obsolete.
Looking for more options? Check out the rest of Bright Hub's collection of career guides and profiles.
Reference
Bureau of Labor Standards. Occupational Outlook Handbook 2010-11. Retrieved from www.bls.org on 14 March 2011.
Image Credit:
Page 1: Wikimedia Commons/Joseph Seavey
Page 2: Wikimedia Commons/Seth Rossman