Cover Letter Writing Guidelines for Job Seekers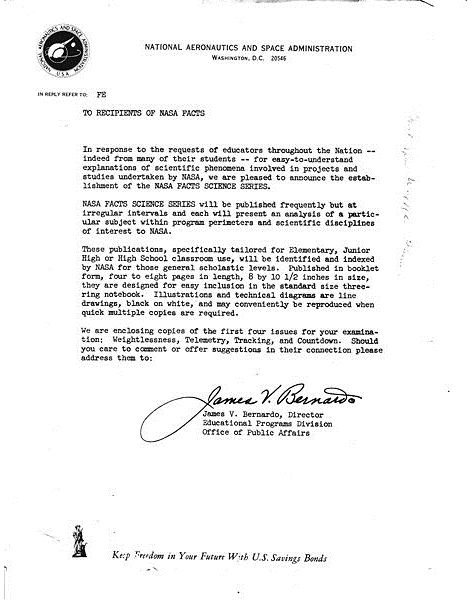 Introduction
If you're seeking cover letter writing guidelines, then you must be well aware that the cover letter is a critical part of a job application process. After all, it's your first shot at making a positive impression and should definitely be strong enough to catch the reader's attention.
The set of cover letter writing guidelines featured in this article goes beyond the aspects of what and how to present a cover letter, as it includes the answer to the question when. Most applicants are confused about the traditional application letter and the cover letter, since both are widely used for job application purposes. Hence, some background information about these two types of letters is necessary.
The Origins of a Cover Letter
A cover letter is also referred to as a transmittal letter. Traditionally, its main purpose is to identify an enclosure or attachment, with the latter being the main focus of a business transaction. It briefly identifies the person for whom the enclosure is intended and the reason why the document is being transmitted.
The secondary purpose is to provide the sender with written proof that the enclosure was transmitted and was received by the person concerned. As a matter of procedure, the sender prepares an extra copy of the cover letter, which the receiver acknowledges by affixing his signature as well as indicating the date it was received.
However, the cover letter transformed and transcended into another form of business correspondence. Business systems developed into something more complex; some documents were regarded as generic or typical. These documents are often submitted as a required attachment and have to be randomly selected based on their merits. In this context, the attachments are still considered an essential part of the criteria, yet they tend to be so numerous that one has to stand out in order to be a considered as worthy of being given time and attention.
Hence, the cover letter had to be more creative in order to make an impact and call attention to the attachment as the one true document that could provide the ultimate answer. In a short span of time, this type of cover letter had become widely used for resumes because it effectively served the recruiter's screening processes.
Now, does this mean that the traditional letter of application is no longer appropriate? Not really; it's just that the popularity of new recruitment methods rendered the job application letter redundant.
Actually, a letter of application is more comprehensive and is regarded as the primary document. The resume, as an attachment, merely provides the details in case the reader is interested to know more. In fact an application letter's main purpose is to serve as a marketing tool for the applicant, where the wares are his skills, his knowledge and his ability to perform the job in the most exemplary manner.
So when does an applicant make use of a cover letter and when is it more suitable to write an application letter?
Image courtesy of PD-USGov, NASA copyright policy or JPL Image Use Policy at Wikimedia Commons
When Is It Proper to Use a Cover Letter Over an Application Letter?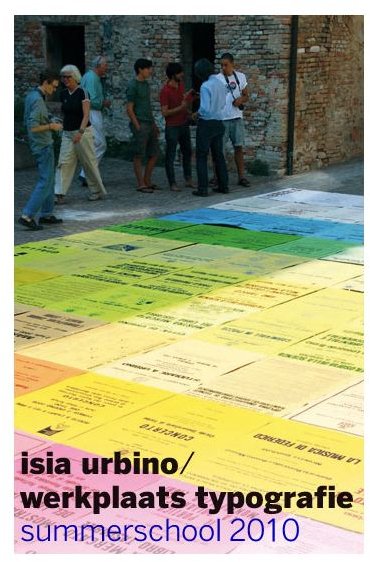 There are two conditions to consider in deciding whether a cover letter would be more appropriate over an application letter.
First, read carefully the job posting or advert, particularly its instructions. Here are some actual examples:
"Instantly fax your resume online."
"Apply now!"
"Apply for job"
"Send resume with cover letter."
Two of the above instructions mainly asked for the resume, which could denote that the potential employer receives numerous responses and the company's HR Manager would find it tedious to wade through hordes of resumes. Hence, this officer would base his selection on the accompanying cover letters.
The cover letter, here, would basically serve the same purpose as that of an application letter. However, the applicant should be creative enough to briefly provide, in the most engaging and grammatically correct manner, the qualifications which the potential employer is looking for in a single-page communique.
Image courtesy of ISIA SCHOOL at Wikimedia Commons
Please proceed to the next page for more information about the use of cover letters and letters of applications, as part of our cover letter writing guidelines.
When Is It Proper to Use a Cover Letter Over an Application Letter?(continuation)
On the other hand, if the instructions merely state apply now or apply for the job, it would be to your advantage to submit an application letter that would serve as a cover letter for your resume. The resume now will merely provide the details of your application letter's salient points. Here, you have to be more than creative and engaging but should, in fact, be convincing.
The second condition to consider is the circumstance by which you are applying for the job. There are instances when:
The job offer is coming from a company that specifically invited you to join their project team.

The recruiting company made the first move by asking for referrals among its associates, who in turn supplied your name as a suitable and likely candidate.
In either case, it would be proper to prepare the most professionally devised cover letter to sustain your reputable image–but without having to sound too eager to land the job. That way, you can still maintain enough leverage to negotiate for better terms, in case the recruiting company's offer is not too attractive.
How to Format a Cover Letter
The following cover letter writing guidelines on how to format the communication form are mere suggestions on how to make a formally written document look polished. Do not consider our recommendations as the standard format, since contents could vary in length or in some cases have to conform to a required number of words or pages.
The Page Margin
Provide 1.5 inches for the left and right margins. However, you can always scale-down the right margin if it becomes necessary to keep your cover letter content on just one page.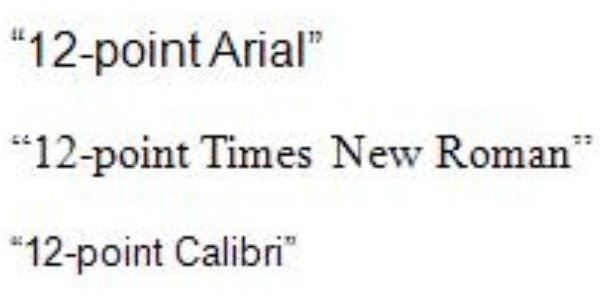 The Font Style and Font Size
The best font styles to use are the Times New Roman, Arial or Calibri because they can keep the lines of your letter looking simple and clear. The font-size would be your main point of considerations, since each style may have the same point-size but with different dimensions. A "12-point Arial" will look larger than a "12-point Times New Roman" while the "12-point Calibri" has the smallest dimensions.
You can choose your font-size according to the length of your content, since you have to present the cover letter as a single-page document. Choose the Arial if the letter appears too brief, or the Times New Roman to make the page look balanced. The Calibri presents the best option if you need to write a longer cover letter. Still, if there is a required font and font size, you will have to comply with what is stated.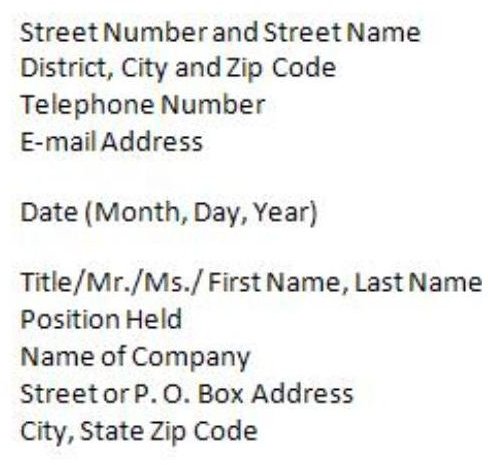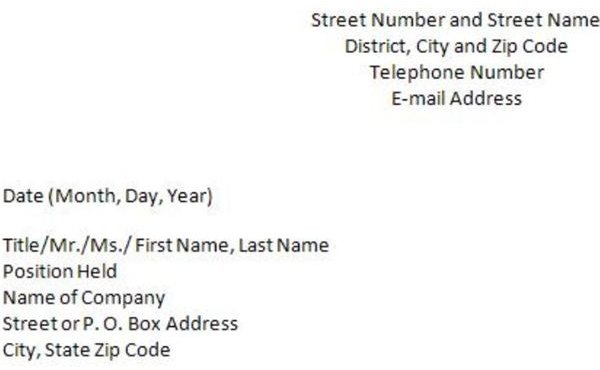 The Contact Section
This is the first part of the cover letter and contains your address, your telephone number and your email address. You can place the date by entering one space after your contact information; align both on the left side. The names and address of the addressee follow the date.
Another way of presenting the contact section and date is to place your contact information at the center and keep the date and the addressee's information aligned on the left side.
The Salutation:
It is common for job postings not to indicate the specific name of the contact person to whom the application is to be addressed. In case you're sending out one for this type of job post, use the salutation "Dear Sir or Madam". While some others use "Dear Sir/Madam", it is not recommended for use in a formal letter.
If you know the name of the contact person, state your salutation as Dear Mr. (Last Name) or Dear Ms. (Last Name). If you would like to make an impression of how resourceful you are in performing a research task, you can add a little extra effort by trying to find out the exact name of the contact person who holds the position indicated on the job post.
Screenshot images for the font types and contact section examples were created by the author.
Please proceed to the next page as we continue with the discussion on how to format a cover letter, as part of our cover letter writing guidelines.
How to Format a Cover Letter (continuation)
Body of the Letter
First Paragraph
1. Briefly state the position to which you are applying and your main reason why you think you are definitely qualified for the job.
2. Refer to the enclosed or attached resume with a tone of conviction that it contains information that meets the company's high standards.
3. Mention the circumstances by which you came to learn about the job opening; this piece of information is quite useful for recruitment purposes.
Second Paragraph:
1. Write one or two sentences about the company and what you understand about its target market as a business organization.
2. Express your knowledge of the job position and its significance to the company's operations.
3. Link all of these to your educational attainment, your acquired skills, and your main work experience. Cite some examples of your past projects or accomplishments and direct the reader to your resume.
4. Briefly describe how the company will benefit if you become a part of the organization.
Third Paragraph
1. Express your willingness and eagerness to personally meet with the person to whom the letter is addressed so you can have more opportunity to discuss or demonstrate other proof of your qualifications.
2. Mention that the company's office is at a place that is accessible to you and that you can present additional materials anytime at his or her convenience.
3. Thank the interviewer and articulate your confidence that your resume can very well vouch for you.
Closing
1. The following are some of the closing salutations you can use:
Sincerely yours,
Respectfully,
Respectfully yours,
Very truly yours,
Yours truly,
Best regards
Kind regards
2. Affix your signature over your printed name.
Tips and Ideas on What to Write in the Body of the Cover Letter
Most job seekers are at a loss on what to write despite all the cover letter writing guidelines and instructions. The problem perhaps is that you they only have a slight idea about the company and its background. Most companies have their own websites or even a Facebook or Twitter account. From there, you can do some research on the organization, its corporate vision and missions. Learn the main activities and then connect them to your skills as potential assets of the business. Consider the following tips:
Consider these five important business aspects: (1) revenues (2) product market share (3) business strategy (4) research & analysis, and (5) technological skills. Every company would love to have employees who have adequate skills that would relate to any of these top five factors.

Revenue relates to sales, so if you're applying for a customer sales representative job, your main selling point is your interpersonal skills. However, if you're vying for a managerial position related to sales, the HR manager will likely be on the lookout for awards or recognitions as top sales performer or even a solid experience working for a Fortune 500 company.

You don't have to mention everything, because your resume will take care of the details. By mentioning a synopsis or overview of your awards and achievements, you can make it your cue for referring to your resume.

Don't try to over impress by sounding too techie, because you will be sacrificing the element of clarity. Save your technical know-how for the job-related interviews. Making mention of certifications about your technological skills would suffice for the cover letter.

Give emphasis on your strengths and characteristics as an employee, e.g. highly-motivated, hard-worker, team-player, go-getter, disciplined, ability to beat deadlines, flexible, with solid background, etc., to which your resume can ably attest through advancements you've made in your job positions. Identify additional college education credits you took.
After assimilating all these cover letter writing guidelines, perhaps you've mustered enough confidence to compose your cover letter or application letter, whichever is applicable. Show genuine interest in working for the organization by following-up on your application by way of e-mails or phone calls.
Keep in mind that companies are now into hiring skills and talent and not just staffing requirements.
Reference:
Business Letters-handouts and links The Writing Center, University of North Carolina at Chapel Hill–https://www.unc.edu/depts/wcweb/handouts/business.html#4