Online Continuing Education Resources for Environmental Engineering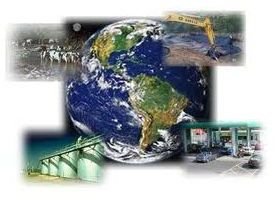 With the growing need for being green and environment-friendly, an increasing number of companies are making efforts to stay high on the environmental scale. This increasing emphasis on the environmental issues in business is creating great demand for environment engineers in a variety of sectors. People with deep concern for their environment are opting to become environmental engineers. However, for working professionals, pursuing any traditional course is not convenient. They can easily find several online resources for environmental engineering continuing education.
Image Credit: starbasemn.org
What is Environmental Engineering?
Environmental engineering is a special branch of engineering that involves study, analysis, evaluation and design solutions for various environmental issues affecting our planet. An environmental engineer is required to understand those issues and create design solutions according to the client's needs. Generally, these professionals perform some common jobs such as surveying sites, recording and analyzing data and performing quality control checks. Some common environmental issues include global warming, waste disposal, acid rains, and water and air pollution control and ozone depletion.
How To Begin Career as Environmental engineer
To begin your career as an environmental engineer, you must at least have a bachelor's degree. In addition, make sure that you meet your state's licensing requirements. If you have a degree or experience as an environmental scientist and engineering technologist, it would be easy for you to become an environmental engineer with the help of online resources for environmental engineering. Since this is a dynamic field, it is important to acquire a required skill sets and stay up-to-date by continuing education.
Environmental Engineering Continuing Education
Though for most engineering positions, a bachelor's degree is required, for an environmental engineer, the formal education does not stop here. They should continue their education by pursuing master's degree and other continuing education course. Working professionals find it convenient to pursue online environmental engineering degrees that are primarily offered at master's level. These online continuing education environmental engineering degrees are geared for those who have basic hands-on training and want to learn advanced theory in the field.
In your bachelor's degree, your four-year coursework includes physics, mathematics, chemistry, biology, calculus, general engineering, design and classes specific to this field such as pollution engineering, environmental risk assessment and others. Once you complete your engineering course, you can pass an examination in your state that is required to license you as an Environmental Engineer. In addition, you should have strong mathematics and science skills to become a successful environmental engineer.
Some universities and colleges offer online courses for advanced online certificate in environmental engineering studies. Each certificate course is focused upon one particular aspect of environmental engineering. For those who want to continue their education in environmental engineering after completing the bachelor's degree, these are perfect options.
As for master's degree, you are required to have bachelor's degree in the related field such as science. The online courses in pollution control, protection of resources, management and water quality are popular and are commonly offered by several online colleges. As usual, the master's degree takes two years to finish.
You can pursue Ph. D. prgrams also in Environmental Engineering offered by several online universities if you want explore more advanced and untouched areas in this field.
Environmental engineers have a crucial role to play in helping the human race to survive in this planet for the long run.
Some Online Programs for Environmental Engineering Continuing Education
llinois Institute Of Technology - Environmental Engineering
Cranfield University Water Management MSc - Environmental Water Management
Worcester Polytechnic Institute - Master of Science in Environmental Engineering
Missouri University of Science and Technology - Master of Science in Environmental Engineering
Johns Hopkins University - Environmental Planning and Management
Arizona State University - Master of Science in Technology in Environmental Technology Management
Delft University of Technology - MSc in Aerospace Engineering
Queen's University - Mining Engineering
Virtual University of the Monterrey Institute of Technology - Engineering/Management
University of Alabama - Huntsville Environmental Engineering
University of Jyvaskyla - Renewable Energy
Warren National University - Environmental Engineering
Mid Sweden University - International Master¦s Programme in Ecotechnology and Sustainable Development
International Conservation Society - Environmental Studies/Conservation Certificate Program
University of Illinois At Urbana - Champaign Environmental and Water Resources Engineering
Villanova University - Graduate Program in Water Resources and Environmental Engineering
Stanford University - Virtual Design and Construction
Georgia Institute Of Technology - Environmental Engineering
Florida State University - Civil and Environmental Engineering
Wageningen University - MSc Agricultural and Bioresource Engineering
University of Alabama - Environmental Engineering
Iowa State University - Graduate Online Certificate in Environmental Engineering
Southern Methodist University - Environmental Engineering
Stevens Institute Of Technology - Atmospheric and Environmental Science and Engineering
Some Resources