How to List Job References on Your Resume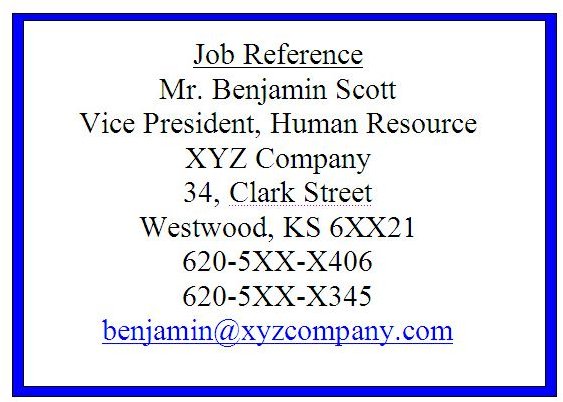 A job references list is an important part of a resume, since this list will be used by your prospective employers for verification of your education and employment credentials. To help you understand how to list job references in your resume we have here some important guidelines and a sample format.
Choosing the Best Job References
Before you begin listing job references, what's more important is to choose the right job references. Here are some recommendations on choosing the best job references to list on your resume:
Prepare a rough list of people you would want to list as your job references. For fresh graduates this list may comprise - the head of the departments of their school and their supervisors from internships. And for those who have been employed, supervisors and senior managers from these past employments should be used as job references.

From this list analyze each person to see if he/she will make a good reference on your resume. To select the best references ask yourself some questions:

Does the reference think highly of you?
Will he/she act wisely and thoughtfully when talking about you?
Does the person know you or about your accomplishments well enough to talk about you and how your performance has been?
Is he/she good at talking and would he/she be able to elucidate his thoughts about you using the right words?

Once you have done all this you should have a crisp list of about 4-5 job references that you can list with your resume. But before you do list them, do make sure to call them up and let them know that you're applying for a new job and get permission from them to have their names on your job reference list. During the call you can also verify if you have their latest contact information with you.
Do You Know How to List Job References?
The job references are best listed on a separate sheet and not as a small section within the resume. However, the formatting and the font style of the job reference sheet should match that of the resume. As mentioned above it's important to verify the contact details of the references before making a reference list. Here's the format you can use to list job references:
Job Reference
Mr. Benjamin Scott
Vice President, Human Resource
XYZ Company
34 Clark Street
Westwood, KS 6XX21
620-5XX-X406
620-5XX-X345
The details to be given about each job reference are:
On the very top of the reference you must indicate whether it is a job/work reference or is it an educational reference.
The complete name of the reference.
The current designation of the reference along with the department in which he/she works.
The name of the company in which the reference is currently employed.
The complete postal or street address of the office where the reference works.
The contact numbers for the reference. Remember to indicate which number is his business number and which one is a personal number. Also, at the end of each number you can mention the times (within brackets) in which the verification calls can be made.
Finally comes the email address of the reference – just in case the verification agency uses online verification forms or email questionnaires.
For a better presentation the job references list can be displayed using a two column table. Also, do not forger to put in your name and contact details on the upper right corner of the reference list.
Image by: Sidharth Thakur