Wildlife Biologist Job Description & Career Profile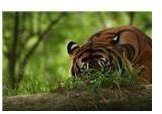 What Is A Wildlife Biologist?
A wildlife biologist is a scientist who studies animals and wildlife. They gather information about things such as their behavior and life processes. Let's explore this profession in more detail and read a job description for a wildlife biologist.
Education Needed
Many four-year universities offer degrees in Wildlife Biology. It is recommended that before enrolling in this type of program the student take prerequisites such as chemistry, calculus and biology. Students studying to be a wildlife biologist take a mixture of courses that concentrate on biology and math. Some examples of courses a student pursuing a wildlife biology degree might take are: ecology, forestry, mammal, and botany. Most schools divide the student's time between lecture time, field work and lab work. Those wishing to take their education to a higher level pursue a Master's degree in wildlife biology.
Career Options and Job Outlook
There are many different career possibilities for someone with a degree in wildlife biology. Wildlife biologists conduct tests and experiments to learn about an animal's reproductive habits, study the animal's behavior and the animal's body system. They also observe plant life in the same manner. A wildlife biologist may work in a National Park to study wildlife and take steps to preserve the park so generations ahead may enjoy it. Wildlife biologists also work in laboratories performing different animal studies. These tests may be performed on live or dead specimens. They may work in a green house dealing with botany. Wildlife biologists may even get to travel to exotic places to study their specimens. There may be times they have to work with dangerous animals as well.
The median salary for a wildlife biologist in the year 2008 was $55,290. The job outlook for wildlife biologists is fair. Of course the higher level of education, the higher level of the pay. This career field was expected to increase by 13% in the year 2008. Job opportunities are the greatest in Oregon, Alaska, Idaho, and Montana.
Daily Activities
There are several ways a wildlife biologist may spend their day. If a wildlife biologist works in a national park they may spend their day taking inventory of different types of animals. They often monitor the wildlife population, especially threatened or endangered animals. Some wildlife biologists even have their aviation licenses to do aerial evaluation. Deer licenses and other game licenses are issued to the public based on their findings. They may also spend their day in a laboratory studying certain species of plants and the way they react to certain stimuli. They may place the plant in a colder environment than it is used to and see how it reacts. Learning what environment certain plants thrive or cease to thrive in can help protect the environment. They may also work in a laboratory analyzing data, conducting research and studying samples.
Famous Wildlife Biologists
Dr. Howard Nelson is a native of Trinidad. He is famous for reclassification of vegetation growth in Trinidad and Tobago. He also helped establish National Parks and Wildlife Authority in Trinidad and Tobago.
Dr. Archie Carr is famous for his work with sea turtles and considered an authority on the subject. He is also co founder of the Caribbean Conservation Corporation which is a corporation that works to monitor sea turtles in Costa Rica in hopes of saving them. He has wrote many books on the subject of sea turtles.
Sources
https://www.buzzle.com/articles/wildlife-biologists.html
Image credit: https://www.publicdomainpictures.com