How Much Do Physical Therapists Make? Salary Range for PTs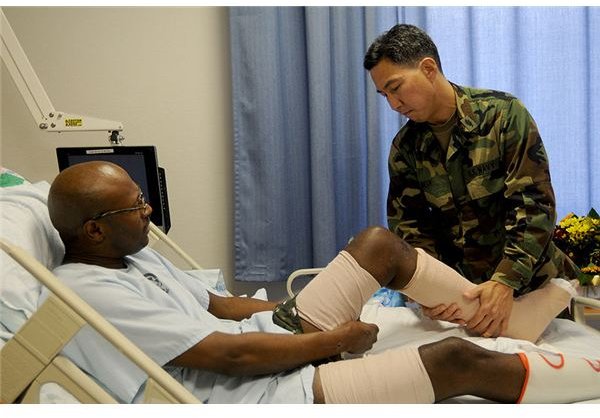 Introduction to Physical Therapy
If you have ever broken a limb or hurt yourself to the point where you had limited mobility, chances are you probably went to see a physical therapist for help.
As a student or someone who is interested in a career within physical therapy, there are of course many questions that will come up when looking for information on this particular subfield of health care. What does a PT do? What type of training does someone need to become a PT? And of course, how much do physical therapists make?
Responsibilities of a PT
So what does a physical therapist do? The job description for a physical therapist essentially is a health care provider that assists
patients in the case of the loss of mobility in a limb or the body. PTs, as they are also known, speak with patients, patient families, and other health care officials in regards to treatment plans and activities to help someone either regain mobility in a limb or joint or to help prevent the loss of mobility with healthier and more active lifestyles.
Physical therapists are typically found within hospitals and clinics, but there are also PTs who work in private offices or even their own, providing care for inpatient or outpatient facilities. A majority of physical therapists work a 40 hour a week work schedule, though about twenty percent work part time, with some PTs working afternoon, evening, and even weekend shifts in order to accommodate their patient's schedule.
Education
Studying to be a physical therapist requires going to one of the two hundred and twelve approved educational facilities that are accredited by the Commission on Accreditation of Physical Therapy Education (CAPTE). Students who are pursuing a degree within physical therapy will need to complete the bachelor program, along with the master's program in order to be certified physical therapists. The average length for the master's program is between two and two and a half years.
Students in physical therapy can expect to take courses within the sciences, such as biology, anatomy, physiology, neuroscience, and pathology.
How Much Do Physical Therapists Make?
With the current economic outlook, the question of how much a physical therapist makes is fairly important. The job outlook for physical therapists is actually very good, with a project growth of about 30% between the years 2008 and 2018. As part of the field of health care, those individuals that are interested in becoming physical therapists can expect for the increase in employment opportunities due to the growth of the elderly population, as well as the baby boomer generation entering into the age where heart attacks, strokes, and other other illnesses become ever prevalent.
The added advancement of medical technology will also help the job outlook, as it may mean that illnesses and diseases that had not or could not be treated before now can, enabling a growth within health care as a whole. Physical therapists will have employment opportunities in hospitals, clinics, outpatient facilities, and even schools, especially those that are in rural areas outside of a main metropolis.
In the year 2008, the average annual wage for a physical therapist was about $73,000, while the upper ten percent made around $100,000 a year and the lower ten percent made around $50,000. Individuals interested in a career in physical therapy will have a good outlook in terms of study and employment as part of a fast growing area.
Image content @ WikiCommons
Financial statistics @ BLS.gov