muvee Reveal 8: A Detailed Video Editing Software Review
Introduction
If you are one of those people who likes the idea of home videos, but is scared off by the complexity, muvee Reveal may be what you're looking for. muvee Technologies produces software that automates the process of video editing. Throw some video clips, photos, and music at it, click a button or two, and voila! You have a stylized movie. And it's just as good for use with photos, alone.
I am a long-time operator of a website dedicated to Flip camcorders. The Flip has achieved success by simplifying the process of shooting video, and the people who buy pocket camcorders like the Flip have long been looking for an equally simple way to edit their videos into something they and others might actually want to watch – something a bit more entertaining than whatever comes off the camera, or the typical YouTube monologue. muvee Reveal could be your solution.
I first looked at muvee's latest product, muvee Pixie, since at the time it was advertised as perfect for use with Flips, but alas it gives you the big thumbs down when you try to load high definition video into it. If you use a standard definition Flip, you might still want to take a look at muvee Pixie, which has a list price of $29.95. However, the last five models of the Flip all shoot Hight Definition video, and for that you need to step up to muvee Reveal, which carries a list price of $79.95. For this price, you also get the ability to create a DVD of your movie (or multiple movies) – a significant value in itself – plus a few more bells and whistles which we'll talk about later.
System Requirements
Pentium 4 2GHz, AMD Athlon 64, or better
1 GB RAM, 2 GB for HD save
128 MB video memory, 256 MB for HD save
OpenGL 1.4
Windows XP, Vista, 7
QuickTime for MOV files and iPhone/iPod support
Option NVIDEA CUDA video card supports faster H.264 saves
The system requirements are typical of a Windows-based computer purchased in the last couple of years.
Installation and Use
You begin by downloading muvee Reveal from www.muvee.com and running the installer. Installation is uneventful, but you do want to pay attention, because unless you uncheck two boxes, the Yahoo toolbar is installed and Yahoo is selected as your default search engine. I am not a fan of this increasingly-used tactic, and find it particularly annoying in a product that you have to pay for. However, it's easy enough to avoid this "free'' installation if you want to, and at this point you haven't paid any money. You can use the program for free for 14 days to try it out.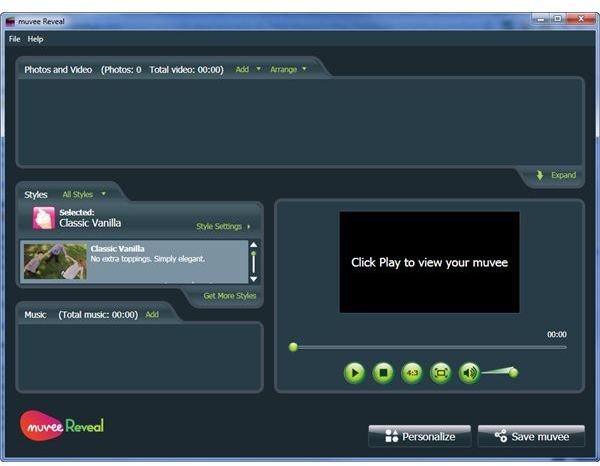 When you first run the program, you are greeted with a very uncomplicated screen, as shown in the accompanying screenshot. The simplest way to create a movie is to add any photos and video you want included into the "Photos and Video" panel, select a style from the "Styles" panel, optionally add one or more music files, to be used as background music, into the "Music" panel, and click the "Save muvee" button in the lower right-hand corner. If this is one of your first attempts to edit your videos, you may already be miles ahead of anything you've done before, but chances are you will still want to make some refinements.
Design and Ease of Use (5 out of 5)
An extremely useful way to design a piece of software is to think of it as an onion, with a smooth and simple outside layer; peel it back a layer at a time to reveal new features and power. This is the way muvee Reveal is designed.
The first thing you might want to do is try the "Personalize" button, before you save your movie. This brings up a tabbed dialog with lots of different modifications and adjustments you can make. Start with the "Title" tab to create an opening title for your movie, and perhaps move on to the "Credits" tab, to add some closing credits. The "Settings" tab lets you make lots of different choices about how pictures and videos are presented, the relative levels of the video sound and soundtrack, and so on. A "Duration" tab lets you decide how to sync up your video with your music. For example, you can drop video to fit the music, or repeat the music to fit the video. There is even a tab that gives you a voice recorder, so you can plug in a microphone, watch the movie, and add your own narrative to the action. There are numerous other settings you can make, but all start with sensible defaults, so you can explore them as you gain confidence.
Another feature that deserves exploration is the "Styles" panel on the main screen. Picking a style determines the kind of transitions used between the elements (photos and/or videos) of your movie, including some very fancy motion effects that are difficult to describe, but impressive to watch. The muvee website allows you to see samples of different styles in use, and offers additional styles that you can download for free. It's probably best to begin with the "Classic Vanilla" style, which provides simple fade transitions, and use other styles to achieve different moods appropriate to the material.
Features (4 out of 5)
In addition to those aspects already mentioned, there are a number of other features that set this program apart from others:
Accepts virtually any photo, video, or music file type you throw at it. When first installed, it accepts .MP4 files exported from Flip camcorders. I tried incorporating AVCHD files (.MTS) from my Canon camcorder, and found that this requires that you download a plug-in from the website, and you can't do this with the trial version.
Tries to select the most interesting pieces of your video, and cuts them on the beat of the music. With some effort, you can make your own decisions about trimming the video.
Allows you to sequence video and photos randomly – which I found attractive with our family vacation shots – or to simply drag them around to your own preferred sequence.
You can add captions to a specific clip or photo by right clicking on it and selecting "Caption" from the context menu
Preview specific clips or an entire movie in different styles. When muvee Reveal first displays a clip or movie, it displays an "Analyzing…" message. Subsequently, the video can be watched at full speed.
Lots of interesting output and sharing options:

Burn a DVD.
Upload directly to YouTube or Facebook.
Upload to a private "shwup" album, which can only be seen by people you specifically invite.
Save in HD as a Windows Media File or QuickTime movie that you can watch on your computer, or as an AVCHD file that can be burned to a Blu-ray disc with suitable hardware and software.
Choose between 4:3 and 16:9 aspect ratios, depending on the material and/or the device you want to view it on.
Splitting and trimming video segments aren't as easy to do as in timeline-based editors. This editor was designed to automate those procedures, but you may or may not like the choices it makes. Effects and transitions are also automated – in this case, by the style selection – and you have no ability to modify individual effects or transitions.
When I attempted to use the "shwup" online sharing service, I found that it limits you to a file size of 100 megabytes, which can be quite small if your movie uses video. Uploading was very slow, also.
Help and Support (5 out of 5)
There is the usual "Help" menu item on the main window, which gives you access to a help file, Live Chat and Online support, a link to the "muvee Community" called "muvee Maniacs," and a check for Program Updates. In addition to this selection, muvee Reveal offers tips on the main screen at different stages, suggesting for example that you should add more music, video, or photos to optimize the movie. I also thought it helpful that in many places, pressing the F1 key gives you context-sensitive help, opening up the help file to the appropriate location. The only thing I wished for that wasn't there was searchability in the help file. The topic organization is useful, however.
Price to Value (5 out of 5)
There are many good video editors on the market in this price range. Many of them have more powerful editing capabilities, such as effects and transitions, and timeline-based editing, that are useful to the video enthusiast or professional. This editor is different, however, in being aimed at the video editing novice, such as those whose first camcorder is a pocket camcorder like a Flip, or perhaps for someone who uses the video feature of their photo camera. Many of these people are intimidated by typical video editors, and will be overjoyed to be able to easily turn their video clips into finished productions with lots of snap and pizzazz. For such people, the idea of spending maybe half as much as they did on their camera in order to get these benefits is well worth it, and unavailable from other software at any price. The addition of DVD burning capability that is really easy to use is also unusual for an editor in this price range.
The muvee Reveal software can be found for less than the list price, if you shop around. Click for price of muvee Reveal 8 at Amazon.com.