Digital TV for PC - Is the TV Set Dead? Software Review Of Application To Watch Digital TV On Your PC
Introduction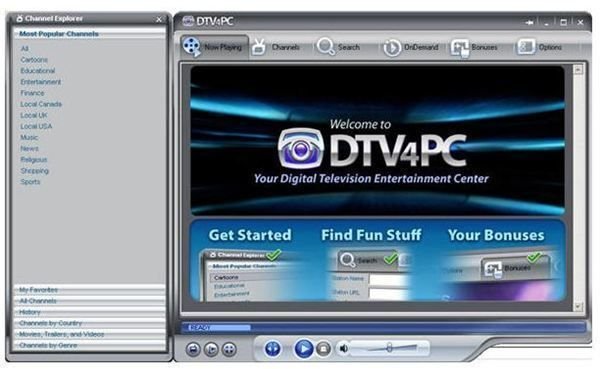 Digital TV for PC is designed to deliver hundreds of TV channels to a PC with nothing more than high-speed Internet access and the application. In addition to Digital TV, a Digital Radio application is included and is designed to deliver hundreds of music stations. The overall quality of TV stations that were received successfully was high. In fact, much higher than I expected, making it simple to view a show.
While Digital TV for PC gathers a variety of TV channels into a single view, I was often prompted to launch an external application to watch a channel (RealPlayer, which I didn't have on my computer, consequently, I was continually prompted to install the application). Some stations were never available for me to watch while others were restricted, which made the overall experience frustrating.
Installation & Setup (4 out of 5)
Installation of Digital TV for PC was quick and easy. After the initial installation and launch of the application, I was prompted to perform an Internet update of the channel list. After the update was complete, I was prompted to restart the computer.
I found it odd that the initial installation of Digital TV for PC didn't require a reboot, but a channel update did. I believed this to mean that more than channels were updated. The installation program didn't install RealPlayer automatically, nor did it inform me that RealPlayer was a requirement for me to reach all of channels. Otherwise, the installation was quick and I didn't encounter any errors or issues.
Product Features (3 out of 5)
Digital TV for PC can be played in both full screen or within the application window. Full screen mode reduces the quality on a large monitor, but from a distance it's bearable.
You can save channels to your favorites list and even create Favorite groups to speed up the location of particular channels. Local U.S. channels are available from some markets and I would expect more cities to broadcast their local stations in the near future. A search option is included to help you find a particular channel or show if you know exactly what you are looking for.
Performance (5 out of 5)
Digital TV for PC installed and operated quickly. There were not any significant performance issues on my test computer, which was running Windows XP with 2GB of RAM. My Internet speed is 12Mb/s, which definitely helped my overall playback quality, but watching my utilization, it never taxed my connection.
Digital TV for PC has a data buffering feature (similar to most online media applications) so even if you were to experience a lag in your Internet connection, the TV should not be impacted. This buffering feature did slow down the startup of every channel I selected, but it's a nice feature to have.
Help & Support (2 out of 5)
Help was not directly integrated into Digital TV for PC, but a help file was included and could be found in the Start Menu. Not a lot of detail was included within the help file, but Digital TV for PC was so simple to use there was never a need to visit the online help. If there was a need to receive support, online forums and a toll number were provided within the help file.
Price to Value (3 out of 5)
Digital TV for PC is not an expensive product ($29.99), but it does fall short on delivering 1,000-plus channels. Even so, Digital TV for PC does create a portal-type application where you can go to find digitally broadcasted stations worldwide and have them sorted by various filters. Because of the small cost for the application, you will find it convenient if you don't know where to begin looking for the digital stations. However, if there is a single channel that you watch on your PC, there is a good chance that there is a free way of connecting to the media without using Digital TV for PC.
User Interface (4 out of 5)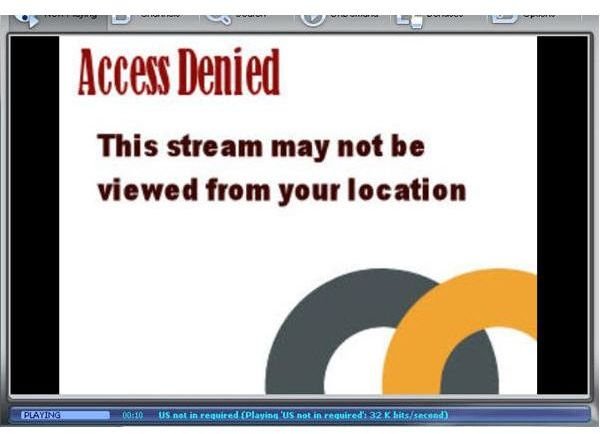 Digital TV for PC may be viewed using numerous filters; by popularity, genre, language, country, and so on. Once in a particular view, the list of stations may be sorted again by clicking a column, a task most individuals are familiar and comfortable with.
Within Digital TV for PC there were no identifiers displayed to help me know what I could and couldn't access. Some of the stations I would attempt to connect to would display an access denied error because I was from the U.S.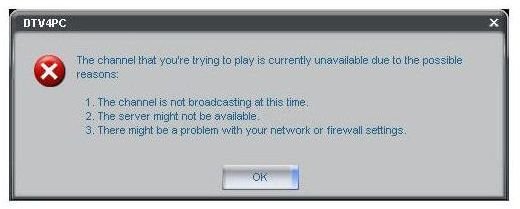 Obviously, this experience would change from country to country. I also received errors stating the station wasn't broadcasting or was blocked for one reason or another.
Suggested Features
Including an installation routine to install RealPlayer would be great. Better yet, removing the need for RealPlayer and hosting all of the video streams directly within Digital TV for PC would help Digital TV for PC feel like a complete application.
Conclusion
Digital TV for PC is worth looking at, especially if there are multiple international stations you want to watch from your PC.
You may become frustrated by the number of channels that you can't view because of locality restrictions or simply because they are not broadcasting when you are online. However, with a little patience and the right timing, there is bound to be at least one channel you would be interested in viewing, making Digital TV for PC an entertaining application.