Snagit 10: Screen Capture Software Review
Introduction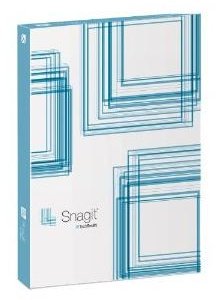 Snagit is a screen capture utility developed by the TechSmith Corporation in 1990, just as Microsoft Windows was being introduced. Originally created as a proprietary in-house utility, it was used to capture the contents of what a user sees on the computer screen. These screen images were used in the documentation of early Windows software products for TechSmith's clients.
Microsoft introduced similar screen-grabbing capabilities in Windows, first with its PrtScn (Print Screen) key, and later in Windows XP with a utility called "ClipBook" that went so unnoticed by Windows users that it was eventually discarded. Users were often frustrated by technical difficulties and hardware incompatibilities with these utilities that discouraged their use. Windows Vista introduced a new utility called the "_Snipping Too_l" with an all-new user interface. This utility added a very simple user interface, as well as minor editing (erasing and highlighting) features, and has been carried forward to Windows 7.
Meanwhile, TechSmith released one version after another of Snagit to the public, adding increasingly sophisticated features to the program that made it the tool of choice for documentation writers, website developers, and video makers:
1993: Image scaling
1995: Capture cursor with screen/window contents, output to a variety of image formats
1996: Capture scrolling windows ("Active Capture"), color substitution
1997: Wizard to walk a user through the use of Snagit
1998: Image and edge effects, capture screen dynamically as video/audio files
2000: Annotations, custom profiles of frequently used settings
2001: Ability to capture from TWAIN devices, such as scanners and digital cameras
2003: Integration with Microsoft Office applications, addition of an edit window with features that resembled full-blown image editors, such as line drawing, arrows, shapes, spray can, etc.
2006: Capture links from web pages, add hot spots to images, output as PDF, SWF, and MHT files
2008: Edit and save multiple images in a library
Bright Hub has ranked Snagit as one of the Top 10 Windows Apps, and one of the Top 5 Screen Capture Applications for Windows.
New Features in Snagit 10
Snagit 10 introduces a new capture profile called All-in-One Capture that allows you to choose, on the fly, any one of three commonly-used profiles: Region, Window, or Scrolling Window. This feature will seem very familiar to users of Camtasia, TechSmith's screencasting application, because it is very similar to the Camtasia selection function introduced in Version 6.

It is now much easier to capture an image or screen object and give it a transparent background, so that the underlying background where the image is pasted shows through. This feature also cleans up the corners of captured windows with rounded corners, so that there are no white background artifacts on those corners.

Your images can now be directly uploaded to Screencast.com and shared via a URL, or with HTML code that includes a thumbnail image. Screencast.com, originally created for sharing screencasts created with TechSmith's Camtasia and Jing products, provides a server and free storage of up to 2 gigabytes of digital images and/or videos.
Who is Snagit For?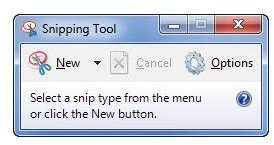 If you are a Windows user, and you have only occasional need to grab images of screen content, you may find that Snagit is neither the cheapest nor the simplest tool to use. Anyone who uses a computer may have an occasional need to capture an error dialog to send to someone to get support, or want to grab a recipe from the web, complete with a picture of the finished dish, to send to a friend. Such a person would be well-served by Windows' own Snipping Tool, which is both free and extremely simple to understand and use. And, yes, PrtScn and Alt+PrtScn still work to capture the contents of the entire screen or the selected window, respectively.
If you are a web site developer, a graphics designer, a software documentation professional, or you would like to use captured images in your screencasts or digital videos, a tool with Snagit's rich feature set may be more to your liking.
I do all of these things, and while I find myself frequently going to the documentation or a tutorial to find out how to use something, Snagit does things that I can do with no other tool, like capturing a complete web page, saving it as a PDF file, and have its links still work; or time-delayed captures that allow me to pull down a menu of a program and capture that menu, complete with the highlight and cursor; or organize all my screen captures in a library organized by date, folder, or keyword.
On the other hand, though Snagit, like Camtasia, has the ability to the capture motion on a computer screen dynamically, I wouldn't try to use Snagit alone to do a polished screencast. It's better to spend the money for a tool more suited to that kind of task, such as Camtasia or ScreenFlow, if you need to create and edit that kind of content.
How Does Snagit Stack Up?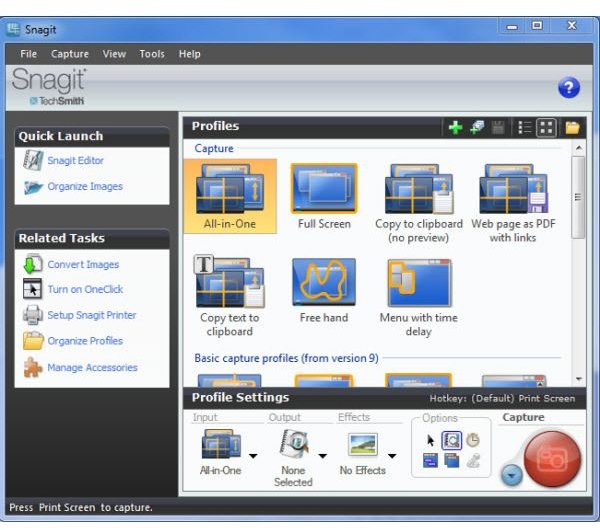 Snagit is neither the only useful screen capture utility, nor the easiest to learn. It isn't the cheapest piece of software of its type, nor is it the most expensive. As mentioned in Arnold Zafra's article, there are competitors for the crown of the best screen capture utility. However,
Snagit consistently ranks in the top 200 or so pieces of software sold on Amazon
Snagit has shown great responsiveness to user feedback, and issues frequent updates to fix bugs and provide minor enhancements
Snagit has been early to conform to each release of Windows, and is now well-integrated with many popular tools on Windows, such as Microsoft Word, PowerPoint, and Excel.
Snagit is the only screen capture application that provides a free service for storing and serving your images to web sites and applications.
If you sometimes work on a PC, and other times on a Mac, you can download a free Beta version of Snagit for Mac, and provide feedback as TechSmith completes its development
My own experience includes most of those things that one would use such a program for. I write and document software, I create and maintain my own websites, and I create screencasts and other forms of video instruction. I have used Snagit in the writing of this review. I even copy recipes and send them to my friends. I have tried many free utilities and found them wanting. When I ask others in related fields what screen capture program they recommend, Snagit is nearly always the first word from their lips.