Burning DVDs: DVD Studio Pro 4 Review
Professional DVD Authoring

Professional level DVD authoring tools should come standard with any video editing package at this point. The ability to author DVDs is essential for any home digital video producer, as well as any independent filmmaker. Final Cut Studio has always done well with their flagship DVD Studio Pro, mainly because DSP mixes an easy learning curve with fairly powerful tools. Their newest version, DVD Studio 4, builds on their DVD authoring design and takes it a few steps forward by maintaining what users like and simply compounding features. The release for DVD Studio Pro 4 is not the same as with most of the software in Final Cut Studio 3, like Final Cut Pro 7, but instead was established before this version. Here is a look at some of the defining features of DVD Studio Pro 4 and why it continues to be a consumer favorite.
Graphical View
One of the main reasons that DVD Studio Pro 4, and previous versions of DSP, has been so successful is that it maintains a full graphical view. Not only do you get a full design and features pane for each menu or track selection, but you get to go to a "graphic" map that allows you to see where all the connection are and select each element for construction. This keeps the process very organized and easy to see what is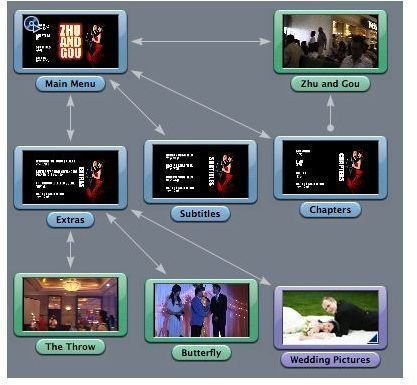 going on at all levels. Here you can then identify where menus and tracks are, if there are any broken connections, and what it takes to troubleshoot your DVD Studio Pro 4 project.
Menus

The menu system for DVD Studio Pro remains both simple and complex. What this means is that to build a menu it follows a basic "point and click" formula where you set button points, have the ability to choose from nice templates, can easily drop in multimedia material, and can have full control over the appearance and functionality of DVD Studio Pro 4 menus. This makes it feel fairly easy and fun right from the start, but you will quickly realize that you have the ability to create very complex menus as all levels. You can also easily work on graphical menus in other programs before bringing them in to DVD Studio Pro 4, adding the menu properties to them, and integrating them into your DVD authoring project.
Tracks
Tracks work just as easily in DVD Studio Pro 4 as you can identify them from the graphical view and then just drag and drop the media on to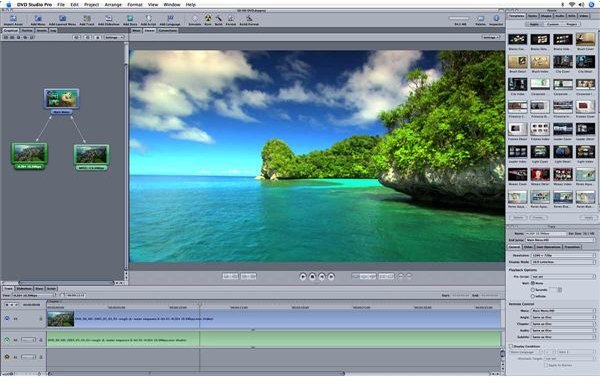 them. From there you can easily just click on specific points on the track to create chapter points that you can also easily create a templated menu for. This DVD Studio Pro 4 workflow is actually very easy, but when it comes down to it you will find that you are creating in depth menus and tracks for a professional DVD.
Advanced DVD Authoring
Through the professional DVD authoring features of DVD Studio Pro 4 you are also given the option to add very complex features that are only found on professional DVDs. You can include subtitles, bring in advanced copy protection features with the addition of CSS and Macrovision, you can add disabling to specific menus, use [email protected] as a way for people to get web content from your DVD, and have multiple language layers. These are all what are needed for professional DVD authoring, and DVD Studio Pro 4 allows for most of it. This also allows for things like transitions between menus and the creation of slideshow DVDs without ever having to go into Final Cut Studio 4.
Conclusion
DVD Studio Pro 4 really does stand out as one of the best in the market, but it still has a little ways to go before it defines the professional DVD authoring world. This becomes obvious when compared with programs like Adobe Encore, but for most users DVD Studio Pro 4 is going to be enough for even the most professional DVD authoring requirements.