Review of Jing - Free Screen Recorder for Windows and Mac
Overview of Jing
Jing is a lightweight screen capture and recording utility developed and distributed by TechSmith. Even if you haven't heard of Jing, you may be familiar with Camtasia Studio, another TechSmith product that is highly regarded as one of the best screen recording and editing packages on the market.
While Camtasia Studio is one of the best tools in its class, it also has a pretty substantial price tag that may put it out of the budget range for many casual users. This is where Jing steps in – with a completely free version as well as a Pro version that only costs $14.95 a year, Jing is a very affordable solution that includes almost all of the tools needed by casual users to instantly take screenshots or record short screen capture sessions. In this review, we'll take a closer look at Jing's capabilities and see what the real differences are between the free and the Pro versions of the product.
Ease of Use (5 out of 5)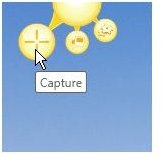 In terms of usability, Jing is very simple and straightforward. When the application is open, an unobtrusive yellow icon sits at the top middle of your desktop screen – this denotes that Jing is running in the background and ready to be accessed whenever you're ready to take a screenshot or record a sequence of screen events.
Hovering the mouse over the yellow half-circle will cause three more circles to come into view. The left-most circle is the one you'll need to click on when you're ready to capture a snapshot or record a video. Clicking on the middle circle will call up a history screen with recently captured images and movies. Other options, such as the Help menu and Preferences settings, can be accessed by clicking on the circle to the far right.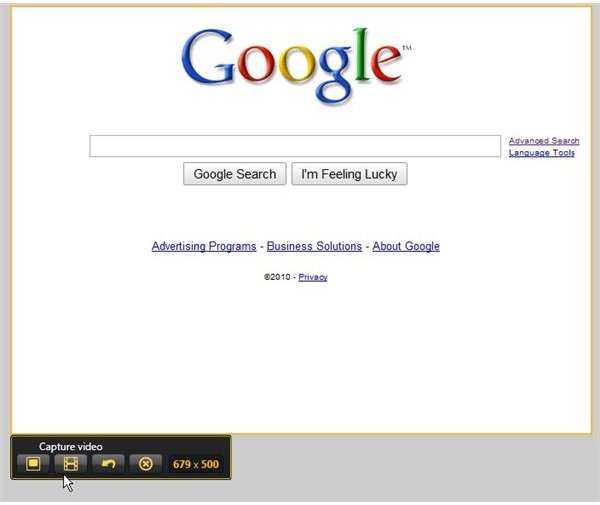 When you click on the Capture button, you'll first be presented with a cross-hairs tool that lets you manually draw a box around the area of your screen that you want to capture. After drawing this rectangle, you can select whether you want to just snap a simple screenshot or record a stream of activities on your desktop.
If you choose the Capture Video option, a short countdown will start to let you know when the software is about to begin recording. You can pause and resume the video at any time, and clicking the Stop button will end the capture session. From this point, you can choose to save the video to your computer, share through Screencast.com, or edit the video in Camtasia Studio (if you happen to have that software installed as well).
Features and Performance (4 out of 5)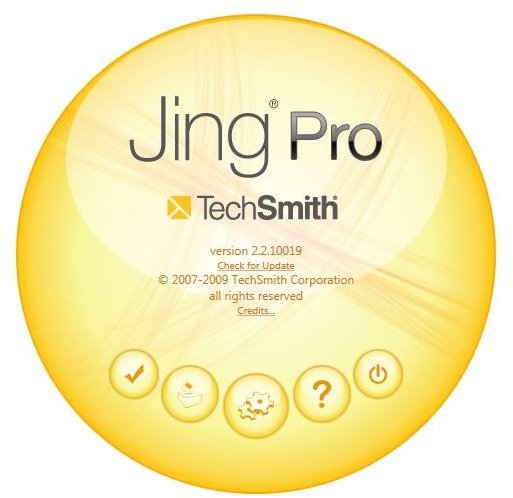 Screen capture videos that are recorded with Jing are limited to a maximum length of five minutes. So, if you have longer screen recordings that you want to make, you'll either need to turn to a different software product or you'll need to break your project down into a collection of five-minute chunks. However, if you're only using the screen recorder to capture a quick process or a short tutorial, Jing works quite well.
The free version of Jing only supports recording videos in the SWF format, while the Pro version supports both SWF and MPEG-4. If you're only sharing these videos through Screencast.com (a free 2 GB Screencast.com comes with both the free and Pro versions of Jing), this isn't a problem. But, if you'd like to be able to edit your recordings in another application, it's a good idea to see if that application supports these formats before you get started. The additional MPEG-4 capability found in the Pro version does allow Jing to instantly upload videos to YouTube if you choose that option.
Price to Value (5 out of 5)
Jing is a nice, easy to use application, and the free version of the software is definitely worth checking out. The biggest downside of the free version is being limited to recording in the SWF format. However, as mentioned before, if you plan to use Screencast.com as your main mode of sharing and if you aren't too concerned about editing the recordings, this isn't that big a limitation.
At a price of $14.95 a year, Jing Pro really adds a lot of functionality over the basic free version. The Pro version includes the ability to save a recording in the MPEG-4 format, allows you to instantly upload your videos to YouTube, and adds in the ability to record video from your webcam.
Overall Recommendation (4 out of 5)
If you're just looking for a very basic screen recorder that will allow you to easily capture screen images and short videos so that you can share them with others, Jing is a solid little tool. It's compact and lightweight as well as fast and efficient. Although it is fairly limited in terms of features, it's very easy to use – so easy, in fact, that it just takes a couple of extra screen clicks to record a five-minute video.
For those that need to be able to edit their videos before sharing or want to make screen recordings that are longer than five minutes in length, Jing may not be a huge help. Then again, Jing would make a nice companion to a larger, more full-featured screen recording application for those times when you just need to make a quick video and don't want to be bothered starting up a major program like Camtasia.