CyberLink PowerDirector 6 Review: Uncomplicated Video Editing Software
Introduction
"I just want a simple, easy-to-use program to capture and edit my home videos. I want it to have some good effects, but I don't need to edit every last detail of my 40th birthday video. Video editing programs are just so complicated." These are the things I hear from my friends and colleagues. Simplicity, simplicity, simplicity is the mantra of the baby-boomer computer user. It seems that no one really wants to understand the different recordable formats of a DVD, how many frames per second that human eye interprets, or the compression rate for an AVI file. Generally, it seems that people want to put their video on the hard drive, make it cool enough to whistle at, put it on a DVD, and admire their work in a La-Z-Boy with a beer in their hand. Is that too much to ask?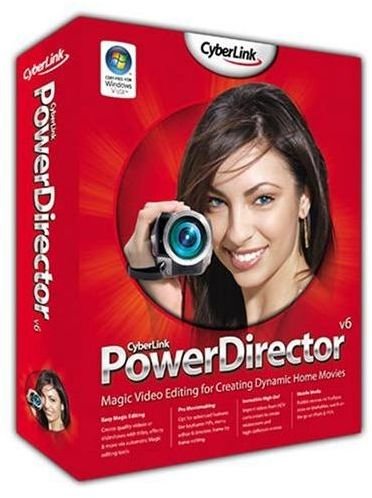 It seems to me that someone at CyberLink must have been in cell phone range, because they took the call and answered it well. CyberLink PowerDirector 6 is an easy-to-use program with more than just a "nice personality." It has an easy-to-understand graphical user interface that is backed up by powerful video editing code.
PowerDirector 6 has everything that you need to produce quality home movies. From pre-production to finalizing your DVDs, PowerDirector 6 is loaded with powerful options allowing you to sit in the director's chair full-time. Let me introduce you to some of the features that you'll find in this application.
The Basics
Import/Capture
PowerDirector 6 gives you all the tools you need to import media that is already on your hard drive, capture media from a portable video camera, or even capture media from non-restricted DVDs. The CyberLink PowerDirector 6 environment is iconic. You don't have to choose from a bunch of drop-down menus; just click the icon from where you want to capture or import media. It's that easy. Once you have decided where you want to import from, just sit back and relax. CyberLink PowerDirector supports the import of the following file formats for import:
Image: JPEG, TIFF, BMP, GIF, PNG
Video: HD MPEG-2, DVR-MS, DV-AVI, DAT, MPEG-1, MPEG-2, VOB, VRO, WMV, WMV-HD, MOV, MOD, DivX, MP4
Audio: MP3, WAV, WMA, ASF
Capture mode is just as easy [see screenshot below]. You have the ability to set options such as the time limit or size limit of the file that you want to capture. You can also decide where you want the capture files to be stored on your hard drive. CyberLink PowerDirector supports the import of the following file formats for capture:
• MPEG-1
• MPEG-2
• MPEG-4
• AVI
• DivX
If your capture card or video card supports it, you can even capture video from your cable TV or antenna. You can integrate some of your favorite TV moments into your video.
You can capture video scenes (including the audio portion) from a DVD for use in your video project. Some DVDs are protected by technology that does not allow you to capture the content they contain (aargh, matey! (you know, like a pirate)). But this is an extremely efficient way to bring captured video from home DVDs you have already made into your current project.
You can take a still snapshot of a video clip that is in your project. If you caught your son's sports prowess only on video and you want to have a digital image of it, you can do that through this still snapshot tool.
Tools of the Trade
Editing
Once you have your video clips either imported or captured into this application, PowerDirector opens a whole library of video effects and transitions [see screenshots below] for you to personalize and to help you produce a quality video product. PowerDirector makes it easy for you to split or trim video and audio clips [see screenshot below] wherever you need to make your transitions and shots memorable. You can stretch out your clips if you want to slow down the motion and show the video clip at half speed. If you have unwanted noise in the background, you can mute an entire media clip or just take out the audio in one spot (see screenshot below). PowerDirector allows you to change the color of clips as well as edit the images that are in the clips. This program also allows you to output in either full-screen (4:3) or widescreen (16:9). Another feature that PowerDirector has is called PiP (picture-in-picture) [see screenshot below]. You can modify objects and their size, position, motion, and effects.
If you are a novice at video editing, let Magic Movie Wizard help you make editing decisions. You can make breathtaking slideshows, music videos, or easy home movies with this wizard. The power of CyberLink PowerDirector 6 is found in its wizards. Whether doing a voiceover recording, adding subtitles, creating a file for the Internet, or producing a disk, there is a wizard to walk you through every step along the way. These wizards tap into the powerful effects and transitions libraries that exist in this program. It is an absolute breeze to preview all the effects or transitions that you can put on to your video clips. If you hover over the transition or effect, the program previews it for you. This gives you control over the effect and allows you to make a decision before you put it in your video clip. This will save you a lot of time. Overall, PowerDirector 6 has a truckload of editing power for you to easily make creative video projects.
Production
The video has been captured and edited; now it's time to produce a movie that would get a thumbs-up from the harshest critics. Just click on Produce and PowerDirector takes you to another wizard that will help you save your work in the format of your choice. This wizard allows you to create a file, a video, or a streaming video, or allows you to write back to your DV/HDV camera. This program allows you to save in the following formats:
AVI
MPEG1
MPEG2
DivX
Portable MPEG4
AVC MPEG4
Windows Media
Real Player
QuickTime
DV tape
HDV tape
Streaming media files for the Internet
These are all available at the click of the mouse. The wizard guides you through the entire process. After you have produced one of these files, you may choose to create a DVD. There is a (big surprise) wizard to guide you through the disk-making process. You can choose from several different styles to make your DVD menu. This menu can include audio that you choose. You can then choose the menu buttons, and what will play from those buttons. You simply add the files that you have created into the right places and you can make a Hollywood-style DVD, playable in most DVD players.
From capturing to editing and production, CyberLink PowerDirector 6 sits you in the director's chair. You don't need a million-dollar budget to make incredible films. For just $89.95, CyberLink PowerDirector 6 does everything but tear off the ticket stub for your excellent home movies.
User Interface (5 out of 5)
What's Hot:&nbsp
As stated before, the interface for this program is largely iconic. The program uses picturesque buttons and wizards to guide you through every step of video production. The interface is also laid out in a simple fashion. Sample the screenshots below to get a feel for what PowerDirector 6 looks like.
Price to Value (5 out of 5)
What's Hot:&nbsp
CyberLink PowerDirector 6 may be an entry-level video editing program, but it sure doesn't look like it. It carries itself as if it were $100 heavier. A lot of this has to do with the fact it is streamlined and robust. When you click the buttons, they work. When you drag the pointer along the timeline, it stops where you left it. In short, this program does what it was designed to do, and does it very well. Priced at $89.95, PowerDirector 6 is slotted in the pole position at the entry-level price range for good video editing software. With a little research, you might even be able to find it for less.
Installation & Setup (5 out of 5)
What's Hot:&nbsp
The installation for CyberLink PowerDirector 6 was flawless in a 32-bit Windows XP environment, as well as a 64-bit Windows Vista environment. I downloaded the software directly from the CyberLink website. It was a large download, over 500 MB for the program and Bonus Pack. All facets of the program work in a 64-bit environment. The website claims that it is completely compatible with Vista. In my experience, it is. The program did not even ask for a reboot after the installation on Vista. It seems that CyberLink has made a robust video editing program.
Performance (5 out of 5)
What's Hot:&nbsp
The application is a bit of a resource hog on my older computer. On my Pentium 4 1.8 GHz computer with 512 MB of RAM, rendering video is an arduous process. It takes all of my processor, all of my RAM, and a little bit more on top of that. Playback on my older computer is a little choppy as well. The preview window shows the video as if it is missing frames. This is because my RAM has been completely taken up. The website states (https://www.cyberlink.com/multi/products/require_4_ENU.html) that 512 MB of RAM is the minimum, but at least 1 GB is recommended. They are dead on.
PowerDirector 6 is much happier on my Vista machine. It is a 64-bit environment, but as is the case with most software right now, it loads up into the 32-bit program files. It runs without flaws in that environment.
Images
Conclusion
My conclusion for those of you who are trying to traverse the waters of video editing software is simple: go out and buy or download a copy of CyberLink PowerDirector 6. There are certain things that you'll look for when trying to make a choice in this type of software. You will need something that is robust and will not crash your system. You also need something that has a large choice of effects and transitions. You certainly need to have choices concerning how you output your final files. You need to be able to make a quality DVD or quickly upload your file to the Internet. CyberLink meets all of these criteria with this application, and makes it simple to use. So charge up your video camera, spend an afternoon in production, invite all your buddies over, and have fun creating top-notch home movies.
Related Products
Roxio Easy Media Creator Suite 9, Showbiz DVD 2