Review of CyberLink's YouCam WebCam Software
Introduction
CyberLink is a digital media company that has a wide variety of products for DVD authoring and media in general. For this article, we'll be looking at their webcam supplement software, YouCam. YouCam has a pretty good assortment of features. You can add background effects to your video stream, change your face to a character (YouCam tracks your movement) and synchronizing the movement of the avatars mouth with yours while speaking, and even use it as a presentation tool. Let's go a little more in depth with what YouCam has to offer.
The Interface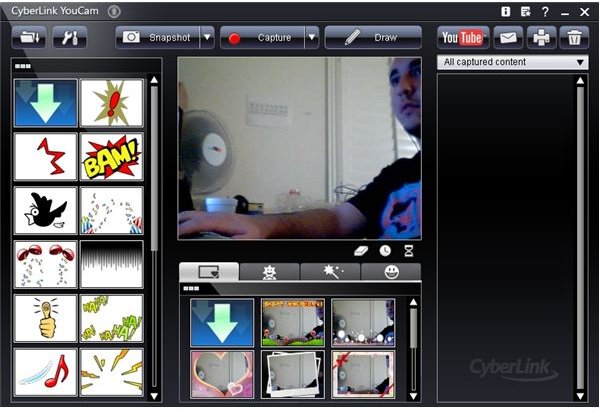 As can be seen in the image above, the YouCam interface is pretty user friendly. Your webcam feed loads in the middle of the string. To the left you have a list of animated extras you can add to your live feed. They range from a pair of kissing lips to large flashing text, "WOW!" More like these can be downloaded from Cyberlink's DirectorZone website. Underneath the video display is the interface for adding effects. These effects range from static frames, such as a heart encircling your picture, to dandelions being blown in the wind. Similarly to the left column, extra frames may be downloaded from the DirectorZone website.
The Effect Ribbon

As you can see in the image above, there is a ribbon that lets you switch between different effects mode. The second mode (with a star as its icon) allows you to change your face to a range of different avatars. The avatars attempt to track your movement and try to lip-sync along with you, but don't expect much out of this. Keep in mind that the avatar actually replaces the entire background. Next on the ribbon are pure effects such as pixilation, grainy, sepia, and emboss. And if we travel one button further to the right on the effect ribbon we'll come across some distortion effects. Overall, you can do a pretty complete job of video manipulation just from the built-in effects in YouCam.
In this first article, we've gone over some of the basic effects and features of CyberLink's YouCam program. Stay tuned as we'll go further into the potential that this software offers.