Video Editing Software Review: Adobe Premiere Elements 7
Overview of Premiere Elements 7
Adobe Premiere Elements 7 is a video editing application that allows you to make movies and slideshows using your own footage and digital photographs. It includes a number of automated options that should be appealing to beginners and general hobbyists, but it also offers several advanced features for those users looking for a more hands-on approach when creating their own video productions.
In this review, we'll take a look at the new features available in this latest release of Premiere Elements as well as some of the older ones to see how the program measures up as a video editing application.
Update: Since the time of this review, Adobe has released a new version of the software – click here to see our review of Premiere Elements 8.
Installation and Setup (5 out of 5)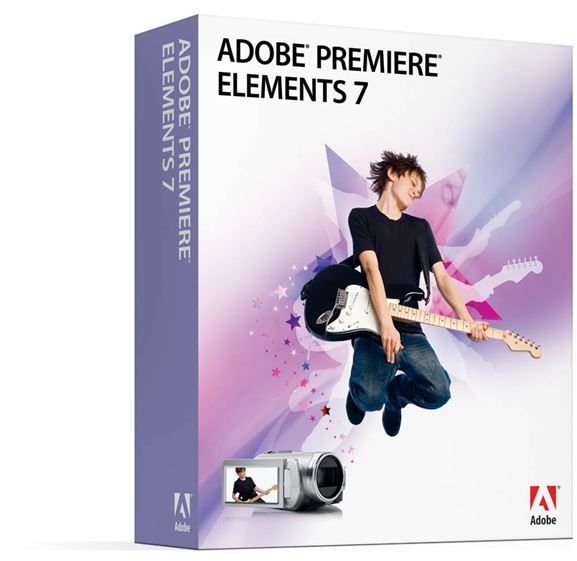 To use Premiere Elements 7, your machine should meet the following minimum system requirements.
1.8GHZ processor with SSE2 support (3GHz for HDV or Blu-ray, dual-core processor needed for AVCHD)
Windows XP (SP 2 or higher), Media Center, or Vista
512MB RAM for XP, 1GB RAM for Vista (2GB required for HDV, Blu-ray, and AVCHD)
4.5GB hard drive space
Color monitor with 16-bit video card
1024 X 768 resolution at 96dpi or less
QuickTime 7
Other requirements may be necessary, depending on the tasks you want to accomplish with the software. For more detailed information, check out the Adobe web site. Additionally, if you plan on editing or creating large files, more RAM is helpful.
For this review, Premiere Elements 7 was installed on a PC running 64-bit Windows Vista Ultimate with 4GB of RAM. No problems were encountered during the installation process, and the software setup was a breeze.
Ease of Use (5 out of 5)
While Premiere Elements 7 supports a number of advanced features, the software interface takes into account that many users of the application will be new to the world of video editing. When you first open the program, you'll be met with a welcome screen where you can choose to create an instant movie, open an existing product, or begin development of a new project. Additionally, if you have an account with Photoshop.com, you can sign in to that site from this screen.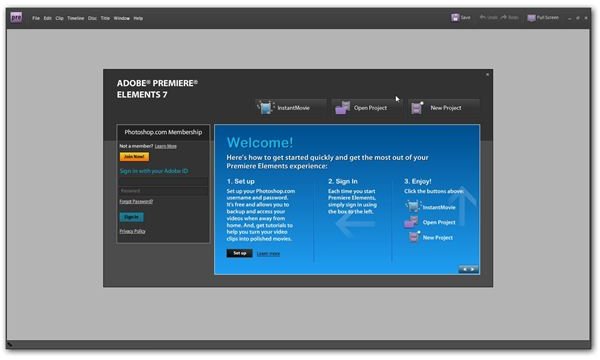 The main application interface is extremely intuitive, and even first time users should be able to feel their way around without too much trouble. However, it is well worth the time to watch some of the free video tutorials for the product – we'll talk more about those in the User Support section of this review.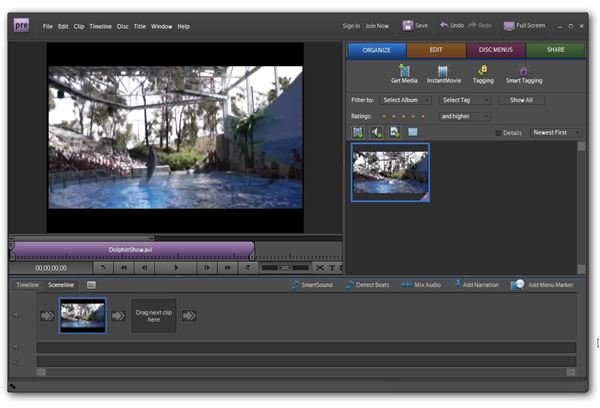 The ability to drag and drop both clips of video files and still images to the sceneline makes basic movie creation simple and fun. You can play back the production at any time during the creation process to get an idea of how it is progressing without having to leave the editing interface.
Even though I've had no experience with prior Adobe video editing tools, I was able to create and edit a basic movie within minutes of starting up the application. So, the learning curve for Premiere Elements 7 is definitely on the side of users who don't want to spend hours (or even days) reading manuals or searching through help forums. I was definitely impressed.
Continue on to page 2 of this review to find out about the features and pricing options for Adobe Premiere Elements 7.
Features (5 out of 5)
The Instant Movie option in Premiere Elements 7 is a wonderful tool for those that just want to import the footage from their camcorder and turn it into a movie complete with predesigned themes and transitions. A nice bonus to this option is that you can produce an instant movie and then go back to tweak it later without having to worry so much about all the front work.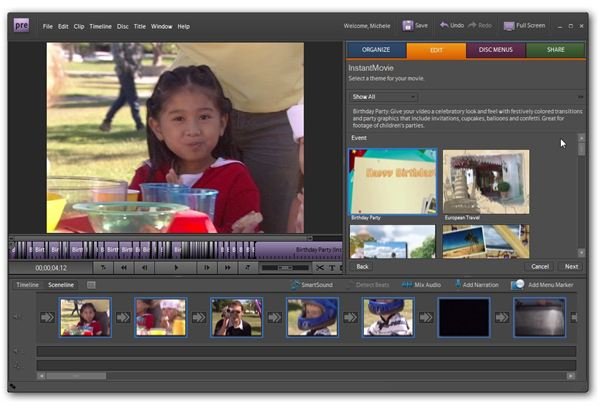 Another particular feature that I found incredibly useful in Premiere Elements 7 was the Smart Tagging tool. This new utility allows the application to automatically read and analyze selected clips, and apply tags noting quality and content. For instance, the software can determine which selections are in focus, blurred, shaky, and so forth. This is great for those times when you're trying to quickly pick out the best clips to use in a video editing project.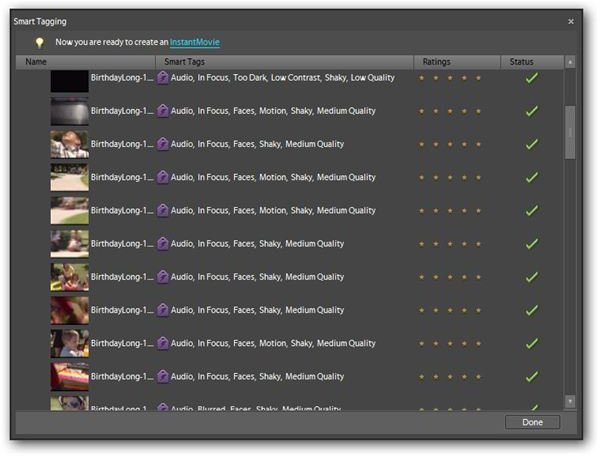 It's also quite easy to share your finished production with Premiere Elements 7. Simply click on the Share button and you'll be presented with a number of options available for distributing your newly created videos. You can even upload your creations directly to YouTube while still in the Premiere editing interface.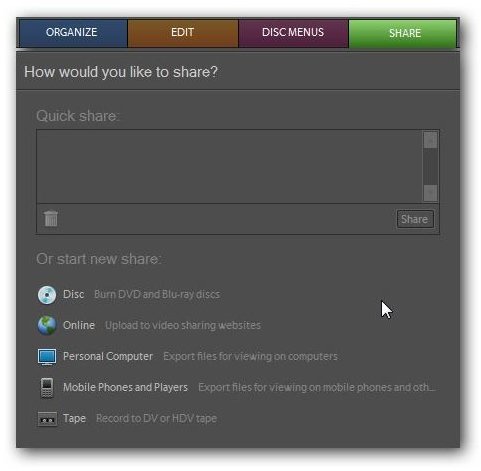 User Support (4 out of 5)
In addition to the online help manual that is also available as a downloadable PDF, Adobe offers a number of free video tutorials for Premiere Elements 7 on their web site. Covering both basic and advanced features, these tutorials are quite well done and very easy to follow. You can view these items even if you haven't purchased the software yet, so they may be a good resource if you're still trying to decide whether or not to buy the program.
Adobe also maintains a community web site for Premiere Elements 7 where you can search for the latest information on troubleshooting particular software issues. If you're still unable to find the answer to your question, you can contact Adobe directly.
Price to Value (5 out of 5)
Depending on what you're looking for, there are several different pricing structures for Adobe Premiere Elements 7. As a single product, the software has a suggested retail price of $99.99, but you can also pick up a package that includes both the application and a one-year Photoshop.com Plus membership for $139.99.
If you're also looking for a robust photo editing application, you can get a very nice price on a bundle that includes Premiere Elements 7, Photoshop Elements 7, and a one-year Photoshop.com Plus membership. This package deal is currently priced at $179.99 and represents a pretty significant savings over buying each product separately. If the Photoshop.com Plus membership is of no interest to you, you can still purchase these two applications as a set for $149.99.
Overall Rating (5 out of 5)
Adobe has a very celebrated reputation when it comes to graphics-related applications, and Premiere Elements 7 does not disappoint. The price of the software is certainly in line with other programs in the same class, even more so when purchased in a bundle with Photoshop Elements.
Premiere is a solid performer when it comes to creating and editing movies of all types, and beginners will appreciate all of the automated features that take the guesswork out of video production. More advanced users who have the extra money to spend may want to go with Premiere CS4, but for the price, Premiere Elements 7 is a good alternative.