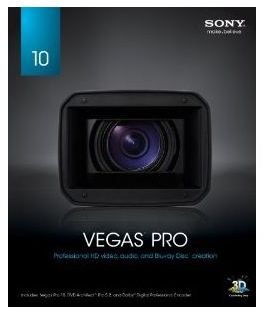 The Vegas Pro 10 application is a video editing application that lets you edit video with a range of tools including 3D tools. Its impressive 3D editing capability, combined with a clean user interface, makes it worthy of a look from people who are searching for video editing software.
User Interface (5 out of 5)
This software has a very responsive user interface, making video editing much more efficient and a joy. Part of this intuitive user interface is the collapsible folders that let you work on several video clips and tracks at the same time without making your timeline cluttered. This cleaner and more efficient user interface makes the Sony Vegas Pro 10 a much more enjoyable piece of video editing software.
Features (3 out of 5)
Although this application has a lot of powerful video editing tools and features, the most prominent one is the 3D editing capability. With a lot of 3D content coming out of movie studios for both cinema and TV audiences, 3D content is becoming more popular among amateur and professional filmmakers alike. Of course, this will require you to capture scenes with a pair of video cameras, but if you already have that kind of equipment, you can simply use this program to merge the files taken by those video cameras. You can easily preview 3D video files on 3D-compatible monitors right from this application. You can even view it in full screen mode which can give you a really good look at your 3D project. Aside from the 3D editing feature, this program also has a video stabilization tool. This is ideal if you use handheld video cameras. Even with the level of improvement to images thanks to this video stabilization tool, it still has issues. There is no way to limit the amount of video images that are cropped so the finished product usually features reduced levels of detail and composition. Features that do not have a downside include closed caption support, video sharing via online services and audio effects.
Performance (3 out of 5)
Importing images and videos is easier than ever in this version of Sony Vegas Pro. File importing may not seem important but it is the first step for image and video management as well as editing so a faster and more efficient method of importing files is definitely a welcome improvement. Another improvement from previous versions is the rendering performance when dealing with complex projects. Previews are rendered smoothly. This makes this software a good choice but, when it comes to video editing software applications, the clunky movements when moving around elements between keyframe lanes is a downfall.
Conclusion (4 out of 5)
The Sony Vegas Pro 10 software offers stunning video effects and animation tools, not to mention a generally smoother performance compared to its predecessors. However, even though it is a much better application that its previous versions, it still has some problems that prevent it from being the best video editing software available. It gets an overall good rating.
References
Amazon, https://www.amazon.com/Sony-SVDVD10000-Vegas-Pro-10/dp/B0045IOLHG/ref=sr_1_1?ie=UTF8&qid=1305076464&sr=8-1
PC PrO, https://www.pcpro.co.uk/reviews/software/361852/sony-vegas-pro-10
Photo Focus, https://photofocus.com/2011/01/16/sony-vegas-pro-10-mini-review/
Photo Courtesy of Amazon.com