Adobe Tutorial: Using Adobe After Effects Presets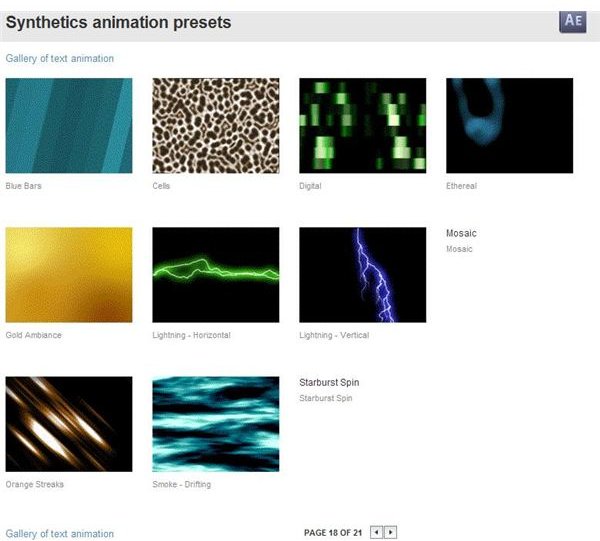 Pre-installed Effects
Adobe After Effects presets allow you to automate certain features, including animating text, filling in text and adding curves to text. These text come pre-installed with the software program, and you simply need to open up the Preset Galley, and select the preset to use it.
Adobe After Effects comes installed with over 500 animation presets, which you can use for backgrounds, text and transitions. Presets are customizable, which means that if they do not fit with what you want, you can change the preset. This is done by changing the preset's keyframes and parameters.
Create Your Own Preset
Further, you can create your own Adobe After Effects presets. Basically, you go through the entire process of creating the preset, and then save it as a preset. To do this, follow the below instructions.
1. Select the properties, property groups or effects that you wish to save as a preset.
2. Go into the Effects and Presets panel, and select Save Animation Preset. This tool can also be found in the Animation menu.
3. Name the file and location where it needs to go.
4. Select Save.
This action will now be saved as a preset.
Adding Presets
Pre-installed presets allow you to finish a project or start one if you have never dealt with animated text before. All presets are located in the Presets folder. This folder is either located in the Program Files\Adobe\Adobe After Effects CS5\Support Files in Windows, or it is
located in the Applications/Adobe After Effects CS5 on Mac Systems.
If you find a preset that you like from a third-party like Video Copilot, you can add any preset to the folder by saving a new preset there. Or, if the file was downloaded to another folder, you can simply copy and paste it into the CS5 folder.
Once the preset has been added to the folder, Adobe After Effects should automatically add it to the preset list in the Effects and Presets panel. Just open up the program, and the preset that you downloaded should be in the Effects and Presets panel.
Adobe After Effects will not add any file that starts and ends with a parenthesis. It will simply ignore them.
How to Run the Preset
Once a preset is added, you simply need to double-click on the preset within the Effects and Presets panel. It will open up the preset and add it to your project.
Available Presets
Available text animation software programs include the ability to make your text shuffle in, fly-in, fly-out or fade in. The Curves and Spins animation presets cause the text to spin or rotate in different directions. Some even make the text look like a flower in bloom and a dust devil.
The Graphical Text Animation presets add graphics to the text itself like lines, notes, shapes and snowflakes. The Lights and Optical Text Animation presets add flashes, bubbles and sparkles to your text.
References
Adobe, https://www.adobe.com/cfusion/exchange/index.cfm?l=-1&s=5&o=desc&exc=21&cat=231&event=productHome